Miami Plane Fire Triggered by Landing Gear Collapse: Officials
At least three people suffered minor injuries on Tuesday after an airliner caught on fire when its landing gear collapsed upon touching down at Miami International Airport.
Miami-Dade Aviation Department spokesperson Greg Chin told Newsweek that Red Air Flight 203 caught fire after its landing gear collapsed at around 5:30 p.m. local time. The airplane, which is a McDonnell Douglas MD-82 according to tracker AirNav RadarBox, arrived late from Santo Domingo, Dominican Republic.
"The fire has been extinguished and passengers will be bussed from the plane to the terminal," Chin said. "So far, three people are being transported to the hospital with minor injuries."
Red Air, which is based out of the Dominican Republic, announced earlier this month that it would be increasing flights between Santo Domingo and Miami up to three times a day beginning on July 25, according to Dominican Today.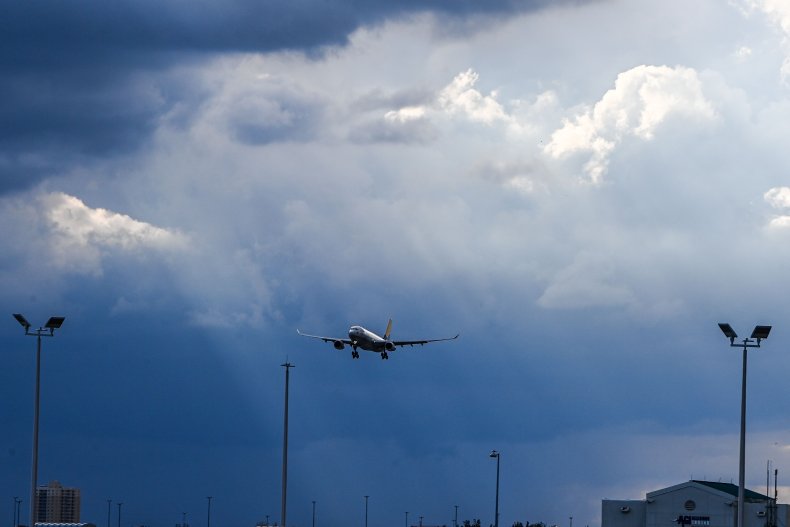 It is not clear whether the incident will have any impact on the expansion plans of the airline, which only began flying earlier this year. Red Air officially launched as the Dominican Republic's fourth airline in a ceremony attended by Luis Abinader, the country's president, late last year.
Abinader, during the ceremony, touted the airline as a boon for tourism and trade that had the potential to improve the economy of the Dominican Republican, according to Aviacionline.
Red Air currently operates a fleet consisting of three McDonnell Douglas MD-82s and one McDonnell Douglas MD-81, according to PlaneSpotters.net, older airliner models that ended production in the mid-1990s prior to the manufacturer merging with Boeing.
The airline reportedly intends to acquire Boeing 737, 767 and Airbus A330 aircraft as part of its expansion plans, according to Dominican Today. In addition to the U.S., flights to Central and South America, and eventually Europe, are also planned.
Astrid Pérez, Red Air's commercial manager, touted the expansion of the booming Miami route as key to a "creation of value" for the airline and its future plans earlier this month.
"When making a comparison of the data on the number of passengers who flew from Santo Domingo to Miami, in the first quarter of 2022 and 2021, there has been an increase of 78 percent," Pérez told Dominican Today. "If we take into account the nationalities, the Dominican has a 57.4 percent relevance of the total amount, followed by the American."
"We want to achieve objectives in phases, but focusing on the human quality of a close staff, close and above all, with a vocation to serve," she added, while noting that the airline employed a total of 97 people.
Newsweek reached out to Red Air for comment.