Dominican Republic Minister Orlando Jorge Mera Was From Powerful Family
Orlando Jorge Mera, the Dominican Republic's minister of the environment and natural resources who was shot and killed Monday in his office, came from a family of powerful politicians.
Jorge, 55, is the son of Salvador Jorge Blanco, who was president of the Caribbean country from 1982 to 1986. His sister is a vice minister in the administration of President Luis Abinader, and his son is a lawmaker for the Modern Revolutionary Party, the Associated Press reported.
Abinader's office said that Jorge was killed by a close friend, according to the AP. The news agency said the shooter was identified by authorities as Miguel Cruz and has been taken into custody. No further details were immediately available.
"I deeply regret the death of my good friend, our minister, Orlando Jorge Mera," Abinader wrote on Twitter. The president also sent his condolences to Jorge's widow and children.
Jorge's family issued a statement that said Cruz had been friends with Jorge since they were children. The statement also said Jorge was shot multiple times.
"Our family forgives the perpetrator," the statement said. "One of Orlando's greatest legacies was to not hold grudges."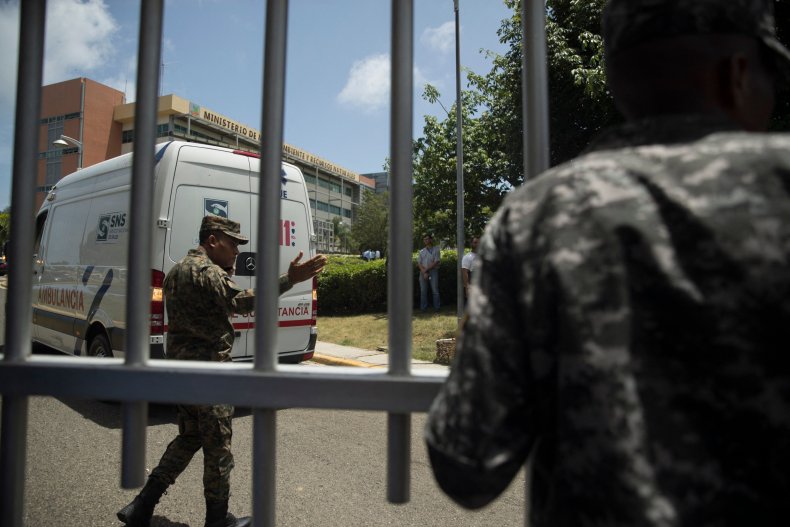 The office of the Environment and Natural Resources Ministry in the capital of Santo Domingo was filled with police and emergency officials following the shooting, the AP said.
"We have lost a sensitive citizen and committed public servant, as well as an exemplary father, son and brother," Jorge's ministry wrote on Twitter.
Messages filled Twitter on Monday from prominent officials mourning Jorge's death.
"Deeply shocked by the death of my friend Orlando Jorge Mera," Ito Bisonó, a member of the country's Chamber of Deputies, wrote.
Vice President of the Dominican Republic Raquel Peña remembered Jorge as a "tireless worker and noble human being."
Leonel Fernández, who served as president of the Dominican Republic from 1996 to 2000 and again from 2004 to 2012, called Jorge a "great human being, public man and a committed server."
"Deeply saddened by the tragic death of my friend and colleague Orlando Jorge Mera, Minister of the Environment," Raquel Arbaje, the Dominican Republic's first lady, tweeted. "The country loses a valuable public servant and a citizen of extraordinary human quality. May God, in his infinite mercy, give peace to his relatives."
Jorge's father, whose long political career began in the early 1960s and lasted until the end of his presidency, died in 2010 at the age of 84.
Update 06/06/2022, 4:45 p.m. ET: This story has been updated to include more background information and messages about Jorge's death.