Miami Top Cop, Called 'Michael Jordan of Police Chiefs,' Under Fire From City Commissioners
Miami Police Chief Art Acevedo, whose hiring earlier this year was touted as a big win for the city by some officials, is now facing unfavorable scrutiny from city commissioners.
Back in April, when Acevedo was sworn in, Mayor Francis Suarez famously said, "We got the Michael Jordan of police chiefs." This was following Acevedo's flood of national media attention and praise for marching along with protestors at Black Lives Matter demonstrations in Houston, where he was police chief in the summer of 2020.
In the months since he has been in charge of Miami's police force, Acevedo has courted controversy, committing a series of blunders and contentious professional decisions that earned him negative attention from some members of the city government.
Now, city commissioners have called a meeting for September 27 to question Acevedo about his performance and potentially debate his future status on the job.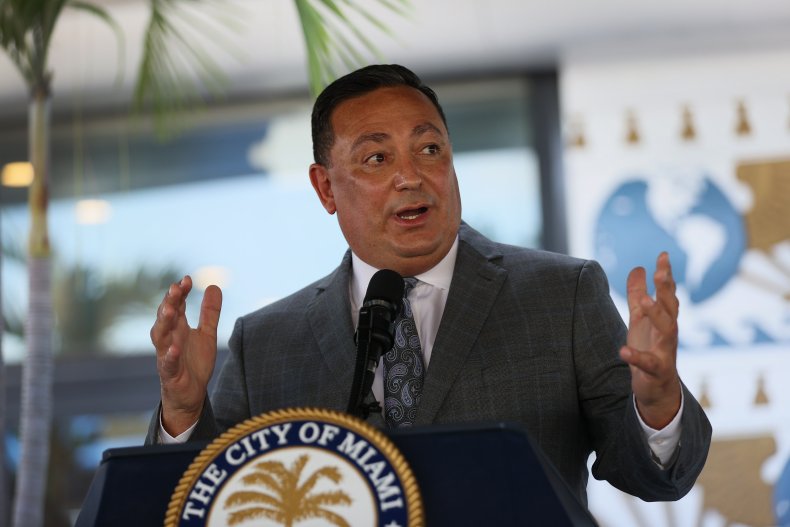 "I'll be damned if I'm going to let a new transplant come here and do whatever he wants," Miami Commissioner Joe Carollo said, referring to Acevedo's recent move from Texas at a meeting Monday night. "Each one of us are duly elected. And each one of us has deep roots in this community."
Acevedo's most recent gaff angered city officials when he told a group of roughly 100 police officers during morning roll call that it's like the Miami police department was run by the "Cuban Mafia."
The term "Cuban Mafia" was used in the past by Fidel Castro in an attempt to make Cuban exiles look like criminals for trying to escape or opposing the dictatorship. Most of Miami's city commissioners either have family members who have suffered under Cuba's communist regime or are Cuban exiles themselves, according to reporting by the Miami Herald.
Acevedo, a Cuban-American himself, who denied he had any knowledge about the origin or meaning of the term, said in an apology posted on Twitter that he had intended the comment to be humorous.
At the time, Carollo called the blunder "unbelievable" and said he nearly called for the chief's firing.
It's worth noting that city commissioners do not have the power to fire the police chief. However, they can do much to influence the City Manager Art Noriega, who is Acevedo's boss.
Acevedo's other controversial moves early on in his chiefdom include terminating two high-ranking officers who were also a married couple and demoting several majors, including one of the highest-ranking Black women in the department. He also came under fire for posing for a photo with a prominent member of the far-right group the Proud Boys, though Acevedo said he "had no idea who that man was."
Newsweek reached out to the police chief for comment but did not hear back before press time.