Michael Avenatti Says Michael Cohen Has More Tapes of Donald Trump, Demands Their Immediate Release
Stormy Daniels's attorney, Michael Avenatti, renewed his calls Friday for the so-called "Trump tapes" to be released after it emerged that President Donald Trump's former longtime lawyer Michael Cohen has recorded the then-candidate discussing secret payments to a former Playboy model.
Related: Michael Avenatti says Michael Cohen tapes feature Donald Trump's voice: 'I know for a fact'
"Here is what I said less than two months ago. I demanded the release of what I called the #TrumpTapes then, and I am demanding the release of them again now. #Basta," Avenatti tweeted.
Speaking to MSNBC, Avenatti said Cohen had more recordings of the president. "I know for a fact that this is not the only tape."
He added: "I'm not at liberty to get into the details relating to what I've seen or what I've heard, but there are multiple audio recordings, and our position is that they should be released immediately."
In a tweet from May 30, Avenatti embedded a video of him claiming that some of the tapes "relate to my client" Daniels, an adult film star whose real name is Stephanie Clifford and who is suing the president over a nondisclosure agreement concerning their alleged affair.
"Mr. Cohen and his attorney Mr. Ryan should release all of those audio recordings to the American people and to Congress," Avenatti said at the time, "so that they can heard by all and people can make their own determinations as to their importance relating to the president, what he knew and when he knew it."
Avenatti's demand on Friday was in response to a New York Times report that Cohen secretly recorded a talk with Trump two months before the 2016 election. The talk concerned payments to ex-Playboy model Karen McDougal, who alleges she had an affair with Trump. Trump's lawyer Rudy Giuliani confirmed the existence of the recording, less than two minutes long, and said the payment was not made and that the president committed no wrongdoing.
On MSNBC, Avenatti reiterated his belief that Cohen, who had documents seized by the FBI in April as part of a criminal investigation into his business deals, poses a great threat to Trump.
"Michael Cohen is one of the world's greatest evidence hoarders," Avenatti said. "He rarely threw anything away. He maintained past cell phones, he maintained multiple audio recordings, he maintained documents, emails and text messages and from an evidentiary standpoint, that is a very, very bad thing for the president."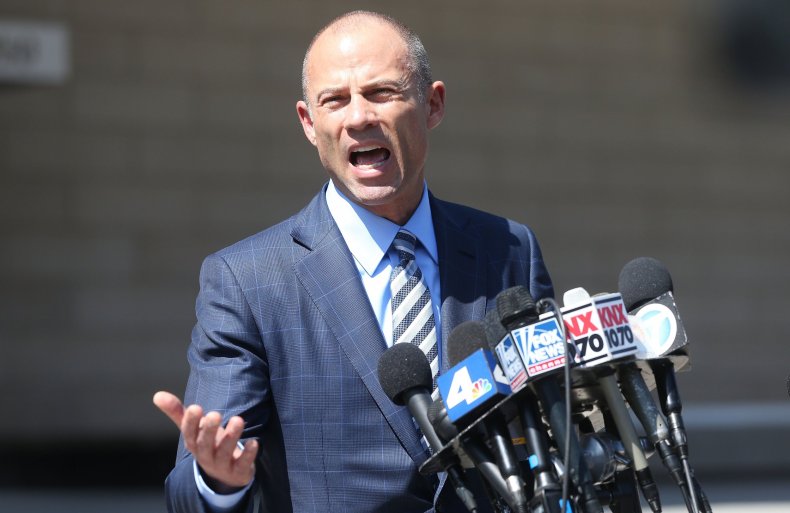 Avenatti concluded: "There's nothing that's stopping Michael Cohen from releasing the audio recordings that he made between him and the president concerning my client, Ms. McDougal, and others."
McDougal's lawyer at the time, Keith Davidson, also represented Daniels, and Avenatti has previously alleged that he was conspiring with Cohen.