Stormy Daniels's attorney Michael Avenatti called out President Donald Trump's lawyer Rudy Giuliani once again on Wednesday, this time over his uncharacteristic silence since, in Avenatti's words, making "idiotic, sexist comments" about his client for working in the adult film industry.
Related: Michael Avenatti Debunks Rudy Giuliani's Trump Family Defense, Says Stormy Daniels Paid 'Suddenly' Before Election
"It's been raining receipts since Saturday. And I love the forecast for Mr. Trump, Mr. Cohen and Mr. Giuliani (who appears to have gone missing since his idiotic, sexist comments)," Avenatti tweeted. "#Stormy #Basta."
Avenatti was referring to Giuliani's remarks from a conference in Tel Aviv last Wednesday directed at Daniels, whose legal name is Stephanie Clifford.
"Let me cross-examine you because the business you're in entitles you to no degree of giving your credibility any weight," Giuliani said. "I mean, she has no reputation. If you're going to sell your body for money, you just don't have a reputation. Maybe old-fashioned, I don't know."
Giuliani, who has made numerous outlandish claims since joining Trump's legal team in April, has remained tight-lipped since then.
Avenatti has been the most vocal critic of Giuliani's controversial comment, calling for Trump to fire him "NOW," and on Monday asking the former New York City mayor to apologize to Daniels.
"Mr. Giuliani: my client deserves an apology for your sexist, disgusting, comments about her and women in general. I strongly suggest you provide one," Avenatti tweeted. "Are you really taking the position that you have not viewed porn in the last year? Ever hear of something called an IP address?..."
The latter part of Avenatti's tweet referred to his call to the public on Saturday for help in finding proof that Giuliani does not despise porn as much as his remark about Daniels suggested.
"I want to test Mr. Giuliani's claims of being adamantly against pornography and having no use for adult film stars. If anyone can provide me with any evidence of him voluntarily viewing pornography, I will protect you as a source and publish it," Avenatti tweeted. "Let's PROVE the hypocrisy."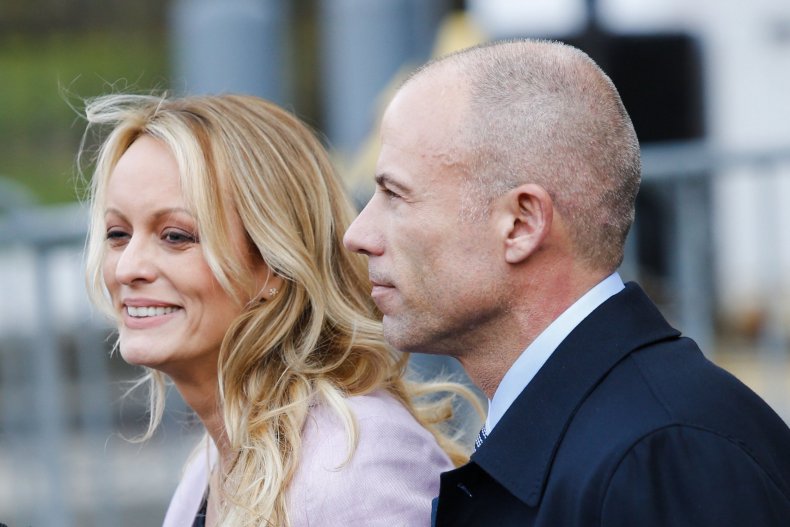 Avenatti also tweeted a grim forecast on Tuesday for Michael Cohen—Trump's longtime personal lawyer who arranged a nondisclosure agreement that Daniels is now suing Trump over—and the president.
"For those keeping track, approximately 57 days ago, I predicted that Mr. Cohen would be arrested and indicted within 90 days..." Avenatti tweeted. "I also stated it would pose a serious problem for Mr. Trump. #ClockTicking #Basta."