Michael Avenatti Slams Trump Over 'Stuttering John' Phone Call: 'Trump Has Made the U.S. the Brunt of Jokes'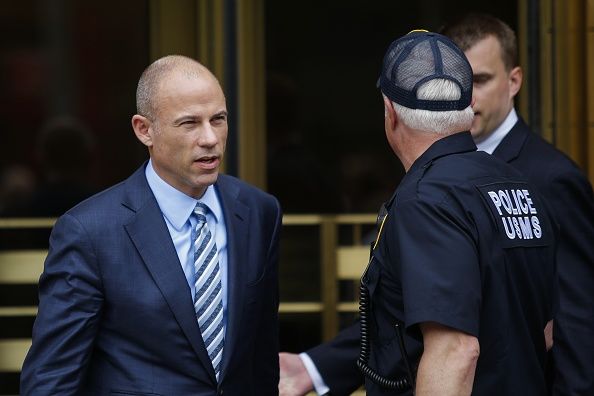 High profile attorney Michael Avenatti slammed President Donald Trump on Saturday after he reportedly answered a phone call from a podcaster who was prank calling him.
Comedian John "Stuttering John" Melendez claimed he had a four-minute prank phone call with the president, in which he pretended to be Senator Bob Menendez on Friday.
"You would think that the last thing Mr. Trump would want to do right now is go after some comedian that punked him," Avenatti wrote on Twitter Saturday. "That would permit inquiry by John into the buffoonery that allowed it to happen. Admit you are an amateur and focus on reuniting the children you separated."
The lawyer continued and said that the prank call allowed enemies around the globe learn how easy it was to reach Trump, making the U.S. an "embarrassment" to the rest of the world.
"Imagine our adversaries in the world as they learned how easy it was for a comedian to bypass security measures and reach the president. They are rolling. Once again, Mr. Trump has made the U.S. the brunt of jokes and brought embarrassment to what we are all about as a nation," Avenatti wrote.
Melendez claimed he spoke to Senior Adviser Jared Kushner while posing as a fake assistant, telling the senior adviser he wanted to discuss immigration with Trump. He then received a phone call back from Trump while he was on board Air Force One. According to the podcast, Trump reportedly congratulated Melendez, who he believed to be Menendez, over the acquittal of his bribery case in 2017.
The two also discussed his pending Supreme Court nominee now that Judge Anthony Kennedy has decided to step down and what he should tell his "constituents" about Trump's plan on the children separation policy at the border.
"Bob, let me just tell you, I want to be able to take care of the situation every bit as much as anybody else at the top level," Trump reportedly said. "I'd like to do the larger solution, rather than the smaller solution. They're doing them step by step. I think we can do the whole thing."
A White House official told CNN Trump wants to be accessible and mistakes happen when the channels are open.
"The President wants to be accessible to members and likes engaging them and wants them to have the opportunity to connect," the official said. "The downside of that is sometimes the channels are open too widely and mistakes like this happen."