2020 Hopeful Michael Bennet Compares Trump Losing Money and Dodging Taxes to Socialism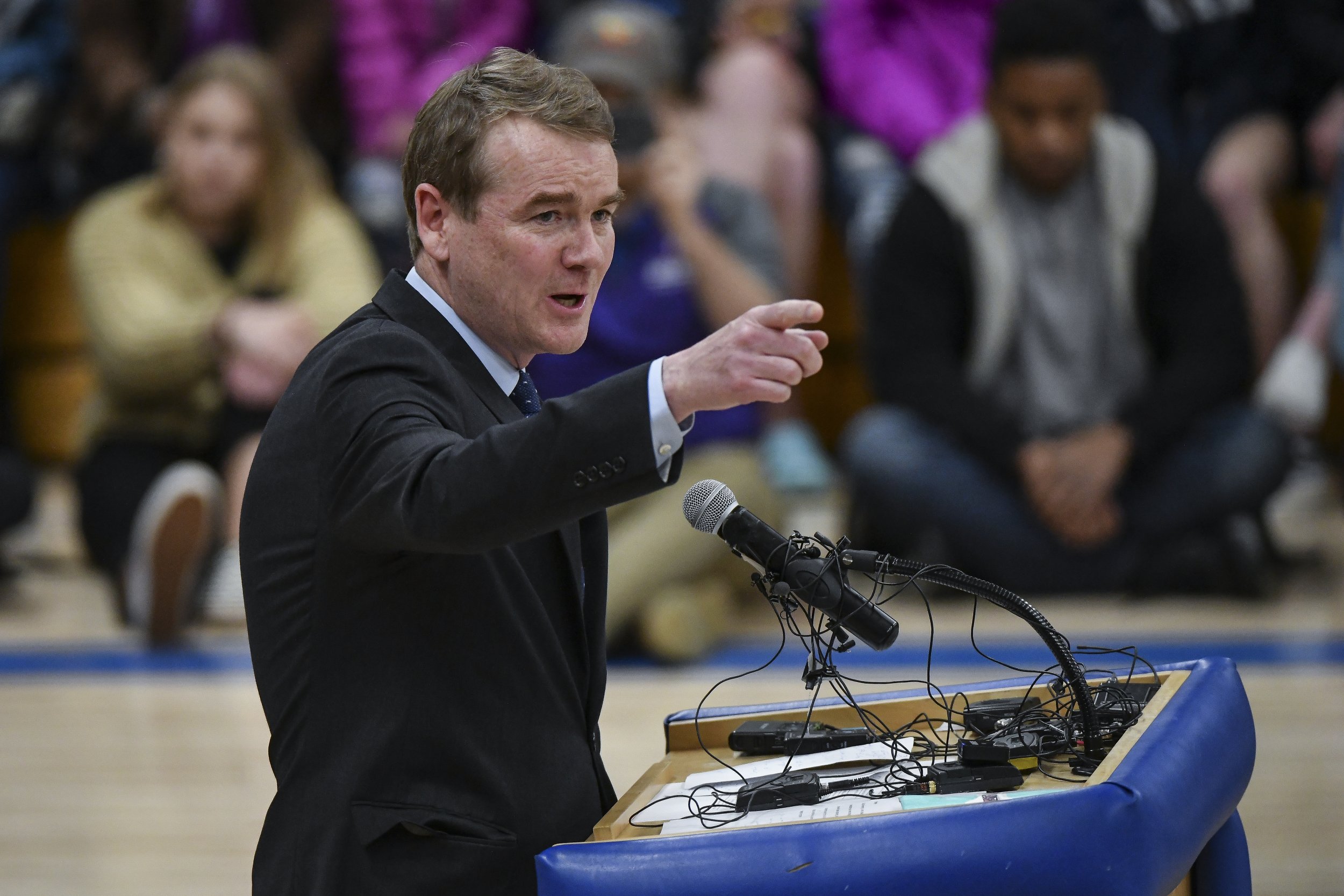 Presidential candidate and Democratic Senator Michael Bennet equated President Donald Trump's business losses of more than $1 billion earlier in his career—and the subsequent dodging of taxes—to socialism, a term the president constantly berates and accuses Democrats of trying to invoke through certain policy proposals.
On the heels of last week's New York Times report detailing the former real estate mogul's $1.17 billion in business losses from 1985 to 1994, which is believed to be the most money lost by any American taxpayer throughout those years, Trump came out swinging, saying the losses were "for tax purposes" and "it was sport." Due to the record levels of losses, was not required to pay income taxes for eight of the ten years, according to The Times.
"That's an amazing thing," Bennet told a group of supporters, according to video of his remarks. "There are rich people all over America, and none of them lost more money than Donald Trump."
Bennet called the losses the "best example lately of socialism in this system."
"Then, Donald Trump says, 'no, no, I didn't lose that money,'" Bennet continued. "Because, he said, 'I'm the greatest businessman in the world. I just was able to write that stuff out of my taxes.' What could be more socialist than that?"
Trump's explanation for the losses and ability to skirt paying taxes came in tweets, where he said that " Real estate developers in the 1980's & 1990's…were entitled to massive write offs and depreciation which would, if one was actively building, show losses and tax losses in almost all cases. " He added that " You always wanted to show losses for tax purposes… and often re-negotiate with banks, it was sport." Trump closed by saying the Times' reporting had "very old information" and was a "Fake News hit job! "
The swipe at the president by Bennet, who announced his candidacy May 2 after undergoing successful prostate cancer surgery, came as Trump and congressional Republicans accuse Democrats—specifically 2020 candidates—of running on socialist policies, such as Medicare for All and the Green New Deal. As someone who's branded himself as a moderate, pragmatic Democrat with a bipartisan record in Congress, the Colorado senator opposes Medicare for All.
With Senator Bernie Sanders' presidential announcement, who describes himself as a Democratic-socialist, the Trump campaign responded by predicting that "every candidate is embracing his brand of socialism." And at his State of the Union address, Trump said he was "alarmed by the new calls to adopt socialism in our country."
"Tonight, we renew our resolve that America will never be a socialist country," he said.
While many candidates say they support progressive policies like Medicare for All and the Green New Deal because they would help protect the environment and improve families' economic statuses, many also do that. Beto O'Rourke, for example, has unveiled his own climate change plan, and Joe Biden wants an optional Medicare buy-in.
But so long as Senate Majority Leader Mitch McConnell is in power, he's vowed to "be the 'grim reaper' in the Senate when it comes to socialist schemes that would destroy jobs, private health insurance, and the free enterprise system."