Michael Cohen Believes Trump's Accountant Will Turn on Him to Save Own Family From Prison
Michael Cohen, former personal attorney to Donald Trump, has said that he believes the Manhattan district attorney will successfully convince the ex-president's accountant to cooperate if prosecutors threaten him or his family with indictments.
Manhattan District Attorney Cyrus Vance Jr. has been pressuring Trump's longtime accountant, Allen Weisselberg, 73, to turn on him in the 18-month probe into whether the ex-president and Trump Organization committed financial crimes by manipulating the value of assets for loans and tax gains.
In a recent interview with the New Yorker, published Friday, Cohen predicted that Weisselberg will eventually cooperate with prosecutors to protect his own family from serving time in prison.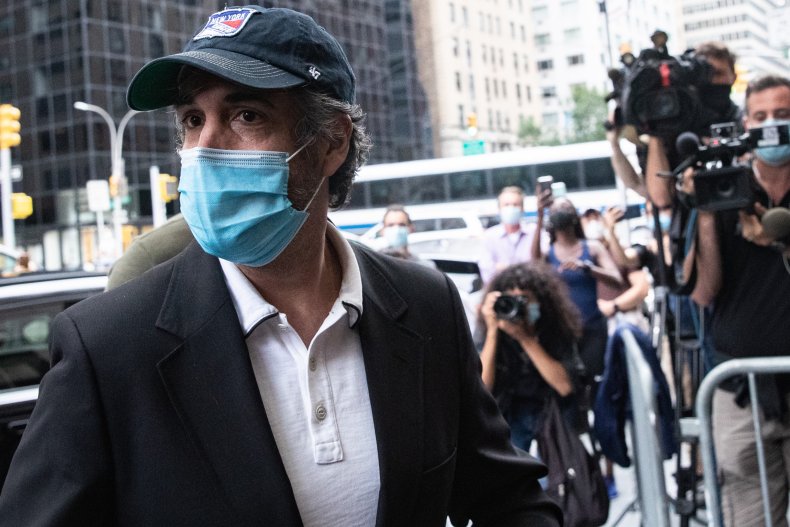 "He's not going to let his boys go to prison," Cohen said. "And I don't think he wants to spend his golden years in a correctional institution, either."
Weisselberg's involvement with the Trump family finances dates back to 1973, when he started working for Fred Trump, the former president's father.
In 2007, Donald Trump testified in a defamation lawsuit he brought against a reporter about whether he inflated the value of his properties. Asked by lawyers to disclose who estimated the values for his real estate empire, he said: "I think ultimately probably Mr. Weisselberg ... I never got too much involved, other than I would give my opinion."
A source familiar with the criminal probe told the Associated Press last week that prosecutors have been working to convince Weisselberg to cooperate in the Manhattan probe.
"They want him to turn," said an unnamed person familiar with the investigation. The source was granted anonymity as they were not authorized to publicly discuss the ongoing investigation.
The source also said that prosecutors have been scrutinizing Weisselberg's sons.
Jack Weisselberg serves as the director for Ladder Capital, a real estate investment company that has loaned Trump money for four properties, and Barry Weisselberg previously managed New York City skating rinks with ties to the former president.
The Supreme Court previously allowed Trump's request to block subpoenas for his tax returns twice. But the court ruled against the ex-president last month. And in late February, a spokesperson for Vance said that the tax records had been turned over to his team.
Meanwhile, New York Attorney General Letitia James is conducting a civil investigation into Trump and his company, which also focuses on some of the same issues as the criminal probe, as well as tax deductions. The Trump Organization wrote off about $1 million in consulting fees, some of which was paid to the former president's daughter Ivanka Trump.
Newsweek reached out to Trump representatives for comment.