Michael Cohen, the former attorney for Donald Trump, has issued a defiant message about his legal fight after filing a lawsuit that claimed his return to federal prison was punishment for writing a critical book about the ex-president.
In December 2018, Cohen was given a three-year sentence for crimes including tax evasion, campaign finance violations and lying to Congress.
But in May 2020, Cohen was allowed to serve his sentence at home due to the COVID pandemic, during which he made public statements about the publication of his book, Disloyal: The True Story of Michael Cohen, Former Personal Attorney to President Donald J. Trump.
Cohen was ordered back to prison, with officials saying he had not accepted certain terms of his release.
U.S. District Judge Alvin K. Hellerstein ordered Cohen to return to home confinement after saying that his transfer back into custody was a "retaliatory" measure, thwarting his "First Amendment rights to publish a book critical of the president and to discuss the book on social media."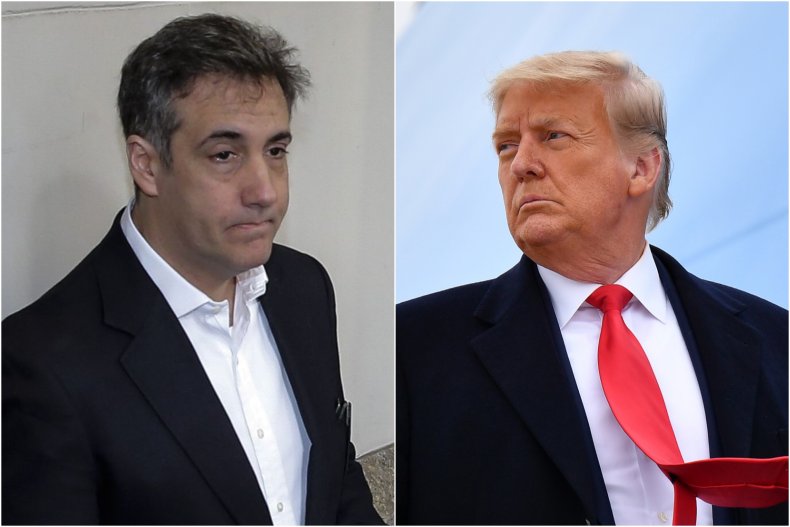 Cohen's lawsuit was filed in a Manhattan federal court on Thursday and names Trump, former Attorney General William Barr and federal prison officials.
It said that upon his return to jail, he was held in solitary confinement for 16 days in a small cell in Otisville, New York. There he suffered shortness of breath, severe headaches and anxiety.
According to the suit, Cohen was "retaliated against" for exercising his First Amendment rights and says he seeks "redress for the extreme physical and emotional harm he suffered as a result of the conduct of all defendants and for the pain and suffering he continues to experience."
On Thursday, Cohen shared a Bloomberg article of news of the lawsuit and added the message: "I will never stop until all of these animals who seek to destroy our democracy are held accountable for their unconstitutional and immoral acts!"
Jeffrey K. Levine, an attorney for Cohen, told The Associated Press, "without accountability, we have only chaos."
The suit says Cohen was the victim of a long line of "retaliatory measures" taken by Trump and his associates "in the weaponization of his administration against his enemies."
It also referred to attempts to stop books critical of Trump written by former security adviser John Bolton and the ex-president's niece, Mary Trump.
Cohen spent over 13 months in prison and another year and a half in home confinement. He had faced campaign finance charges connected with helping arrange payments during the 2016 presidential race to silence claims by adult film star Stormy Daniels and model Karen McDougal about affairs with Trump that the ex-president has denied.
Cohen has made public calls for Trump to be prosecuted and has given information to New York prosecutors looking into whether the ex-president misled banks or tax authorities about the value of his assets to get loans or tax breaks.
Newsweek has contacted Trump and the U.S. Bureau of Prisons for comment.