Michael Cohen Told Me He Got 'Caught Up in a Cult', Close Friend Donny Deutsch Tells MSNBC
Michael Cohen's friend Donny Deutsch revealed on MSNBC today that President Donald Trump's former attorney and personal "fixer" told him he "got caught up in a cult."
During a segment on MSNBC's Deadline: White House on Wednesday, Deutsch — a former CNBC talk-show host — told host Nicolle Wallace that Cohen used the word "cult" to describe Trump's circle.
"He used a word to me a few weeks ago that he's never used before. He said it was like a cult," Deutsch said. "You get in there and where you pull there there's people waiting there and cheering, you just get out of your car and he goes 'I got caught up in a cult.'"
Deutsch and Cohen — who are reportedly close friends — have been spotted together on numerous occasions this year, meeting for lunch and during other outings.
"I just want to say one thing on a personal note to Michael is, look Michael is guilty, he's going to pay for his crimes," Deutsch added.
"His biggest crime was still going to work for Trump. He was a good man that did bad things and I say this knowing him personally, knowing his children, and people at home can go 'Donny shut up he's a criminal,' [but] he's still in my mind a decent man who got caught up in this and he's going to pay for it."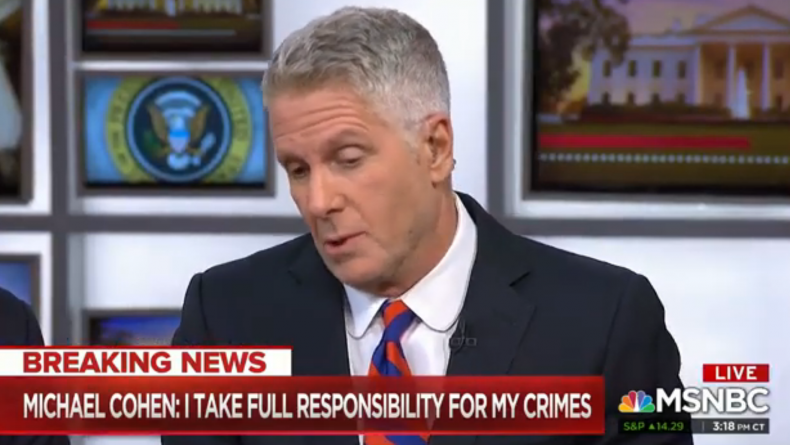 Wallace then went on to compare the Deutsch's comments to James Comey calling Trump a mafia boss at the 92nd Street Y in New York City on Sunday evening, before asking Frank Figliuzzi, a former FBI Assistant Director for Counterintelligence, to comment.
"Well, there's close similarities between a cult and a mob family," Figliuzzi said. "If you study cults, you understand that the focus is on one person, his beliefs that he issues from his value system. And then you look at the ability to get out of that cult unscathed and we're seeing that you don't get out of the Trump cult unscathed."
Earlier on Wednesday, Cohen appeared in court to receive his sentence after pleading guilty to several crimes, including lying to Congress. He was given three years in prison.
"Today is one of the most meaningful days of my life. The irony is that today I get my freedom back," Cohen said in court. "Blind loyalty to this man led me to choose a path of darkness over light."
Watch the MSNBC segment below: