Michael Flynn Claims Jesus Would Be Called a Domestic Terrorist Today, Endorses Mastriano
Michael Flynn suggested this weekend that Democrats would refer to Jesus Christ as a "domestic terrorist" during a speech in which he endorsed Republican state Senator Doug Mastriano for Pennsylvania governor. Mastriano attended the "Stop the Steal" rally in D.C. on January 6, 2021 and is a fervent supporter of former President Donald Trump.
"Biblically speaking, at the age of 13, Jesus Christ went into the temple and he ransacked it. They would call him a domestic terrorist today," Flynn said Saturday during Mastriano's official campaign launch.
The former Trump administration official appeared to be making a nod to the January 6 event while endorsing Mastriano for being a "warrior and fighter" in politics.
"Doug Mastriano is exactly the kind of leader we need. We need warriors, we need fighters. We need people that believe in this country," Flynn later added in his speech.
Mastriano, who has served as a Republican state senator in Pennsylvania since 2019, first made clear his intention to run for governor last month. The GOP candidate touts himself as an "anti-establishment" politician and has strongly pushed claims the 2020 presidential election was stolen due to voter fraud.
Mastriano has repeatedly called for election audits in favor of Donald Trump in Arizona and Pennsylvania, and has often boasted about having a personal relationship with the former president and his allies.
Last year, Mastriano attended the "Stop the Steal" rally in Washington that preceded the violent attack on the Capitol building. The Pennsylvania Republican was also one of several lawmakers who organized and paid for bus trips to transport protesters to the Capitol, according to the York Daily Record.
The Republican candidate has also criticized COVID-19 lockdowns and vaccine mandates, and has led anti-mask protests in the state. Mastriano is now the third state senator among dozens of candidates seeking to replace outgoing Democratic Governor Tom Wolf.
"There are a lot of people already in this race for governor," Mastriano said during his gubernatorial announcement. "What is disconcerting is that of the assortment of candidates, few did anything when we faced the darkness and uncertainty of Wolf's edicts and COVID shutdowns. This is no time to settle for yet another dithering politician when our freedoms and liberties are being stripped away. It is time for proven leadership."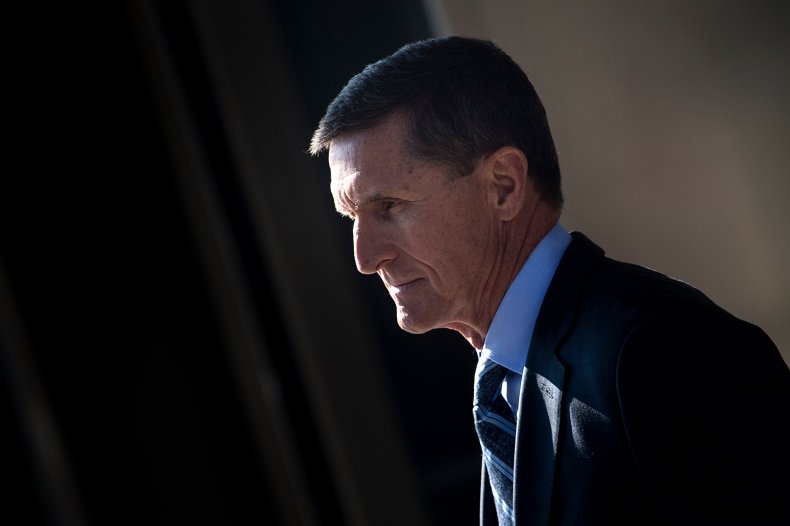 For his own part, Flynn has pushed election fraud claims and endorsed pro-Trump candidates. In November, the House committee investigating the January 6 Capitol riot subpoenaed Flynn, alleging he "drove a campaign of misinformation about the election and planned ways to stop the count of Electoral College votes."
Last month, Flynn sued the committee in an attempt to halt the subpoena, claiming that the investigation is violating his freedom of speech and his rights against self-incrimination.
"I don't have anything to hide, there's nothing, there's nothing there. What we're facing is a clear assault on our basic rights and principally, our freedom to speak freely in this country and to peacefully protest for things that we believe are false or fraudulent," he said in a November interview.