Michael Flynn Could Face Lie Detector and Go Undercover for Mueller Investigation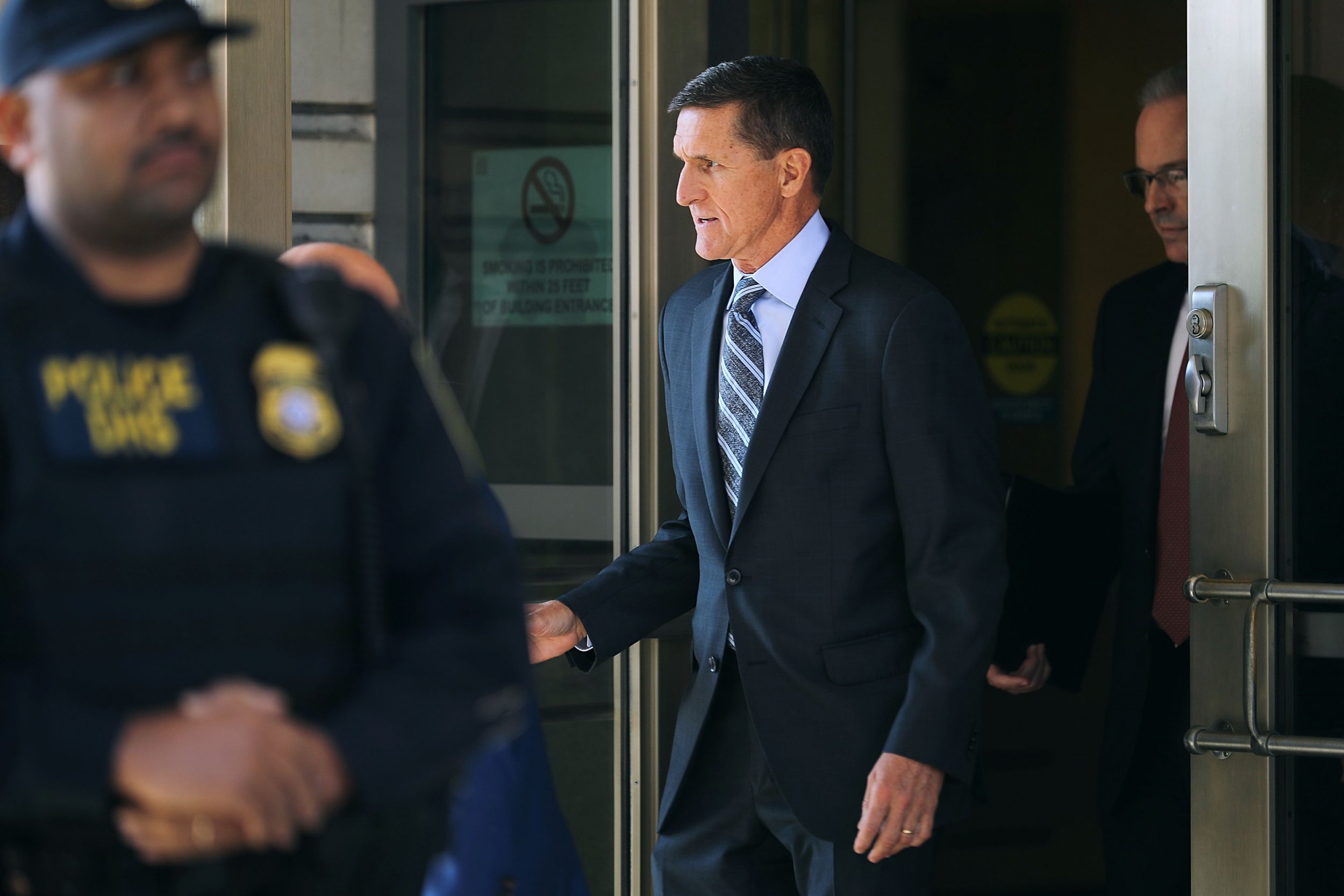 Updated | Michael Flynn on Friday became the second person to agree to plead guilty to a specific crime as part of the special counsel's Russia probe. But unlike the agreement for the first person, George Papadopoulos, the agreement for Flynn contains a section requiring that he cooperate with the investigation as it moves forward.
Flynn, a retired Army general and President Donald Trump's former national security adviser, pleaded guilty on Friday to lying to federal agents in January about conversations he had last December with the now former Russian ambassador to the U.S. He is the fourth person publicly facing charges brought by Robert Mueller, the Department of Justice special counsel investigating Russian meddling in the 2016 presidential election and possible coordination with the Trump campaign.
Related: Everything to know about the biggest Mueller charge yet
The terms of the 10-page plea agreement, dated November 30 and filed in court on Friday, are similar in those in the deal for Papadopoulos, who was a foreign policy adviser to the Trump campaign. But the Flynn document also contains a section titled "Cooperation." In that section, the parties agree that the government could call upon Flynn to cooperate by "providing sworn written statements; taking government-administered polygraph examinations(s); and participating in covert law enforcement activities." Flynn also agreed to "promptly turn over...any and all evidence of crimes about which" he is aware.
Flynn also consented to interviews with law enforcement and government lawyers, even without his lawyer present. And he agreed to testify "before any and all grand juries in the District of Columbia and elsewhere, and at any and all trials of cases or other court proceedings in the District of Columbia and elsewhere," if the government deems his testimony relevant.
Such stipulations about cooperating are not unusual. But prosecutors often choose to keep them under seal, according to Patrick Cotter, a former assistant U.S. attorney who has previously worked with a member of Mueller's team. "It's there because the prosecutor wants it to be there," Cotter said of the cooperation agreement, likely as "a way of sending a message to other potential people that you want to interview." Just because the stipulation does not appear in the Papadopoulos agreement doesn't mean it does not exist in that case, he said.
Even though Flynn has agreed to cooperate, even on "covert" activities, he won't necessarily show up to Mar-a-Lago wearing Groucho glasses and a wire. That's because Flynn might have already been cooperating, and others under investigation will now know he could be doing so, according to Cotter, who is now at the law firm Greensfelder, Hemker & Gale, P.C. "Once you make it public, the guy's no good to you anymore," the former prosecutor said.
One more section that appears in the Flynn plea agreement but not the Papadopoulos one is titled "Government's Obligations." In that section, the government agrees to file a motion called a 5K1.1, which gives defendants an opportunity to tell the court why they should be sentenced to less time or a lower fine than what the sentencing guidelines suggest. Defendants often cooperate in order to get such a motion, and the stipulation does not have to appear in a plea agreement in order for prosecutors to later file the motion, according to Cotter, the former prosecutor. "I would bet you a nice lunch that Papadopoulos is going to get a 5K1.1 motion as well," he said.
Should Flynn refuse to cooperate, he would be violating the agreement. Friday's document said that the court might delay sentencing until Flynn's "efforts to cooperate have been completed." Flynn faces up to five years in prison and a $250,000 fine, though the parties agreed to a non-binding sentencing estimate of zero to six months in prison and a $500 to $9,500 fine.
Mueller's team is likely seeking cooperation so it can advance further up the ladder of the Trump team. Cotter offered an analogy to prosecuting organized crime families: "We start with soldiers; the soldiers would give us the capos. Then the capos would give us somebody in the hierarchy, and then somebody in the hierarchy would give us the boss." He added, "I think Flynn has to be seen as a capo."
In a statement on Friday, Flynn called certain allegations against him "extraordinarily painful" and "false." But, he continued, "I recognize that the actions I acknowledged in court today were wrong, and, through my faith in God, I am working to set things right. My guilty plea and agreement to cooperate with the special counsel's office reflect a decision I made in the best interests of my family and our country. I accept full responsibility for my actions."
Ty Cobb, a lawyer for Trump, said in a statement, "Nothing about the guilty plea or the charge implicates anyone other than Mr. Flynn."
Correction: This article previously incorrectly stated that Patrick Cotter has worked with Robert Mueller on investigations. They have not done so.