Michael Flynn, the former national security adviser to the Trump administration, appeared on a show dedicated to election fraud and COVID-19 conspiracies recently and endorsed a completely unsubstantiated theory that the Deep State is planning to put COVID-19 vaccines in salad dressing.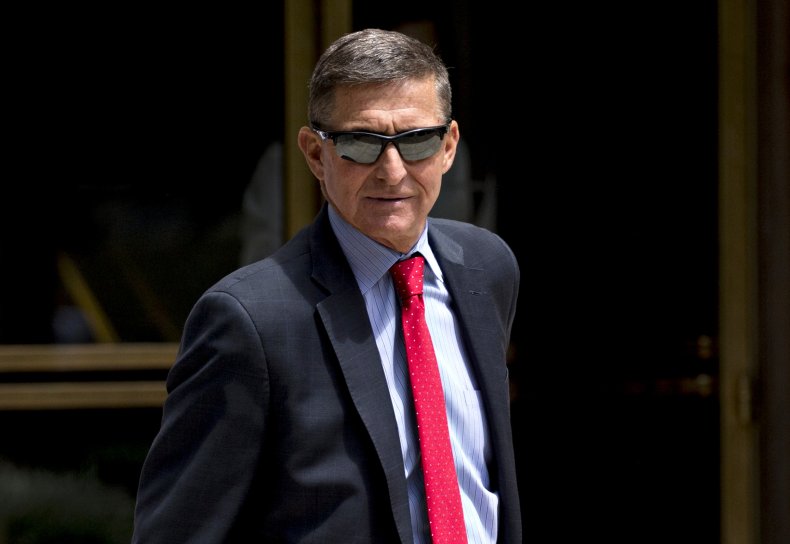 Twitter user Ron Filipkowski shared a clip of Flynn's comments on Wednesday morning. In the video, Flynn said, "Somebody sent me a thing this morning where they're talking about putting the vaccine in salad dressing. Have you seen this? I mean it's—and I'm thinking to myself, this is the Bizarro World, right? This is definitely the Bizarro World.… These people are seriously thinking about how to impose their will on us in our society, and it has to stop."
Flynn is a retired United States Army lieutenant general who served as national security adviser for the first 22 days of former President Donald Trump's administration. He resigned from the position on February 13, 2017, after reports surfaced that he had misled then–Vice President Mike Pence and other officials about communications he had with the Russian ambassador to the United States, Sergei Kislyak. His tenure as national security adviser is the shortest in history.
Flynn later admitted to lying about conversations with Kislyak and reached a plea deal with special counsel Robert Mueller to plead guilty to a felony count of "willfully and knowingly" making false statements to the FBI.
"My guilty plea and agreement to cooperate with the special counsel's office reflect a decision I made in the best interests of my family and of our country. I accept full responsibility for my actions," Flynn said in 2017.
Trump pardoned Flynn on November 25, 2020. Since then, he's embraced conspiracy theories regarding the 2020 presidential election and once suggested Trump should suspend the Constitution and hold a new election under military authority.
Flynn has also aligned himself with the QAnon conspiracy theory in recent years. On Independence Day, 2020, he posted a video on Twitter of himself reciting an oath for QAnon conspiracy theorists. In 2021, Twitter banned Flynn from the platform.
Regarding Flynn's latest conspiracy theory, he could have been misunderstanding a recent story about researchers at the University of California-Riverside looking into a way to grow edible plants that can carry the same medication as an mRNA vaccine. The UC-Riverside team believes if they are successful, they could find a way to make plant-based mRNA vaccines, which could then survive at room temperature rather than requiring cold storage like current vaccines.
COVID-19 vaccines use mRNA technology, however, UC Riverside scientists are very early into the study, and there have been no indications that any government entity plans to introduce vaccine-spiked dressing.