Will Michael Flynn Go to Prison? Sentencing of Trump's Former Adviser Delayed as Cooperation With Mueller Continues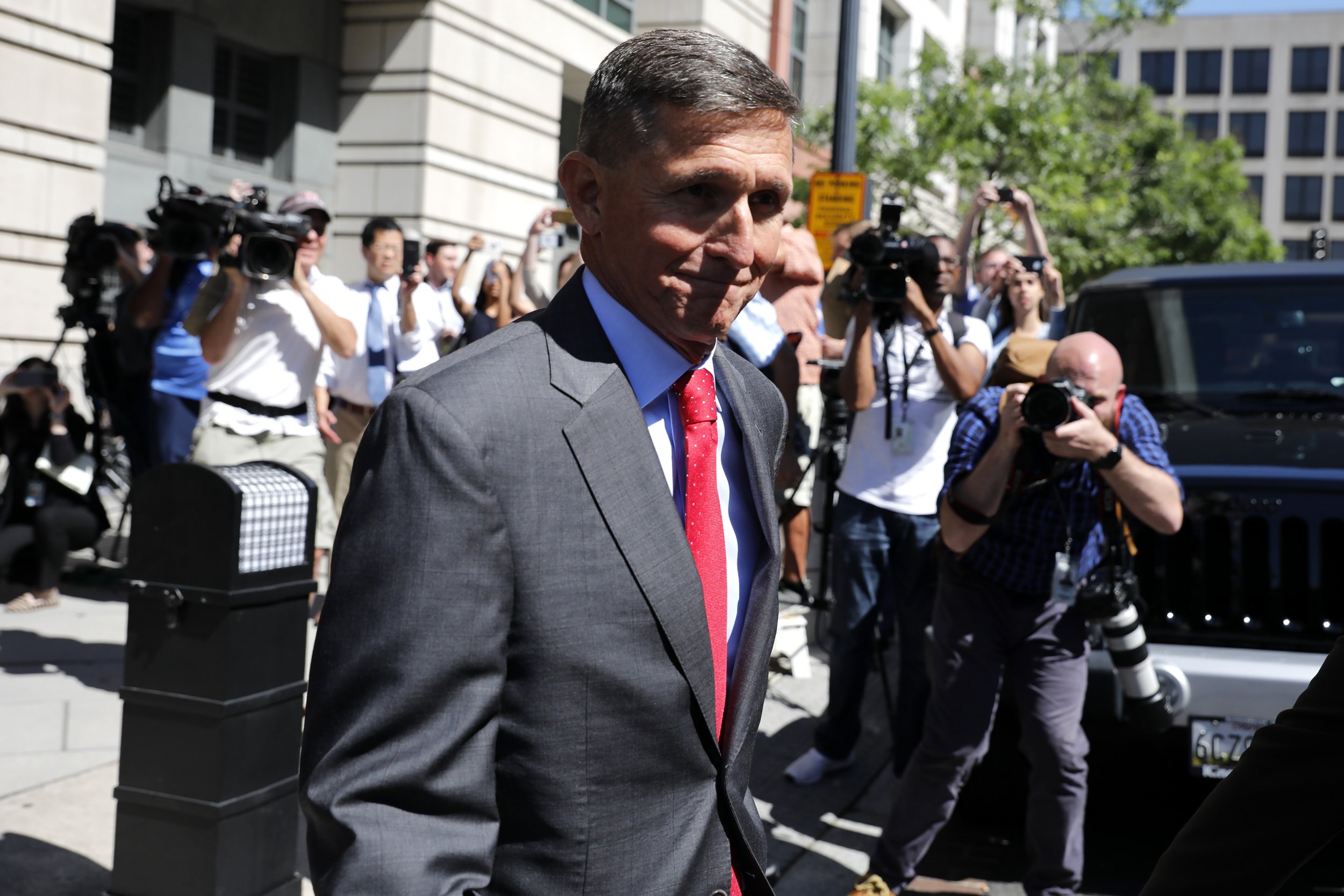 The sentencing of Michael Flynn, President Donald Trump's former national security adviser, was delayed indefinitely on Tuesday as Flynn continues to cooperate with special counsel Robert Mueller in a separate, ongoing criminal case in Virginia.
Flynn's attorneys told U.S. District Court Judge Emmet Sullivan in a Washington, D.C., courtroom that they were "prepared to take your honor up on delaying sentencing so that he can eke out the last modicum of cooperation."
Sullivan, who offered harsh criticisms and warnings to Flynn that he may likely be sentenced to prison, gave him several opportunities to delay his sentencing after Mueller prosecutor Brandon van Grack said "it remains a possibility" that Flynn is still cooperating in the case of Bijan Kian. Kian was a business associate of Flynn's who was charged on Monday in the Eastern District of Virginia for acting as an unregistered foreign agent for Turkey.
A joint status report from Flynn and the government updating the court on Flynn's cooperation with the special counsel is due by noon on March 13, 2019.
Flynn has cooperated with Mueller's team since he pleaded guilty in December 2017 for lying to the FBI about his contact with the Russian ambassador during Trump's transition. He's since met with prosecutors 19 times to provide "substantial assistance," according to Mueller's previous filings.
Because of the latest revelation that Flynn was still cooperating, Sullivan said the court would "have to impose a sentence without knowing the true extent and nature of your assistance." Should Flynn "want to postpone… that's fine with me," he said.
The judge was stern with Flynn, scolding him for the seriousness of his crimes and highlighting the fact that, despite Mueller's and Flynn's legal teams both requesting little or no prison time, he still had the authority to sentence the former national security adviser to incarceration.
Sullivan said Flynn's foreign lobbying efforts before he assumed his role in the White House, which he lied about to the FBI, "undermines everything this flag over here stands for."
"Arguably, you sold your country out," he said. "I'm not hiding my disgust and disdain for this criminal offense."
Sullivan posed the question to prosecutors of whether Flynn's conduct "rises to the level of treasonous activity."
"Could he have been charged with treason?" Sullivan asked.
Prosecutors told the judge they had "no reason to believe the defendant committed treason."
Sullivan later clarified that he was not suggesting Flynn did commit treason but was simply asking the question.
Flynn was also required to acknowledge to the court that he realized lying to the FBI was against the law and that he was, in fact, guilty. In a previous court filing, his attorney's made the assertion that Flynn was tricked by the FBI into making false statements because he had no legal counsel present when he answered questions untruthfully. Flynn admitted he lied to federal agents and that he knew it was unlawful to do so.