Internet Shaming Could Change How Colleges Handle Sexual Assault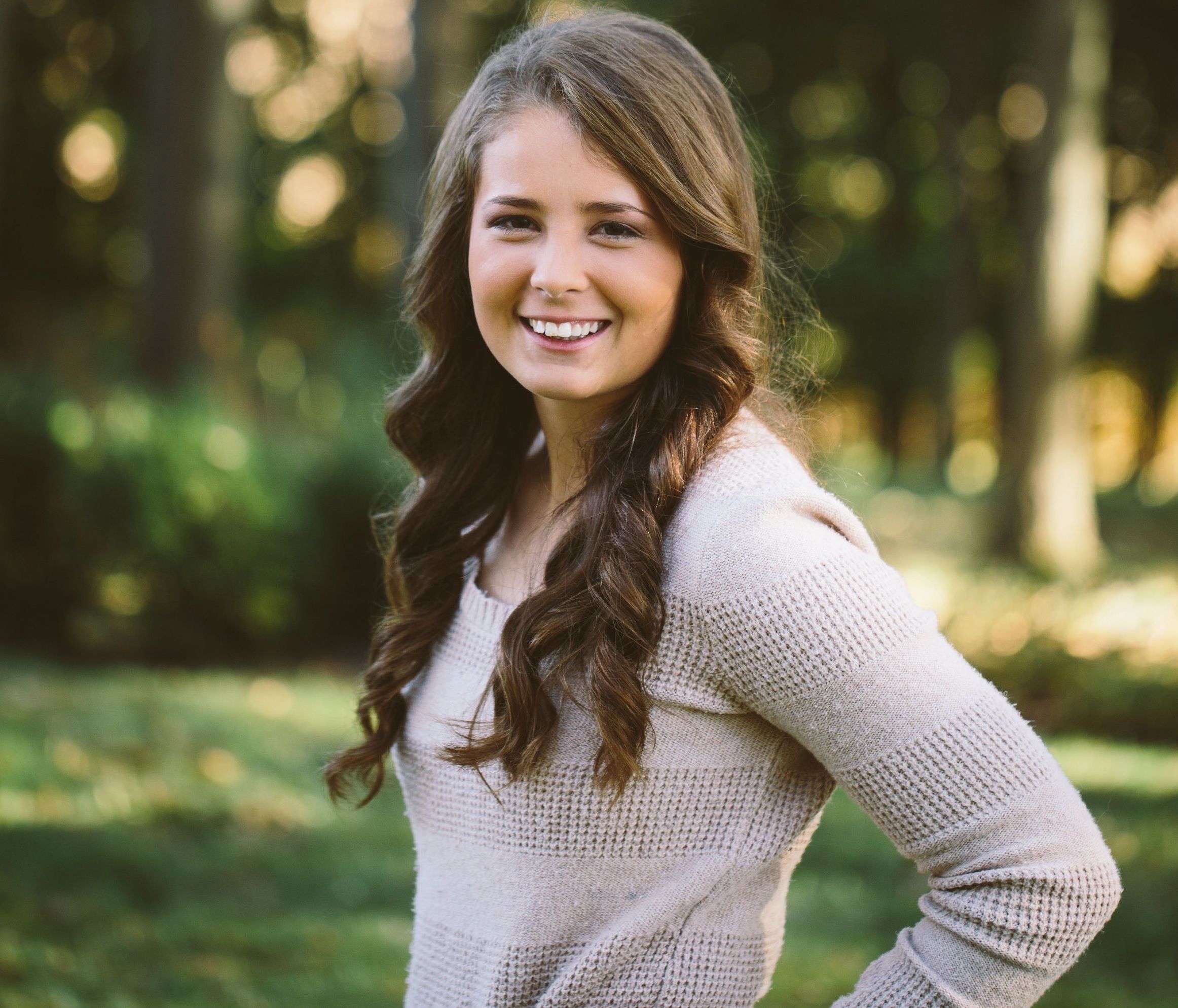 Chelsie Hayes felt she was out of options. In April, it had been five months since she reported to Kenyon College that a classmate had raped her. School investigators had found the accused student more than likely responsible of sexual harassment—for telling Chelsie she was "too cute to be a lesbian"—but said they did not have enough reason to suspect rape. Chelsie appealed, but the school upheld its decision.
"After the appeal, there was nothing left of me. I felt dead inside," she says. "It made me feel like Kenyon really didn't care about me or what happened to me. It was like I was at the edge of the cliff and that just pushed me over." She packed up her belongings and withdrew from the selective college of 1,600 students in Gambier, Ohio, forfeiting credit for the semester of her sophomore year, and moved home.
Her brother Michael Hayes, who also attended Kenyon, had graduated in 2014. He loved his time there and says his sister's ordeal made him feel as if his alma mater had betrayed them.
After Chelsie's appeal, Michael sat in a Starbucks in New York City, pulled out his laptop and wrote an open letter about his sister's experience. He kept at it for several days, during lunch breaks from his job at Lambda Legal, a nonprofit that provides services to LGBT people and people with HIV. "I wasn't intending for anything to happen really with it at first," he says. Then he asked Chelsie for permission to share it online.
"If this helps anybody, then it's worth it," she recalls thinking. The letter wasn't the type of thing she'd post herself. "I am definitely not a social media person or someone who wants to be in the limelight," she says.
In the 1,115-word letter, titled "To Kenyon College, for Failing My Little Sister," Michael wrote how he and Chelsie had grown up near Kenyon, the children of a single mother who hadn't gone to college. He said his sister had dreamed of attending Kenyon to play soccer. When they both ended up there, he wrote, "we felt like we were exactly where we should be."
On November 8, 2015, when he learned that his sister said she'd been raped, Kenyon "became unfamiliar to me for the first time in my life," he wrote. It was no longer the safe space he'd thought it was. That feeling grew as the investigation moved forward and the system he trusted seemed to fail his sister. "Despite her documented injuries, a bed stained with her own blood, her sexual orientation and the combination of that much alcohol and prescription medication in her body, the college concluded—both initially and on appeal—that there was insufficient evidence," he wrote. "It feels as though we have both lost one of our oldest and closest friends."
On April 25, he posted the letter to Facebook and a blog he created. A major response followed, with the media picking up on the letter, and coverage reaching as far as the United Kingdom. Now the letter has been viewed more than 50,000 times, Michael says, and has nearly a thousand Facebook shares. He says hundreds of readers have contacted him and his sister, some of them sharing stories of how Kenyon failed them after sexual assault complaints.
Michael succeeded in internet-shaming the school—though this was not his intention. He says he penned the letter "as a personal writing exercise in the nerdiest sense" and had expected a few friends to share it. But he also wanted to send a message to Kenyon that "you can't let this go. This is momentum that's going to build whether you try to appease the student body...or not."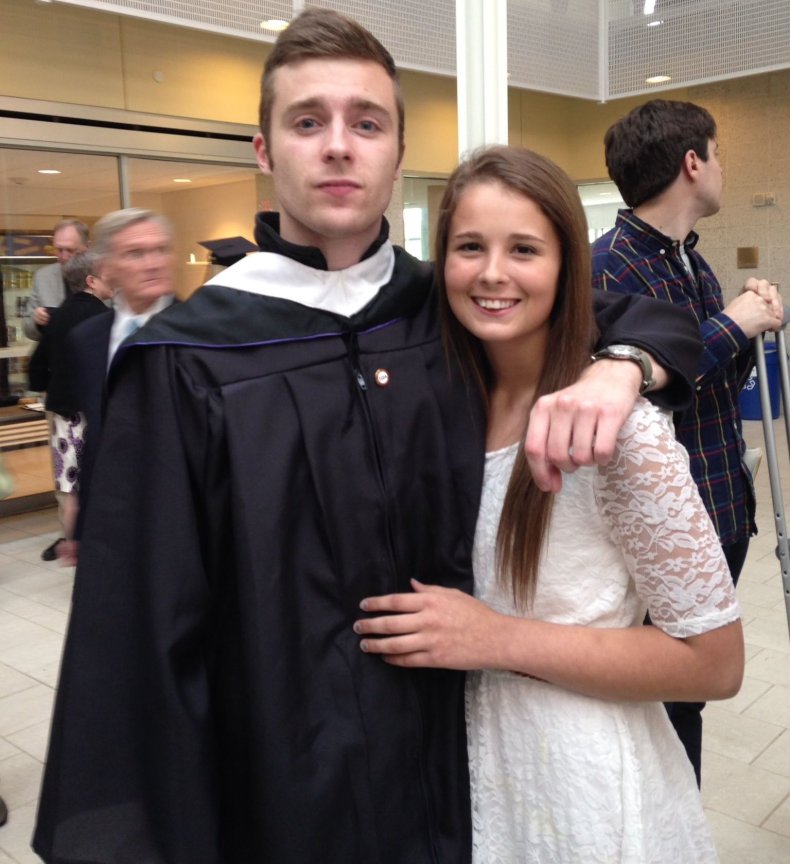 A growing number of people have sought to shame colleges following sexual assault complaints that they've felt ended unresolved, and they're taking their fights online as a final resort. "These cases of students and family members desperately turning to social media to detail their school's mishandling of Title IX cases shows how poorly schools are still doing," says Mahroh Jahangiri, deputy director of Know Your IX, a survivor-led organization against campus sexual violence. "I do think there's definitely a trend." Title IX is the federal law that prohibits sex-based discrimination in education programs, including sexual violence and harassment.
In May, a Twitter account called Raped at Spelman emerged, operated by a person claiming to be a freshman at Atlanta's Spelman College, an all-female, historically black liberal arts school. The woman said that at a party she "was surrounded by four Morehouse students who took me to another room and took turns raping me." Morehouse College is a nearby all-male historically black college. She said that when she reported the alleged incident, Spelman was slow to investigate and seemed to blame her for the alleged attack. The student said she would not be returning to Spelman in the fall.
And in March, Madeline Wilson, a senior at St. Olaf College in Minnesota, starting wearing a shirt saying "Ask me how my college is protecting my rapist" after the school cleared the respondent in a sexual assault complaint she had filed in September. Her classmates wore similar shirts, and they launched a website and called for St. Olaf to reform its policies. "I knew that if the way that St. Olaf administration actively disregarded and mistreated sexual assault on their campus was not exposed, then they would continue to fail other students like me who had been sexually assaulted," Wilson wrote in an essay for the website xoJane last month.
"It didn't intend to be a social media campaign," Wilson tells Newsweek, but "it wasn't until we released the website and the photo on Facebook, and just put it out there, and people started sharing it that people really started feeling comfortable approaching us and asking us and talking to us." The website had 100,000 views within its first week, she says.
Wilson says she's sought justice in other ways—filing a Department of Education Office for Civil Rights complaint and a criminal complaint—but taking matters into her own hands has "been a good way to get people involved and to get people more knowledgeable. Because if I just filed the OCR complaint and gone away, people wouldn't really know this was going on."
Emma Sulkowicz's effort may be the most well-known example of attempting to shame a university after a Title IX case. Sulkowicz in 2014 vowed to carry around a mattress until the classmate she accused of raping her, whom Columbia found not responsible, was no longer at the school. Her "Carry That Weight" effort spread far beyond Columbia, largely through a YouTube video and social media hashtag. She eventually carried the mattress at graduation.
"I think it's great, when it comes to shaming institutions," Jahangiri says. "When the Department of Education takes years to complete an investigation"—on average, 400 days, a department official has said—"and oftentimes it involves processes that are financially costly or otherwise inaccessible to a lot of students, the media can be the next best resource to get an institution's attention and get them into doing some sort of work." Though filing a DOE complaint is free, the White House has cited research that says that a rape can cost a victim $87,000 to $240,776 in medical services and other expenses.
"I do think social media is really the backbone of this movement, and the reason it's this successful has been because survivors are able to turn toward a platform of activism that is free, and it's accessible, and it's international and 24/7," says Andrea Pino, director of policy and support and co-founder of End Rape on Campus, a survivor advocacy organization. That wasn't the case even a decade ago, she says. "We as survivors have turned towards social media to not only learn from each other but also teach each other the different strategies around what is effective in organizing on campus."
Using social media and the internet in this way, Pino says, has been especially helpful to survivors at schools in more remote areas, as Kenyon is, and for survivors belonging to underrepresented groups, such as the person who said she was a Spelman student.
"It's really up to the survivor to choose what path is right for them," says Pino, "but I will say that the wave of change has only really happened because of the surge of those who have come forward."
Some of the efforts seem to be working. The Spelman and Morehouse presidents issued statements, calling the content of the Raped at Spelman tweets troubling, and promised to investigate. ("They claim to take sexual assault/violence seriously. However, they do not," the person behind the Twitter account said in response to the statements. Spokespeople for those schools were unavailable for comment to Newsweek.) And at St. Olaf, after a news article appeared about Wilson's effort, the college president said in April he would appoint a working group to review the school's Title IX policies. More than 200 alumni vowed to withhold donations until the policies were changed.
"We feel very confident in the policies and the procedures that we have developed around a very, very complex issue, but we are very open to changing them" if necessary, says Michael Kyle, vice president for enrollment and college relations at St. Olaf. "We feel like we have been very, very open to saying there may be things that we need to be doing better." The school also requested an investigation from OCR, but the office declined, Kyle says.
Still, says Jahangiri of Know Your IX, "it shouldn't be on survivors to hold their schools responsible for following the law."
'Too Cute to Be a Lesbian'
Chelsie told Kenyon investigators that she began her night on November 7 drinking wine with soccer teammates and wound up at Gambier Grill, an off-campus hangout. She doesn't remember much, she said, not only because of the drinking but also possibly because she was on a combination of antidepressants and Ambien and had hit her head that night.
She does remember standing near a dorm vending machine with a male classmate whom she knew of but had never met. "He kept saying, 'You're too cute to be a lesbian,'" she told investigators. She told him she was in a serious relationship with a woman and had been for more than a year, she recalled.
He allegedly told her he couldn't sleep in his room because his roommate had a girl there—though he told investigators he never said that—and so Chelsie told him he could stay in her room and that they could share her bed as long as they slept with their heads at opposite ends.
What happened then is fuzzy, she said. "Most of the scenes I have playing through my head are the ones from feeling pain," she told investigators.
From her account in the report:
I remember [his] switching sides to put his head by mine, and then he started humping the back of me…. I then remember waking up to the pain of my nipple being bit and saying, "Ow, that hurts." Images of a condom and him sucking on my lip and kissing me…. Next thing I remember was that my pants were off and he had his fingers inside me and was pushing hard, and it was extremely painful and I again said that it was hurting me and asked him to stop and I believe he did. Then I woke up to him saying "You're too tight" and putting his penis inside me…. Then I woke up choking because he was pushing my head onto his penis.
He was gone by the time she woke up.
The respondent's name is redacted in documents and not public. Newsweek's attempts to reach him were unsuccessful. He told investigators that he too had been drinking that night and admitted saying Chelsie was "too cute to be a lesbian," but everything else was consensual, he said. Chelsie initiated sex, but he was unable to get erect, he said, adding that Chelsie "made me promise I was not going to tell anyone about this."
The following day, Chelsie went to a clinic where the examiner discovered a tear in her vagina. She reported the incident to Kenyon the next day, and the school opened an investigation. In March, the two investigators found the respondent more than likely responsible for sexual harassment, but they said in their report that they disagreed about the charges of nonconsensual sexual intercourse and nonconsensual sexual contact, and they decided there was insufficient evidence. Chelsie appealed in April, alleging procedural errors. Two weeks later, Kenyon's provost affirmed the decision.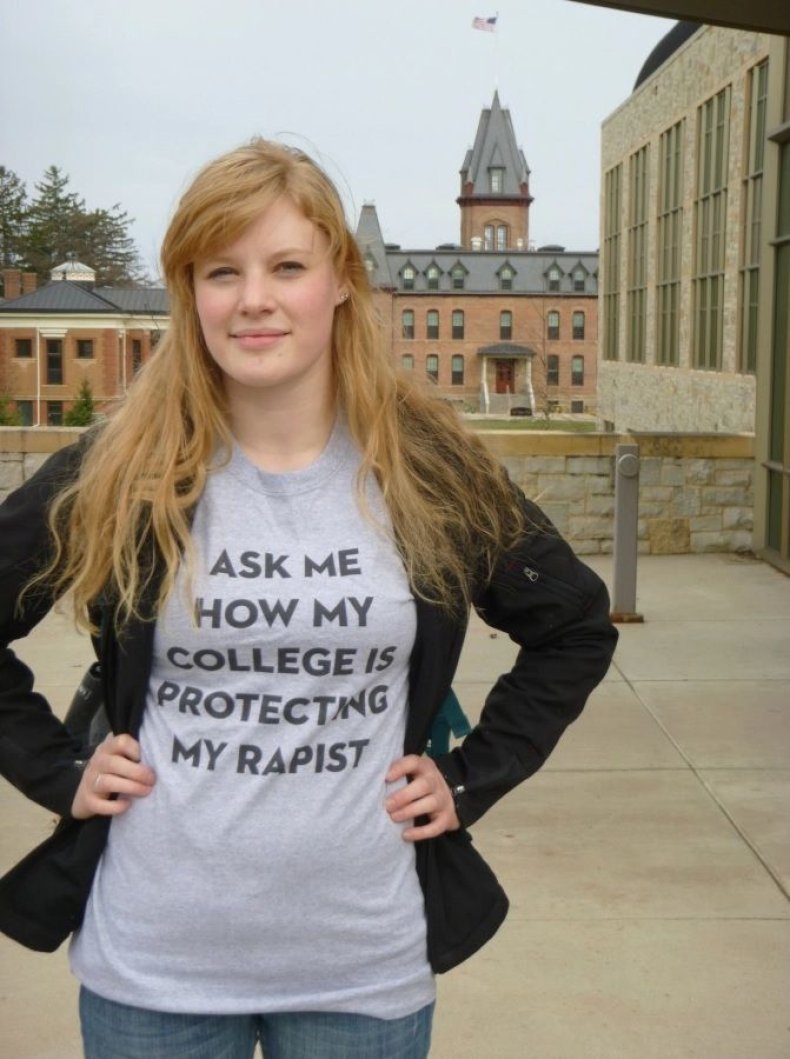 'It Will Take Time'
After the wave of attention Michael's letter received, Kenyon President Sean Decatur was quick to respond. "Over the past 24 hours, the Kenyon community has been made sensitive to issues regarding sexual misconduct," he wrote to the campus community on April 26. "Sexual assault is absolutely unacceptable, here or anywhere." He said that while the school had put in place a new Title IX policy last July, its efforts to combat sexual violence "are not yet done."
On April 27, Decatur announced that Kenyon would hire an independent firm to audit the school's Title IX policy and procedures, as schools including the University of Denver and the University of New Mexico have done. A day later, in a blog post titled "Work to Do," he wrote, "Sexual violence in our community should be unimaginable. It is antithetical to who we are and who aspire to be." He said the conversation would continue in the coming months. "It will be challenging, daunting and difficult. It will be hard work. It will take time."
Decatur, who became president in 2013, tells Newsweek by email that though he cannot discuss specific Title IX cases, "a blog by a Kenyon alumnus raised questions in the minds of some of our students, alumni and parents," and he "felt it was important to acknowledge the concerns."
Decatur stands by the school's Title IX policy and procedures, calling them up-to-date and thorough. He says Kenyon already planned to do "a smaller scale review and assessment" before deciding to announce the audit.
In a 2015 survey of 338 Kenyon students, 9.8 percent of respondents said they had been sexually assaulted at Kenyon, compared with 7.5 percent of respondents at peer institutions. A quarter of those respondents said they had experienced two sexual assaults, and 18.8 percent said they had experienced more than two assaults. The survey defined sexual assault as unwanted sexual touching (including kissing), oral sex, vaginal sex, anal sex or "anal or vaginal penetration with a body part other than a penis or tongue, or by an object."
Around 8 percent said they had experienced an attempted sexual assault at Kenyon, compared to 7.6 percent at peer institutions. More said they might have experienced a completed or attempted sexual assault but were uncertain. The percentages were for both men and women; however, 70.1 percent of overall respondents said they were female, and 29.9 percent said they were male or identified in another way.
According to Kenyon's crime statistics for 2014, the most recent year available, there were four reported rapes and nine fondling incidents reported that year.
Since OCR's 2011 guidance for how schools should handle sexual assault complaints, colleges including Kenyon and Columbia have issued new policies. But victims' advocates say they don't go far enough to prevent assaults or protect complainants. And on the other side, due process legal experts argue that some policies go too far, in a way that is unfair to respondents—typically men. Those respondents are increasingly suing colleges for anti-male discrimination or other causes of action, as one reportedly did at Kenyon in 2013. A judge dismissed Kenyon from the suit in 2015, according to the campus newspaper. (The court record is sealed.)
"This is clearly a very challenging area for colleges and universities," Decatur says. "All of us have the legal and moral responsibility to treat all of our students fairly and to provide equal opportunity for their success without fear of sexual misconduct. This is not easy, and like many areas in the advancement of civil rights in U.S. history, it will require broad and deep cultural change to fully realize these goals in the long term."
Following Michael's letter, Kenyon alumni formed a Facebook group to discuss Chelsie's case and share their own accounts of sexual violence. Within days, the group had more than 900 members, alumni say. They later launched a blog, KC Alumni for Title IX, which presents statistics, personal accounts and suggestions for how Kenyon can improve its Title IX practices.
"My first reaction was, wow, we were having this conversation 17 years ago," says Hilary Lowbridge, who as a Kenyon student in the late 1990s called for the school to overhaul its sexual assault and harassment policies. "Is it really possible that we're still having the exact same conversation?"
Around that time, from 1997 to 2000, Kenyon reported four forcible sex offenses. Some on campus accused the college of underreporting crimes, the school newspaper said at the time. A local newspaper said in 2001 that at least seven female students said they had faced sexual assaults between 1997 and 1999. A school official said at the time that its crime statistics were accurate.
"I did fail," Lowbridge says in a follow-up email to Newsweek, referring to her campus efforts. "Chelsie's story, 17 years later, is proof that I failed, we failed, and Kenyon failed. We all need to accept culpability now. Sure, we did some good in 1999...but clearly it wasn't enough."
"I felt really heartbroken for Chelsie and that we haven't made more progress," says Dana Arneson, an alumna who worked with Lowbridge on those efforts. "It brought up a lot of things for me that I hadn't thought about for a long time," she says. "It brought up a lot for everybody...a very bad form of déjà vu."
Arneson filed a sexual assault complaint against a Kenyon classmate around 1999. Learning of Chelsie's account made her want to revisit how the college handled her own case. The school had found the student responsible for sexual assault but later allowed him to graduate.
Last week, Arneson contacted the school and requested the investigation documents. The school responded that because of privacy laws, it can't release records without consent of the other student—the one found responsible for sexually assaulting her.
Lowbridge says that when she was an activist around the issue years ago, "things sort of similar to what's happened this year with Chelsie, those stories were all happening, but we didn't have the platform of social media, or really the internet at all, to get a lot of attention."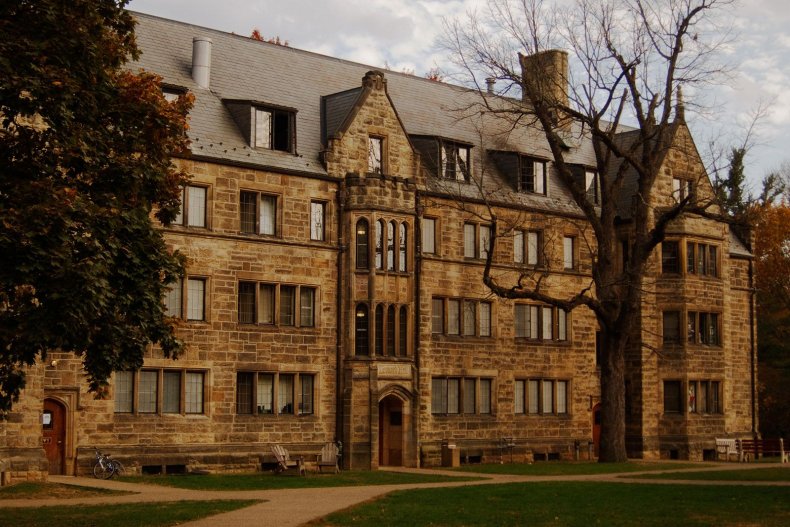 Decatur tells Newsweek he has formed a steering committee that will select a firm to conduct the school's audit. The effort will begin this summer and continue in the fall. Kenyon has said the audit won't affect the outcomes of previous investigations, such as Chelsie's.
"Nothing that I do will change what happened, and that's the case for all of these people that have come to my family saying, 'This happened to us too,'" says Michael. "I appreciate that President Decatur took action, but I do not have very much faith that that action is going to result in something that satisfies the response so far [to the letter], the outrage." The school has not contacted him about the letter, he says.
Chelsie isn't optimistic that the audit will do much good, but she says the possibility "gives me hope." The response to Michael's letter, she says, has "really empowered me and made me stronger. It's amazing how much support is out there, which I never imagined."
The respondent in Chelsie's case was allowed to return to campus, and must complete an online sexual harassment seminar, and keep away from Chelsie. That won't be hard, since she will be attending a new school in the fall, where she plans to study nursing. Her girlfriend is transferring there too. They signed a lease for an apartment together, and Chelsie got a job to help pay for it.
"I want to keep my life going forward," she says, "and try to keep my goals in check."