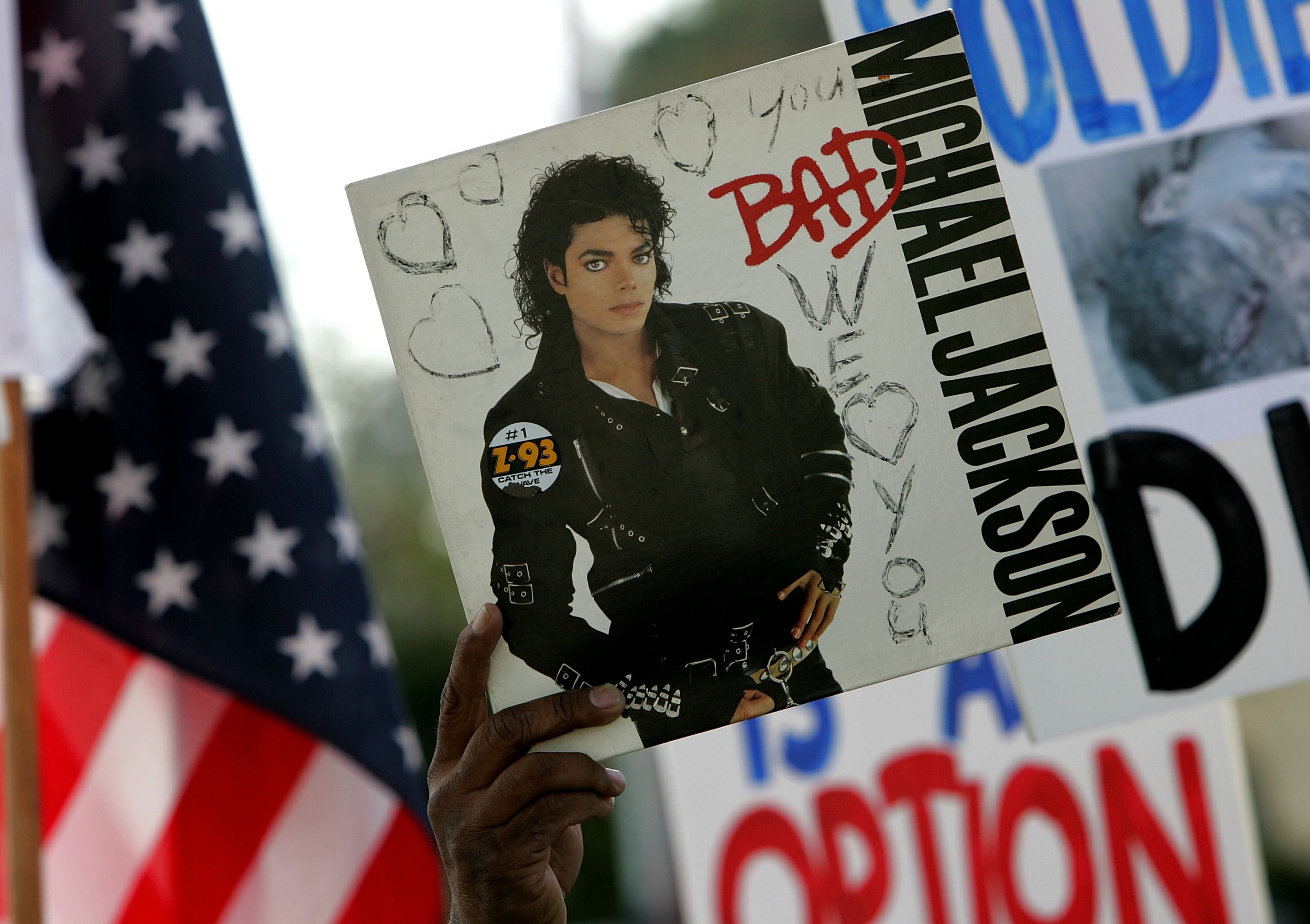 Has there ever been a more difficult album to make than Michael Jackson's Bad?
The challenge was impossible: How the hell do you follow up Thriller? It's like following up the Bible.
For the King of Pop in the mid-1980s, the answer was to reunite with whiz producer Quincy Jones; explore heavier, more mechanical grooves and synth textures; and dial up the paranoia and anxiety that began to engulf Jackson's private life in the ensuing decade. (It also helps to hire Martin Scorsese to make another monster-sized music video.)
If a five-year gap between records seems like a long time today, it was forever in the '80s, when competitors like Prince and Bruce Springsteen were consistently pumping out new material every year or two. Remarkably, Jackson's gambit succeeded, and in the summer of 1987 he regained the pop throne. The result was Bad, released 30 years ago today. The album wound up being Jackson's darkest, most aggressive work to date and the final chapter of his Jones-produced superstar trilogy. It was not without its commercial merits: Bad sold in the tens of millions and produced a record five No. 1 Billboard hits.
Related: Michael Jackson: Man in the Mirror
Bad, more than any other MJ album, feels like a transition document: a bridge between his '80s stardom and the uglier scandals that threatened to overtake his public persona in the '90s. The deeper cuts are weirder ("Speed Demon") and angrier ("Leave Me Alone") than anything on Thriller or Off the Wall, while the smash hits helped define the sound of late-'80s pop, along with Madonna's Like a Prayer and Janet Jackson's Rhythm Nation 1814.
In honor of the album's milestone birthday, we ranked every song from best to worst.
1. "Smooth Criminal"
Imagine the GIFs and memes and Twitter commentary if "Smooth Criminal" came out in 2017. The song is a sleek, exhilarating action sequence of a song that's unlike anything else in Jackson's catalog. The bloodstained lyrics, the gangster-inspired video and the taut, now-classic hook ("Annie, are you OK?") make "Smooth Criminal" an urgent and inspired highlight. Bad is at its best when it explores the darker, more paranoid side that began to consume Jackson's life in the late '80s, and this song captures that impulse. It's so good, even Alien Ant Farm couldn't ruin it.
2. "Man in the Mirror"
A stirring self-improvement anthem that gets better and better as the song dials up its gospel fervor. Jackson didn't write this song, but he sang the hell out of it, with his vocal hysterics (the yowls, the squeals, the cries of "shamone!") rising above the wails of the Andraé Crouch Choir. "Man in the Mirror" was unlike any of Jackson's prior ballads, and it became Bad's fourth No. 1 single in the winter of 1988. This is what "We Are the World" would have sounded like if it didn't suck.
3. "Bad"
Whether you live on Earth or Mars, you've heard "Bad" 5 million times and shrieked along with its canonical chorus and tough-boy swagger. The airtight groove makes this one a classic, along with Jackson's vocal stunts (the song introduces that made-up exclamation "shamone") and the ambitious, Scorsese-directed video, which "Weird Al" Yankovic parodied as "Fat" to great effect a year later. Legend has it that the song was originally meant to be a duet with Prince, Jackson's rival. It's not entirely clear why Prince backed out, though my favorite story is that he hated the song's opening line: "Your butt is mine." ("Now who is going to sing that to whom?" Prince reportedly said in an interview with Chris Rock. "'Cause [he] sure ain't singing that to me, and I sure ain't singing it to [him].")
4. "Another Part of Me"
Speaking of Prince, "Another Part of Me" is just a killer groove—the rare Jackson song that can match Prince for funkiness and swagger. The staccato horns and New Agey lyrics are pure MJ, though. According to Quincy Jones, this song was going to be left off of Bad until Jackson caught his manager dancing along with it in the studio. That sight was enough to make him reconsider.
5. "The Way You Make Me Feel"
Bad unveiled a harsher, more synthesizer-heavy sound for Jackson—a departure from the lush, orchestrated confections of Thriller. "The Way You Make Me Feel," with its shuffle groove and thumping synth bass line, is a perfect example. The call-and-response chorus makes it one of Jackson's most straightforward and enjoyable love songs. (Jackson evidently agreed, performing the song on all of his subsequent tours and at the 1988 Grammy Awards.)
6. "Just Good Friends"
Bad was initially meant to have duets with Prince and Whitney Houston, but those plans fell through. Ultimately, the most high-profile guest appearance was Stevie Wonder, whose soulful performance makes "Just Good Friends" one of the album's most euphoric and underrated moments. The song's mechanical snare effect and sci-fi synth solo might sound dated, but Quincy Jones puts all that late-'80s studio cheese to very good effect here.
7. "Dirty Diana"
Bad takes a disturbing turn in its final third, especially on the snarling dis track "Dirty Diana." It's not exactly a fun listen, but with its hysterical tone and "Beat It"-style guitar sleaze, it's an effective and unsettling one. The lyrics, reportedly inspired by some unsavory groupies, are among Jackson's angriest ever. The song became the fifth album track to reach No. 1 on the Billboard charts, setting a world record at the time.
Related: Every song on U2's The Joshua Tree, ranked from best to worst
8. "Speed Demon"
"Speed Demon" isn't Jackson's deepest song—it's a paean to the thrills of driving fast—but I have to admit I'm crazy about that rapid-fire synthesized bass lick. It's strangely exhilarating. Apparently, the song was written after Jackson got a speeding ticket. Special prize to anyone who can track down the cop who dared pull over the King of Pop.
9. "Liberian Girl"
"Liberian Girl" was released in 1989 as Bad's ninth single. (Ninth! How many pop albums justify five singles, let alone nine?) The song reflects Jackson's fascination with African culture and is notable for its spoken Swahili refrain. If it sounds a bit more gentle and lush than the surrounding tracks, that's probably because it was originally written for the Jacksons' 1984 album, Victory.
10. "Leave Me Alone"
"Leave Me Alone" plays like the darker, paranoid cousin of "The Way You Make Me Feel." The groove is quite similar, slick drum programming and all, but the lyrics are not: The song rails against tabloid creeps, with Jackson angrily imploring the media to "just stop dogging me around." Like "Dirty Diana," it's heavier and more bitter than anything on Thriller. The hook is more insistent than memorable, and the romantic metaphor somewhat obscures the song's specificity, but "Leave Me Alone" does serve to foreshadow Jackson's brutal treatment in the press during the 1990s and early 2000s.
11. "I Just Can't Stop Loving You"
Bad repeats the same bewildering sequencing misstep as Off the Wall: placing the two slowest songs back to back in the middle of the record. In both instances, the second ballad is substantially weaker. "I Just Can't Stop Loving You," a soppy duet with Siedah Garrett, is a decent love song, but the schmaltzy arrangement and boyish delivery feel misplaced amid the rest of the album's harder-edged pop. (Jackson must have been fond of the song, though, as he opted to release it as the album's first single.)