Every Song on U2's 'The Joshua Tree,' Ranked From Best to Worst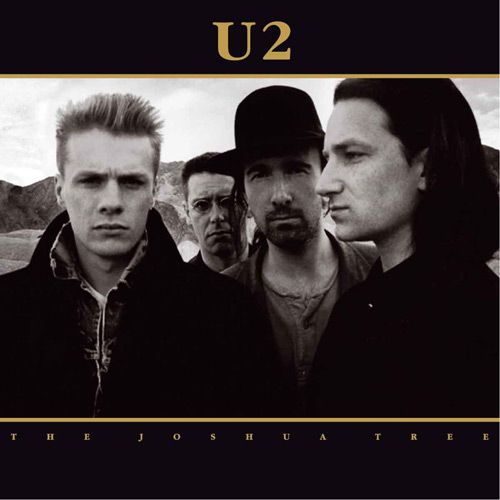 March 1987. Ronald Reagan is president. The Iran–Contra affair is threatening to engulf his administration. Platoon wins best picture at the 59th annual Academy Awards. And four bookish lads from Dublin somehow become the biggest band in the world.
With 1987's The Joshua Tree (released 30 years ago today), U2 didn't just become a superstar act. It rewrote the rules of '80s superstardom. While the airwaves were dominated by glitzy synth-pop acts and goofy hair-metal monstrosities, U2 found astronomical success in soaring, plainly earnest songs inspired by faith and America and geopolitical conflict. Building on 1984's The Unforgettable Fire, The Joshua Tree located the ideal balance between U2's atmospheric qualities and its anthemic rock instincts, establishing the trademark sound the Irish group spent the 1990s trying to escape. The album would go on to sell 25 million copies worldwide, while its historic tour was documented in the 1988 documentary U2: Rattle and Hum.
The Joshua Tree's only significant weakness is its sequencing: The best songs are all pushed to the front, while the weaker tracks are scattered near the end of the album. (Ever notice how U2 frequently puts the weakest songs at the end, as if fans just won't notice? All That You Can't Leave Behind is the most egregious offender.)
We've ranked the album's tracks from best to worst, separating the classics from the near classics and one or two duds.
1. "WITH OR WITHOUT YOU"
A rippling synthesizer and an unmistakable bass line form the basis of U2's greatest ballad. Everything that's great about pre-Achtung Baby U2 is contained in these four minutes and 56 seconds: spiritual longing, desire, soaring falsetto vocals and ridiculous amounts of reverberating guitar effects. The lyrics are simple but evocative (a storm, a bed of nails), and the song served as a breakthrough moment as U2 fumbled toward the sound that would define The Joshua Tree.
2. "WHERE THE STREETS HAVE NO NAME"
From its rumbling, luxuriant fade-in to its final guitar ripple, "Where the Streets Have No Name" captures the drama and spiritual yearning that's all over The Joshua Tree. It is euphoric, the sort of song that's made to ring out in a stadium or across a desolate countryside—there is a reason U2 has played this track at virtually every concert since 1987 (even when the band drifted away from grand, earnest gestures during its Zoo TV tour). However bad you butcher this song at karaoke, you still can't quite diminish its power.
3. "I STILL HAVEN'T FOUND WHAT I'M LOOKING FOR"
The Joshua Tree's opening trilogy is unimpeachable. How many albums begin with not one or two but three of the greatest radio hits of the '80s? Bono has described "I Still Haven't Found What I'm Looking For," one of the band's most ebullient songs, as an "anthem of doubt." While popular music rarely reaches higher than romantic love when laying out desires for its protagonists, the narrator in "I Still Haven't Found What I'm Looking For" seeks a greater understanding. He has toiled for love, but it isn't enough. He's searching for something that can never be found, and that's OK. If there is any question as to whether the band grasps the beauty inherent in this fraught journey, just watch the video, in which Bono prances through Las Vegas in a high-on-life stupor.
4. "ONE TREE HILL"
Haunting and hypnotic, the song was written in tribute to a roadie for the band, a Maori man from New Zealand, who had been killed in a motorcycle accident. Bono recorded the vocals in one take, as he reportedly felt too emotionally wiped out to repeat the effort. Mournful and ethereal at the same time, this is the sound of a true believer professing his faith. It is the song on this album that most evokes The Unforgettable Fire.
5. "RUNNING TO STAND STILL"
U2 achieved rock god status by storming the castle walls with fist-pumpers such as "I Will Follow" and "Sunday Bloody Sunday," but the band always knew how to write at the decibel level of a whisper. From "40" to "Bad" to this acoustic-blues elegy on heroin addiction, Bono and company have shown a penchant for taking their audience to a state of Zen meditation. This is The Joshua Tree's most underappreciated classic.
6. "RED HILL MINING TOWN"
Gorgeous and dramatic, "Red Mill Mining Town" is a topical track inspired by England's National Union of Mineworkers strike in 1984. Instead of getting into specifics, the song focuses on the interplay between blue-collar work and family life, bringing to mind the working-class ballads of Bruce Springsteen, whose music Bono had been familiarizing himself with before the album was written. It's the only Joshua Tree song U2 has never played live.
7. "BULLET THE BLUE SKY"
U2's lyrical obsession with America came to the forefront on The Joshua Tree and 1988's Rattle and Hum. Both albums feature "Bullet the Blue Sky," which confronts the country's more sinister side: military planes, money-grubbing preachers, the Ku Klux Klan. With a killer rhythm section and uncharacteristically harsh, grinding guitars, "Bullet the Blue Sky" is an invigorating burst of aggression nestled between "With or Without You" (slow) and "Running to Stand Still" (slower). The Rattle and Hum version features Bono's single goofiest lyric to date: "The God I believe in isn't short o' cash, mister!"
8. "IN GOD'S COUNTRY"
"Desert sky, dream beneath the desert sky." The lads from Dublin had fallen in love with the American Southwest on previous tours, but on The Joshua Tree they employed it as a figurative stand-in for America. While this tune is little more than a palate cleanser with a few signature licks from the Edge, it nevertheless evokes that sense of a wide-open Western landscape teeming with opportunity.
9. "MOTHERS OF THE DISAPPEARED"
The Joshua Tree's closing song is an eerie, muted track inspired by a group of mothers whose children had been assassinated or made political prisoners in El Salvador. It will grow on you, though it might take 10 or 15 listens to get there: The recording is so subdued (dominated by Brian Eno's unusual synthesizer arrangements) that it threatens to undermine the song's intense emotional import.
Related: How U2 found what they were looking for with The Joshua Tree
10. "TRIP THROUGH YOUR WIRES"
A cowboy campfire stomp, this song has the feel of a stagecoach riding over an undulating path on a route to who knows where. It's a playful, harmonica-fueled vanity project for Bono's vocals, and the less one attempts to deconstruct it the better.
11. "EXIT"
A menacing bass line, a raucous climax, lyrics written from the mind of a serial killer—this is an intriguing experiment that simply doesn't fit. The most interesting thing about "Exit" is perhaps the reason why the band stopped playing it live: Robert John Bardo, who stalked and murdered actress Rebecca Schaeffer, claimed this song inspired him to kill. The album should have ended with "One Tree Hill" leading straight into "Mothers of the Disappeared."