How U2 Found What They Were Looking for With 'The Joshua Tree'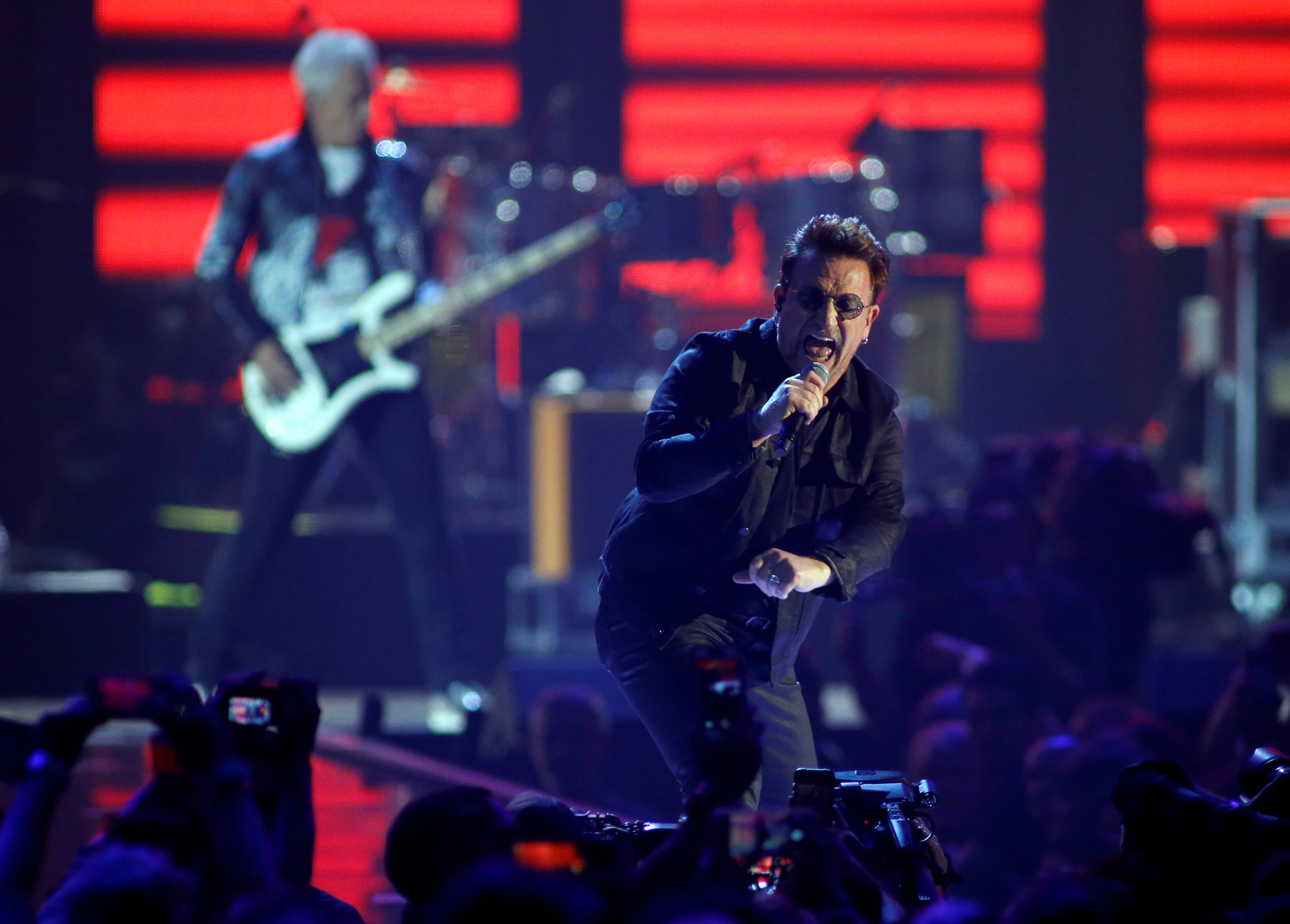 Michael Phelps had the 2008 Olympics, Quentin Tarantino had Pulp Fiction, and U2 had The Joshua Tree. These are the acts of artists whose previous works showed great promise and who then went ahead and decided it was time to erase any lingering doubts. The iPod was nice, Steve. You got anything else in the pipeline?
The first time I heard The Joshua Tree, I was sitting on the first floor of my college's library studying. A friend and fellow premed masochist had the cassette in his Sony Walkman and fast-forwarded it to the third song. "You'll like this one," he promised.
I had never heard "With or Without You" before.
I don't remember my first kiss (neither does she), but I do remember where and when I heard "With or Without You" for the first time. For the thousands or even millions of us who considered Bruce Springsteen our rock god, we now had a foreign-exchange student from the Emerald Isle. The Joshua Tree was U2's Born to Run—the consummation of years of effort and live shows and a few promising albums—and "With or Without You" was its "Thunder Road," an anthem of disquiet and urgency that builds from a whisper to a primal scream.
In the years before YouTube and social media, a band would disappear for a year or two between albums and fans would literally not see them. By March of 1987, U2 had not released an album in two and a half years (The Unforgettable Fire came out in October of 1984). The last time most of us had spotted them was at the Live Aid appearance in July of 1985 at Wembley Stadium. And so late on a Friday evening in March, as all of my friends had departed for spring break while I remained behind to study for MCATs, I closed the books and turned on the television: NBC's Friday Night Videos was about to air the world premiere of "With or Without You," a major television event.
I leaned forward on the couch as a transformed Bono stood center stage. Why is his hair slicked back? Is that a ponytail? Who raided wardrobe from The Warriors? Why does Bono have a guitar strapped to his back—Bono plays guitar now? There is a moment, at the 1:42 mark, in which the man known to his family as Paul Hewson drills a hole through the lens with his stare. If you're looking for a band to worship, that stare said, you've come to the wrong place. This is a crusade.
It would be impossible to say how many times I've listened to The Joshua Tree, though to be honest I always skip past "Bullet the Blue Sky" and take the disc out after Track 9, "One Tree Hill." It's difficult to conjure a song better-suited as a closing track than that one (at least until "All I Want Is You" appeared on the next album, Rattle and Hum), and I've never understood why the boys from Dublin even tried.
Related: Worshipping at Bono's altar ego
The raw energy and naked sincerity of the album was irresistible, particularly for anyone who, like the band, was young and idealistic. The Joshua Tree wasn't about girls or sex or cars or drugs. It was a collection of Viktor Frankl essays shot through overhead power lines. It was the soundtrack of a quest that transcends material appetites. "I wanna run/I want to hide/I wanna tear down these walls/That hold me inside" are the first words of the album, from a track, "Where the Streets Have No Name", that was added at the last minute (no one thought of it as a complete song).
Much like Springsteen's Born to Run, this is an album not made strictly for radio play but instead as wish fulfillment for the acolytes who enjoyed the early efforts. For the believers who knew that the growing crescendo was leading to a sonic boom, that it was just a matter of when, not if. Before The Joshua Tree, U2 were a very good band from Dublin who were not that many rungs up the ladder from The Alarm and Big Country. After The Joshua Tree, Bono, the Edge, Larry Mullen Jr., and Adam Clayton became global ambassadors of the rockosphere. Other bands hoped to sell records or get on MTV. U2 were, to borrow a line from the Blues Brothers, "on a mission from God."
The true rock gods are secular prophets and clergymen. Their music transcends entertainment; it inspires us. When Springsteen had a chance to meet his greatest musical influence, Bob Dylan, the man from Hibbing said, "If there's anything I can ever do for you—" The Boss cut him short: "It's already been done."
For scores of us, on this continent and others, U2 and The Joshua Tree lit a similar path. When Bono glared into the camera at me, at all of us, all I knew was that I never wanted to do anything or be anybody who was not able to return that self-assured gaze in kind. How could anything be more important than having passion for what and who you are? Though the grades were there, the spirit was not, and I opted out of medical school ("I Still Haven't Found What I'm Looking For?").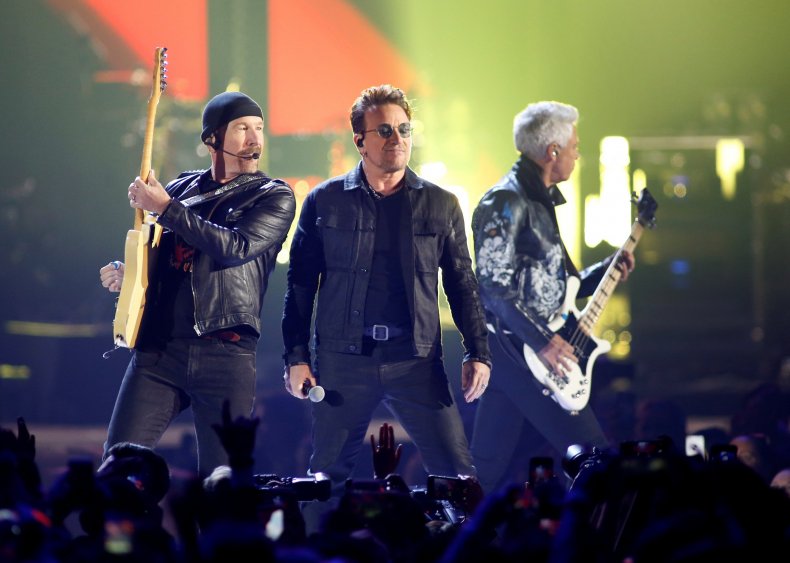 U2 went on to superstardom and, in the manner of most charismatic evangelicals, soon became the targets of a backlash. Who did these sorcerers of salvation think they were? The band, or more specifically, the lead singer, may have been a tad self-righteous, but it was also self-aware. "I didn't mean to bug you," Bono famously intoned during the tour. "Am I buggin' ya?"
That remark also drew criticism. But it was always unfair and inaccurate to pigeonhole the greatest musical foursome from a town located along the Irish Sea since the Beatles (Dublin is 135 miles due west of Liverpool) as solely self-important. They always had a cheeky sense of humor too, as I discovered when a few of us went to see them on The Joshua Tree tour in Indianapolis on November 1, 1987.
On that Sunday night, the opening act, Los Lobos, was delayed. The Hoosier Dome crowd was not yet restless, but that moment was approaching. Suddenly, four men in cowboy hats and gigantic beards took the stage and introduced themselves as the Dalton Brothers (for posterity's sake, Alton, Luke, Duke and Betty). They played a pair of country tunes, "Lucille" and "Lost Highway," and left the stage with as little fanfare as they'd taken it.
Los Lobos later arrived, and then U2 played their mesmerizing set, leaving "With or Without You" for the penultimate song of the encore. As we audience members were putting away our lighters, Bono announced, "We'd like to close with a song we learned from our friends, the Dalton Brothers." And then they played "Lucille" for the second time that evening.
Rock 'n' roll scripture and a devilish prank in the same show. Hallelujah, U2. And thank you.