Wendell Pierce's praise of "one of the great American actors" Michael K. Williams has gone viral following the actor's sudden and tragic death.
Williams, 58, was found dead in his Brooklyn apartment on Monday, plunging the acting community and fans the world over into mourning.
Perhaps best known for his iconic portrayal of Omar Little in The Wire, Williams became synonymous with the role, having delivered a complex and nuanced portrait of Black masculinity and sexuality rarely captured on screen before.
His The Wire co-star, Wendell Pierce, summed up the power of that performance during a joint red carpet appearance in 2014 that has now been viewed more than 1.5 million times on Twitter following Williams' death.
As a humble Williams describes himself as "green" in terms of his acting experience, Pierce proceeds to put into words what Williams' performances have meant to so many.
"Well, he may say that he was green, but Michael has contributed, two of the most iconic characters in the history of American television, with Omar and with Chalky White [from Boardwalk Empire]," Pierce begins.
"What we are actually getting to witness is his young career—we're going to see a lot more—is, like, one of the great American actors, giving voice and giving flesh to characters that most people would have never given the same humanity to.
"Opening a window to a world of men that we pass by or don't know about, it's one of the most innovative portrayals on television in our generation."
He adds: "It was an honor for me to even share the screen with him.
"One of the greatest moments I've ever had in my career were the scenes that I did with Michael.
"He's a very special man, very special artist, but an artist of the community, to take the individual to a place where we reflect on who we are."
Pierce finishes his speech with: "He has opened up a window of reflections of people who may have people on the corner that they would have never given humanity to—that he has made people think twice and give humanity to these men.
"And that's classic American television history right there."
The video is from The Wire reunion at PaleyFest in 2014.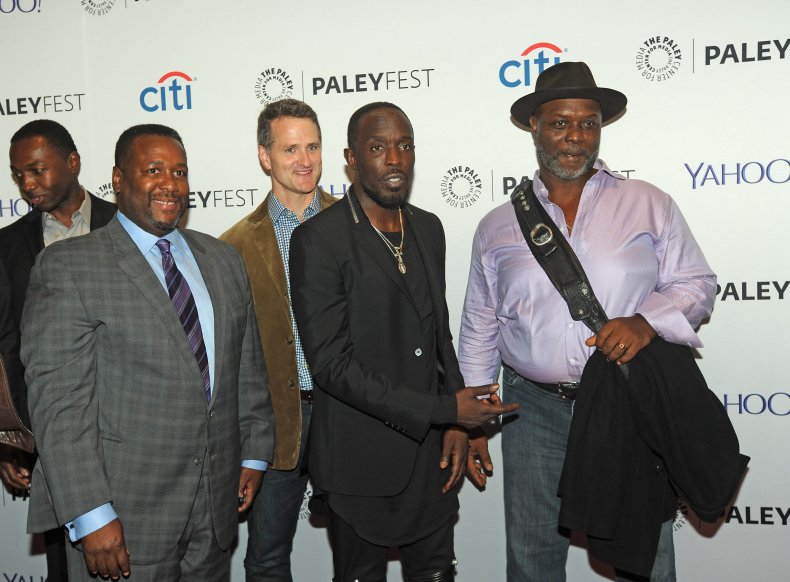 Watching it back after Williams' death is particularly heartbreaking and moving for fans today.
As one comment reads: "Struggling with the emotions watching this. Wendell Pierce praising Michael like this is iconic. He articulated precisely the way it felt watching him on TV. I wish we had been given more time to watch such a talent."
Pierce is one of many actors and filmmakers who has also shared a moving tribute to Williams today.
Taking to Twitter, the Bunk star wrote: "The depth of my love for this brother, can only be matched by the depth of my pain learning of his loss. A immensely talented man with the ability to give voice to the human condition portraying the lives of those whose humanity is seldom elevated until he sings their truth."
His tribute continued in part: "If you don't know, you better ask somebody. His name was Michael K. Williams. He shared with me his secret fears then stepped out into his acting with true courage, acting in the face of fear, not in the absence of it. It took me years to learn what Michael had in abundance."