Convicted "Cupid of Chaos" Bigamist Mike Middleton Flees Halfway House To Reunite With Fourth Wife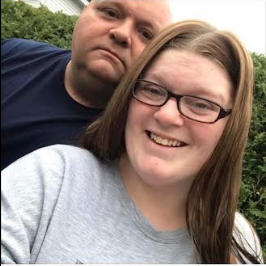 Michael Middleton — dubbed the "Cupid of Chaos" for wooing and marrying four unsuspecting women before being hit with bigamy and domestic abuse charges — recently violated the terms of his probation when he absconded from a New Hampshire halfway house and is now on the lam with the fourth Mrs. Middleton, Newsweek has learned.
For those unfamiliar with Middleton, the 43-year-old unlikely lothario married at least four women from four different states over the course of a decade, all while still legally married to the first wife. He recently pleaded guilty to bigamy and received a suspended sentence of 12 months but only on the condition that he not "commit a crime of any kind" during the next five years.
But it looks like he may have already broken that promise, allegedly running off his fourth wife Ashley Middleton — whom he married in Kentucky on April 11, 2016.
A Third Wife Scorned...
He might have been able to get a few days' headstart were it not for his ex-wives-turned-sleuths alerting authorities.
"I tipped them off," said Middleton's third wife, Alicia Grant, 25, who recounted to Newsweek how she dropped the dime on her ex. "As soon as I learned they were back together and were 'happy' — I immediately notified the state."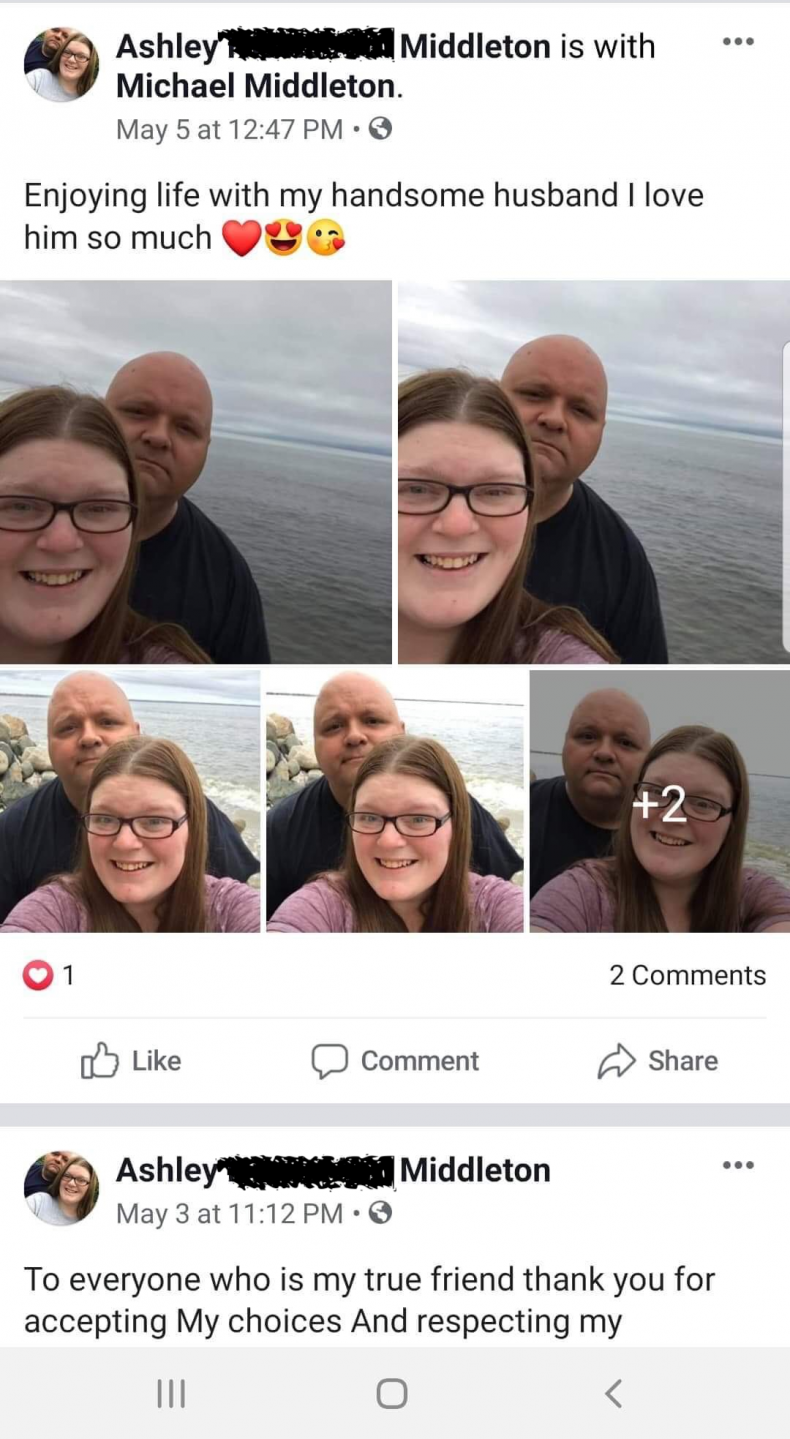 Grant's marriage to Middleton began by taking their vows a five-minute drive over the Maine border in a Dover, New Hampshire, courthouse on October 22, 2013, and ended the day she rang Maine cops.
They arrived to restrain her lesser half who had been guzzling coffee brandy and physically attacking her.
"While I was on the phone with 911, he kicked me in the leg," she said. (The domestic violence charge was prosecuted in Maine's York County and evidence from that case factored into Middleton's April 8 guilty plea in Strafford County Superior Court in New Hampshire.)
"The man is not just a serial bigamist but he's a serial abuser," Grant attested.
She said Middleton had taken her for tens of thousands of dollars. That included gifting him a Z28 Camaro and a full wardrobe — which she would ultimately burn in effigy.
Although Grant wasn't present in court when Middleton entered his guilty plea, the aggrieved former spouse's voice was heard. Her words daggered off the page from a letter read aloud by the Strafford County prosecutor.
Middleton was forced to stand and listen while Grant accused him of having "haunted" her throughout their decade of marriage and "locking her" in a "prison of lies and manipulation."
In the corridor of the courtroom, Middleton attempted to show he was made of better stuff.
"I did feel compassion," he said. "I did hear her email... And I did feel compassion and understanding."
Grant wasn't buying what her ex was trying to sell.
"As soon as I saw that I looked at my boyfriend and told him, 'He's lying through his freaking teeth,'" she seethed. "He honestly believes he's the victim. That there's all these crazy women trying to get him."
But while Grant feels hurt for what Middleton did to her, she's even moe disgusted by his decision to flee to Columbus, Ohio, to drag fourth-wife Ashley back into his clutches.
"The guy is absolutely the scum of the earth," Grant fumed.
The First Wife Speaks
Grant's wrath is only matched by yet another Mrs. Middleton.
"They're on the run and she's protecting him," said 36-year-old truck stop clerk Katherine Middleton, the first and only legally bona fide Mrs. Middleton.
For Katherine, life has gone south ever since their wedding night on December 6, 2006, when she said Middleton was ripped on booze and tore up their marriage certificate inside a Savannah, Georgia, motel room.
After two years of more of the same, the couple split. Katherine's been trying to serve the man with divorce papers since.
The closest she got to getting Middleton's signature on the documents — and finally putting an end to their zombie marriage — was when he was caught in February by deputies in Franklin County, Ohio,
"Now I have to start all over and find him all over again," she lamented about the disappearance of Middleton, whom she likened to a "Piece of s---."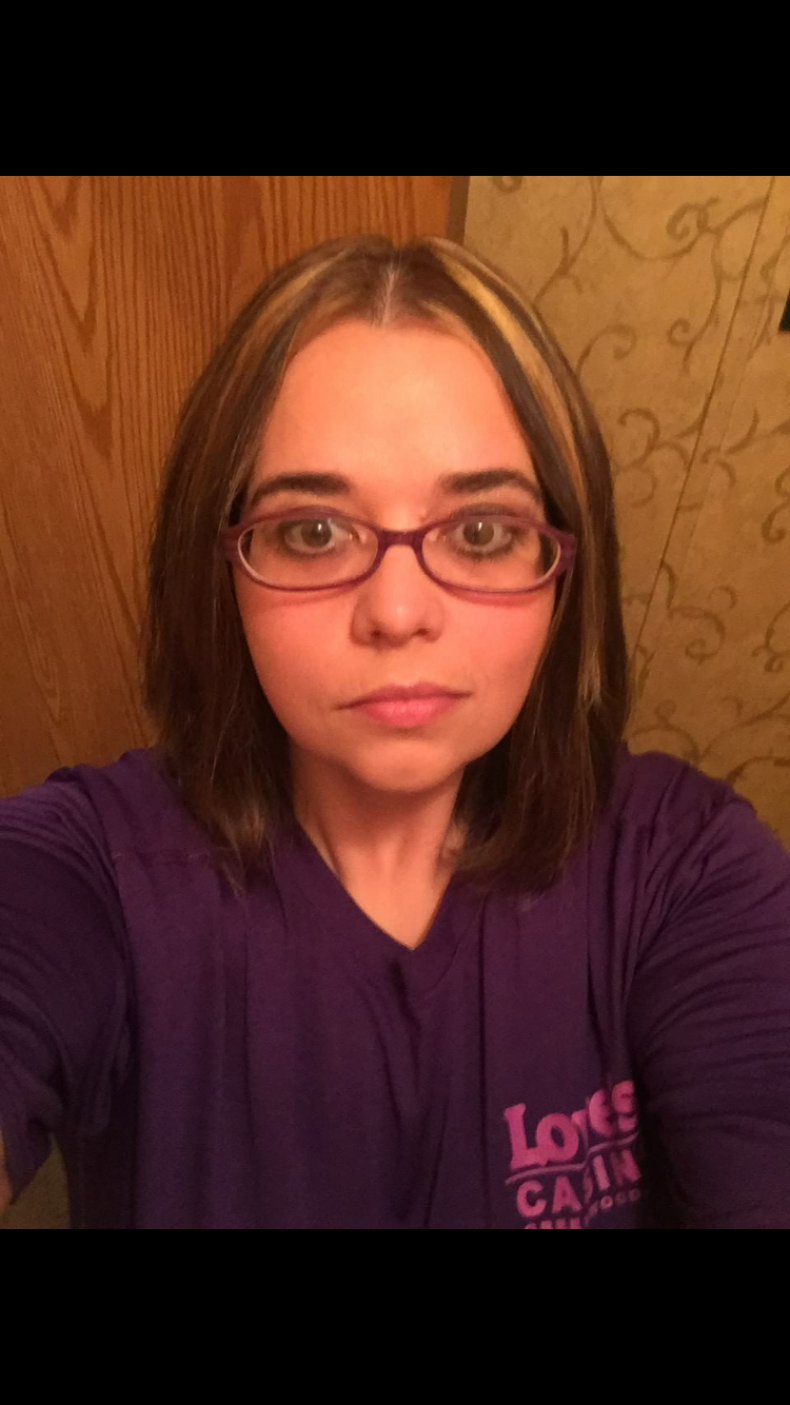 Running Away: 'That's What He Does'
As for Middleton's latest vanishing — Grant saw through his checkers play.
"I wish I could say I was shocked, but knowing him I'm not," she said. "Because that's what he does."
She continued: "I knew as soon as he pled guilty and he would take that ankle bracelet off and was gonna run because he's an idiot."
Grant said she's mostly concerned for Ashley's well-being.
"That's really sad, especially with everything that he put her through," said Grant.
New Legal Troubles Loom
If Middleton were to be caught in Kentucky, where he married Ashley in 2016, he would likely face a fresh batch of bigamy charges (a class D felony that could land him a year in prison if he's found guilty) and then get shipped to New Hampshire to deal with the warrant for violating his probation.
Middleton's April guilty plea deal didn't factor in any of the financial exploitation that he allegedly committed against Grant nor any other allegations of domestic abuse beyond the lone kick against her in Maine.
Officials there pointed to the limited evidence and the fact that Middleton spent some time in jail; all of it helped to push for his conditional release for the class B felony of bigamy.
But now that he appears to be in violation of his release, the judge could decide to slap Middleton with more time behind bars, and possibly get handed the maximum amount of seven years.
A Strafford County prosecutor refused to discuss Middleton's probation violation when reached by Newsweek. And Middleton's public defender wouldn't comment without getting his client's approval.
That may prove difficult since his client remains in the wind.
Giving Them The Slip
In fact, according to a Violation of Probation document from May 6, Middleton allegedly gave the slip to the probation officer by fleeing his halfway house. The week prior Middleton crowed about "looking into moving out of the program" and into a shelter located in Portsmouth, New Hampshire.
He was allegedly informed that he had to provide the officer with his forwarding address.
On May 1, Middleton allegedly told the officer he was still living at the halfway house "even though he had left two days prior," the document states.
"His current whereabouts are unknown… and Middleton's phone number is disconnected," the violation reads, thus prompting a court-ordered warrant for his arrest.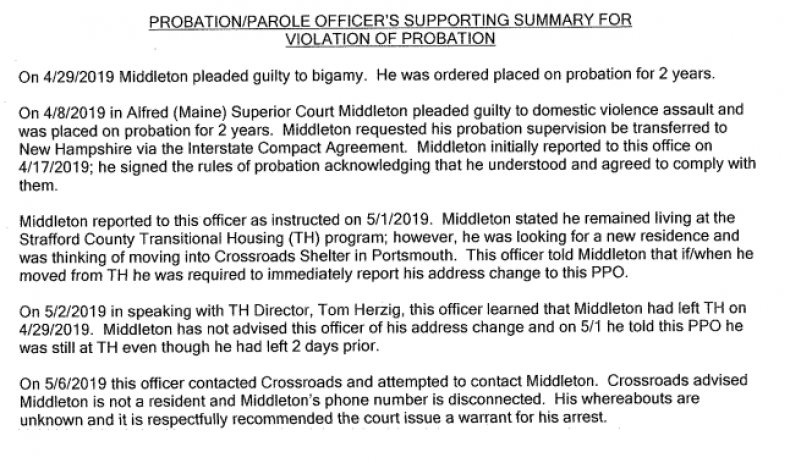 But he didn't hide.
Reuniting With Wife #4
Two days later, the absconding bigamist was snapping selfies with a smitten Ashley (who has learning disabilities) as they posed together before a stretch of grey colored water.
"The love of my life... I love him so much," she swooned on her social media account, followed by three red-heart filled emojis.
Shortly after posting the pics of the wanted "handsome man," Ashley blocked many family and friends from her account.
"While I appreciate everyone's concern there is no worries about me… I am happy and loved [sic]," she wrote, adding that she would unfriend anybody who "can't handle my decisions or if you have anything bad to say about my husband." [sic]
Ashley kept defending the heavyset Middleton in another post writing "no one knows him like I do" and "he never laid a hand on me, [sic] he took really good care of me…" before going dark to many of her nearest and dearest.
Her fawning tenor toward Middleton was quite a departure from February when Ashley and her mother, Laura Climer, drove to Kentucky to file bigamy charges and annul the marriage.
In that complaint, completed on Valentine's Day and exclusively reviewed by Newsweek, her husband is listed as weighing 394 pounds, with an "Ohio Jail" address and "no job" to speak of.
Church Handouts & Cheap Hotels: A Love Story
Ashley detailed in the complaint what led up to their April 11, 2016 wedding date at the Whitley County Courthouse in Williamsburg, Kentucky.
The two had met in Ohio and after only a few days, Middleton allegedly took Ashley to Tennessee where they remained for "nearly a month."
Ashley's parents came to visit and, she wrote in the complaint, "He had me lie to them and say I already married him…"
Middleton allegedly tried to feign that he was born in 1983 — hiding his actual birthdate of 1975, according to the complaint.
"I was infatuated, I guess and naive," wrote Ashley of trusting him despite the fact that he had a litany of priors for drunk driving and domestic violence, the complaint states.
The couple remained transient, pit-stopping in Missouri, Arkansas, Kentucky before returning to Ohio to live with Ashley's parents in 2017.
After Ashley became a mother, the couple picked up and left again to seek "handouts" at churches or luck upon cheap motels; or sometimes she wrote that "our vehicle is where we lived."
"He always spoke the word of God," Laura explained.
Ashley concurred.
"We were always going to a different church every week so that we could get diapers and he asked the preachers for money.
"One time I waited in the car and he came out with $40," the wife said.
A Certain Type
Grant saw his attraction to religion as well.
"I noticed that there seemed to be like a certain type of person he would always marry — and it was always religious people," said Grant, before rattling off each church-going Mrs. Middleton. "I'm the only atheist out of all of them!"
However holy Middleton tried to live his life, it wasn't uncommon for Ashley to be called to don metaphorical angel wings to save the man from a drinking bender early on in their relationship.
"I was called one night and about how he was on life support and needed to be rescued from the parking lot at Walmart," Ashley remembered telling her mother of a 2016 incident when they were somewhere in a state that she couldn't recall.
With her mom by her side, Ashley mustered the confidence to ensure that her serial-hitching husband would be taken to task.
"I would like to file bigamy charges as well," she wrote in the complaint. "I'm praying this will help put a stop to him doing this to other women."
She later told Newsweek of Michael Middleton — that she didn't "believe him" and felt strongly "he should go to prison and get what he deserves."
Her mother was just as adamant: Middleton was "cold-hearted" for taking advantage of Ashley who has "learning disabilities."
Much of Ashley's pain stemmed from years of being lorded over by the Bible-quoting bigamy artist.
"For the three years I was with him I couldn't talk to no one but him," she confessed. "The only people I could talk to were people at restaurants where I ordered food."
That included allegedly forcing her to create a "fake Facebook account" that Ashley said was a cover "so none of my friends or family could find me."
The silenced wife was also wheeled around and ordered to stay put in the car when her husband paid visits to former flings and his other kids living in different states, she said.
Motherhood Lost
But mostly, Ashley lost out by having her motherhood stripped from her. That's because she believes Middleton coerced her to give their daughter up for adoption in Missouri.
"We ended up going to the building and he forced me to sign," she said, sobbing. "He literally put his hand over my hand and forced me to sign."
What's more, Laura's mother said that Middleton told Ashley "she wasn't a good mommy."
Then, there were Middleton's violent eruptions.
"He would bunch up his fist and get in my face and act like he was going to hit me," she remembered. "He then said, 'I will beat the living s---t out of you.'"
Nonetheless, Ashley was overcome by Middleton, who proposed after four months with a ring he bought off Amazon.
Stolen Valor?
The groom struggled to find temp jobs, despite bragging about valiantly serving his country.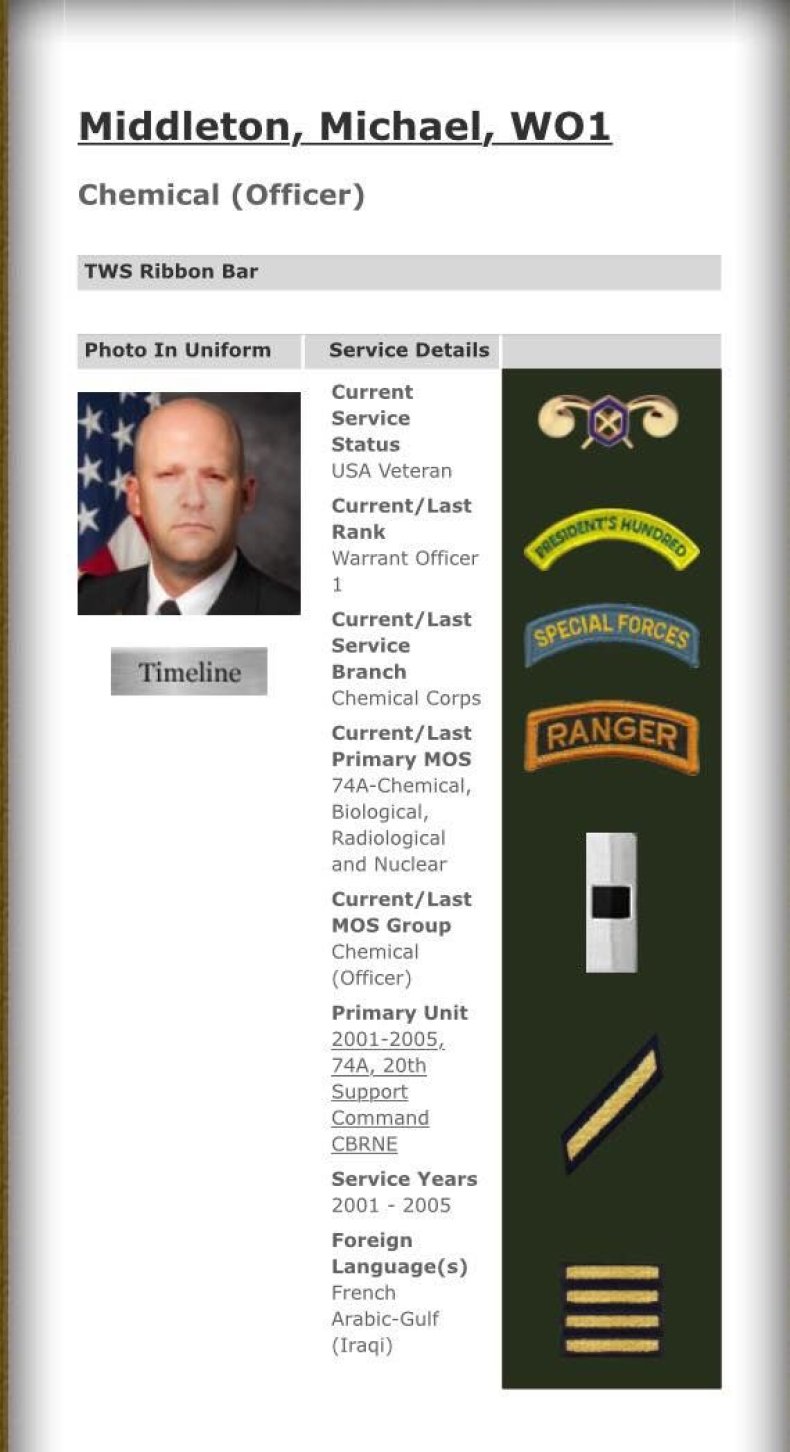 Both Ashley and her mother recalled how Middleton talked up being a U.S. Army soldier who fought in the Iraq conflict.
At one point they say, Middleton tried to paint a moment where he justified felling an enemy soldier who he said had been accosting an innocent child.
"He said something to me about how they were fighting and he saw somebody do something to a child and they had to shoot him down," Laura recalled. (In February, Newsweek verified with the U.S. Army that there is no record of Middleton serving.)
Rather, the man not only repeatedly overstated his income that was apparently bankrolled by a mystery relative, but he also continued to use his questionable veteran status to get discounts on goods and trim the cost for various health needs.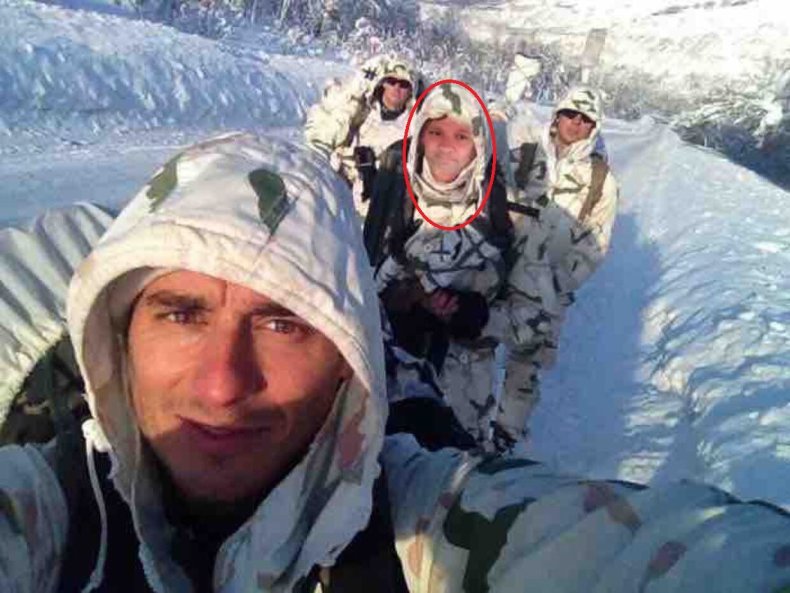 Upon his courtship with Ashley, Middleton sent photos of his time in the service. But it turned out that he had overlayed his mug onto numerous images of actual soldiers in another twisted effort at stolen valor, according to the family who shared the photos with Newsweek back in February.
The mother, Laura, now suspects that Middleton had been corresponding with Ashley on the sly while he was holed up at the halfway house.
And that when he decided to cut loose, he scrambled a church member to "pick [Ashley] up" and together try to make a new life.
Left in the waits, Laura can only hold out hope that Ashley might snap out of whatever hold her husband allegedly has on her and return back to her Columbus, Ohio home.
"She says she loves him and he loves here and they're happy," a broken-hearted Laura said. "I'm just sad about it."
Like many who care for Ashley, she's been unfriended online.
"She blocked me and all her close friends," said Laura.
And Ashley has refused to give any clue as to their location and made it clear that she "doesn't want to be here because of what the family's done to Michael."
Still, Laura's unconditional love for her daughter won't beckon.
"Ashley knows that she does have family here and that we will be here for her," she said, choking up. "She's just got to make that call and want us. But right now she wants him!"