Michael Strahan Shares Mental Health Message
Good Morning America host Michael Strahan has sent a message to fans with a mental health "lesson."
Strahan, 51, took to his Instagram to share a powerful clip from his friend and sports reporter, Jay Glazer, on Tuesday.
Glazer shared a moment from his Unbreakable podcast when he had reached out to Strahan for support after experiencing mental health issues.
The GMA host captioned the Instagram post: "A lesson for everyone, reach out to those around you. I'd always be there for my brotha @jayglazer as I know he will always be there for me. Repost from @jayglazer Monday #MentalHealth Motivation.... Trust your teammates! It will not only lift you up, but them as well! @michaelstrahan."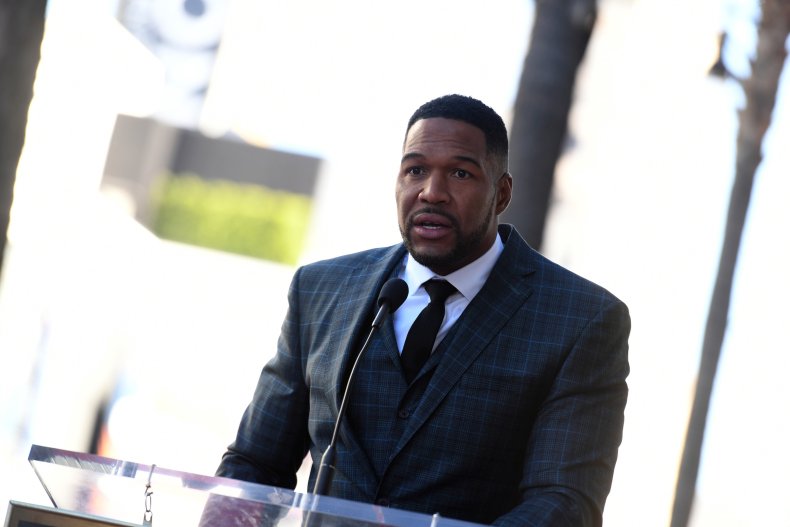 In the clip Glazer described how he had to pull out of his first dinner with Strahan in 30 years because "the beast" had overtaken him, referring to his mental health struggles.
"My best friend for 30 years has been Michael Strahan. It wasn't until last year that I finally told him how much pain I was in with my depression and anxiety," Glazer started.
"We were supposed to go out to dinner on a Friday night, and man, the beast just got out of the box on me, and I woke up in an anxiety attack that put me in the fetal position.
"And this is one of those days I did what I was supposed to do, I called four friends and told them, 'man, I'm struggling,' but it just got me, it kicked my a**."
Glazer added: "So we're supposed to go to dinner and this is the first time in 30 years I told Strah, 'I can't go out tonight man, the beast got out of the box.'"
"He says, 'Jay, why have you never told me this before?' and I said, 'with you I felt shame,' and his reaction was like, 'yeah but I could have been there for you for 30 years,' think about how powerful that is.
"And a lot of times, I think a lot of us get fearful that, man, if I talk about this too much, they're gonna eventually go, 'ahhhh Jay enough already, stop!' Hasn't happened. Trust your teammates, let's keep walking this walk together."
Strahan's post came a day after he missed Monday's episode of GMA because of his works as a pundit on FOX's NFL Sunday, alongside Terry Bradshaw, Howie Long, Curt Menefee and Jimmy Johnson.
The former footballer made the transition to TV when he retired from the NFL in 2007, first starting on NFL Sunday before replacing Regis Philibin on Live! with Kelly and Michael in 2012 after hosting 20 episode in 2011. That role earned him two Daytime Emmy Awards and he eventually left to join the GMA team in 2016.
Strahan also hosts ABC's current version of the Pyramid game show, but working in broadcast was not always in his long-term plan.
"When my football career ended I had to adapt and figure out what was next. It's important for athletes to remember that when your playing days end, your career and accomplishments are not over," Strahan told Newsweek in 2020.
"The transition may not be easy, and it definitely wasn't easy for me, but I was inspired by idols like Magic Johnson and Michael Jordan to look beyond sports. To use what they already have, and what they've built, as a jumping-off point... and I encourage athletes today to do the same thing, to know that they need to look beyond their playing days and plan for the future to make sure their careers can continue, even after they are done playing."
But he also admitted this TV career has become so successful that some of his fans don't even know he was a professional athlete first.
"I would say the craziest thing for me was when people started recognizing me as someone on TV as opposed to a football player," he said. "I got to a point in my career where fans didn't even know I played football! It was strange at first, but also an accomplishment to know that I was able to build an entirely separate career that people were recognizing me for."