Trump 'Has Less Credibility Than Anyone Who Has Ever Walked on Earth,' Michael Wolff Says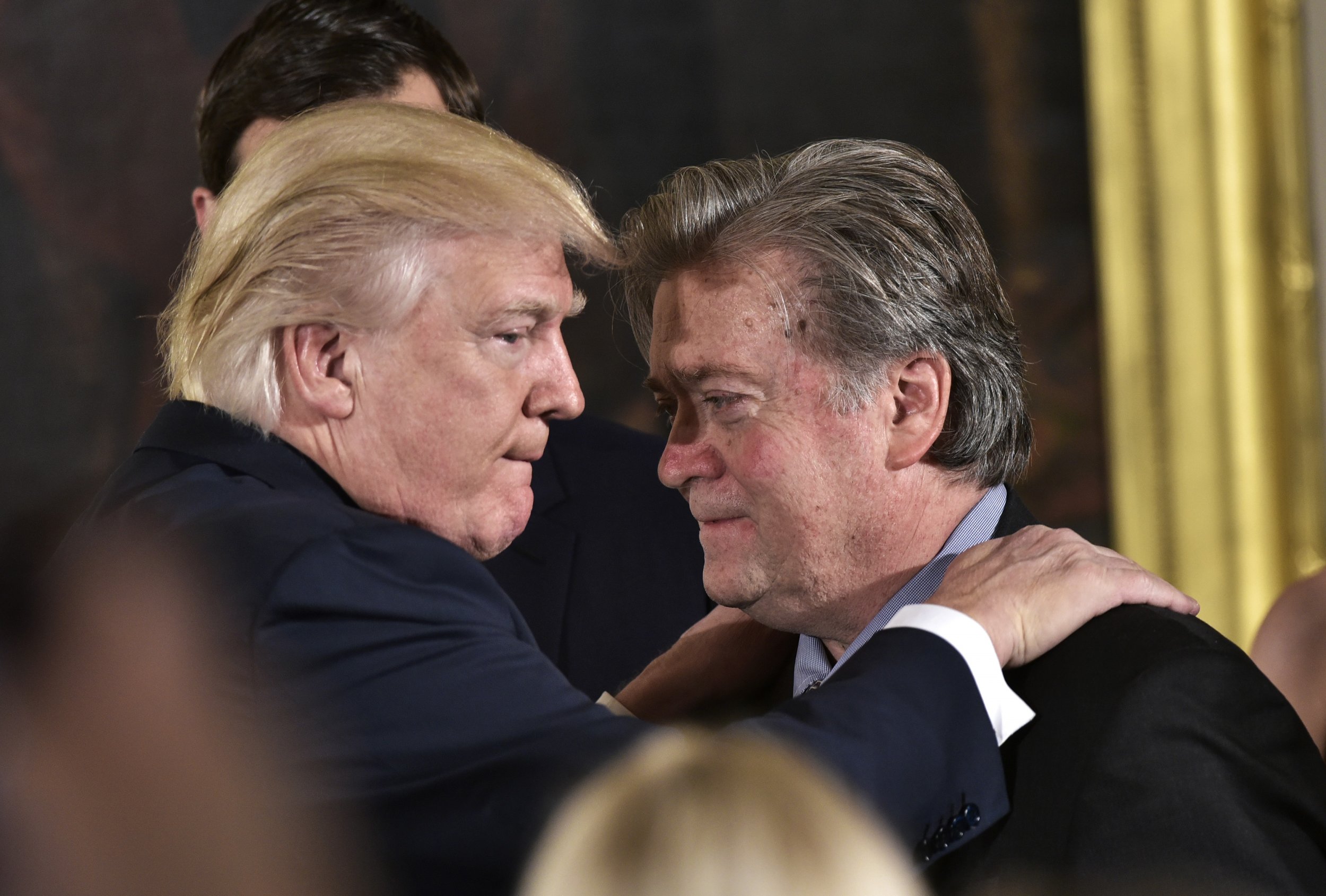 The author of an incendiary new book chronicling President Donald Trump's campaign and early months in office said that the billionaire political neophyte has 'has less credibility than anyone who has ever walked on Earth."
Author and journalist Michael Wolff's comment came after Trump and White House officials attacked him and his book Fire and Fury: Inside the Trump White House.
Related: Who Is Michael Wolff? The 'Fire and Fury' Author's Career May Have Been Destined For This Story
"My credibility is being questioned by a man who has less credibility than, perhaps, anyone who has ever walked on earth at this point," Wolff said on NBC's "Today" show on Friday.
The book includes explosive passages—heavily sourced by former White House Chief Strategist Steve Bannon and built on his seemingly unfettered access to the West Wing—demeaning Trump as childish and semi-literate and disparaging his family.
Asked by co-anchor Savannah Guthrie if he stands by everything he reported, Wolff was resolute. "Absolutely everything in the book," he said.
Indeed, Wolff confirmed a report that he has recordings to back up his reporting. "I work like every journalist works. I have recordings. I have notes," he said. "I am certainly and absolutely, in every way, comfortable with everything I've reported in this book." Excerpts of the book, first published by New York Magazine and The Guardian, quote several Trump associates and White House officials describing the 71-year-old as a "child," "a fool" and "a fucking idiot."
"According to your reporting, everyone around the president, senior advisers, family members, every single one of them questions his intelligence and fitness for office," Guthrie said.
Woff responded: "Let me put a marker in the sand here. One-hundred percent of the people around him. I will tell you the one description that everyone gave, everyone has in common: They all say, he is like a child."
The author continued: "They say he's a moron, an idiot. Actually, there's a competition to sort of get to the bottom line here of who this man is."
Fire and Fury paints Trump as a man unmoored, prone to paranoia and suggests his mental fitness may be atrophying.
"You say, for example, at Mar-a-Lago, he didn't recognize lifelong friends," Guthrie said. "What are you arguing there?
"I will quote Steve Bannon—he's lost it," Wolff said.
Wolff says he pieced the book together off of about 200 interviews, becoming a "semi-permanent" fixture in the West Wing, he says. He said Trump "encouraged" his embedded approach, though he admits he used his guile and charm to gain access. "I said what was necessary to get the story."
Trump denies encouraging Wolff's presence at the White House."I authorized Zero access to White House (actually turned him down many times) for author of phony book! I never spoke to him for book," Trump tweeted. "Full of lies, misrepresentations and sources that don't exist. Look at this guy's past and watch what happens to him and Sloppy Steve!"
Wolff countered on Friday, saying he did speak with Trump, although the president may not have been aware it was for the book at the time.
"I absolutely spoke to the president. Whether he realized it was an interview or not, I don't know," he said, adding, "but it certainly was not off the record."
White House Press Secretary Sarah Huckabee Sanders has also called the book "complete fiction" and nothing more than "tabloid gossip."
Wolff's critics aren't limited to 1600 Pennsylvania Avenue. His colleagues in the media, as well as Trump supporters, have questioned some of the book's contents.
The book was originally slated for a January 9 release but after 48 hours of near continuous headlines and television commentary, the book's publisher Henry Holt & Co. moved the release date up to Friday—despite Trump's personal lawyer sending the company a cease and desist letter. It was already listed as a "Best Seller" on Amazon by Thursday.
"Where do I send the box of chocolates?" Wolff quipped about the White House attention that has bolstered the book's publicity.