Michelle and Barack Obama Celebrate 30 Years Together: 'I Won the Lottery'
After spending eight years in the White House and raising two daughters, the Obamas are celebrating 30 years of marriage.
On Monday, former first lady Michelle Obama and her husband, former President Barack Obama, wished each other a happy anniversary on social media.
The Obamas' relationship appears to be solid when compared with other presidential marriages, presidential historian Mike Purdy wrote to Newsweek.
"They appear to be genuinely in love with one another and are enjoying time just for themselves now without the glare of politics and with both daughters in college," he said.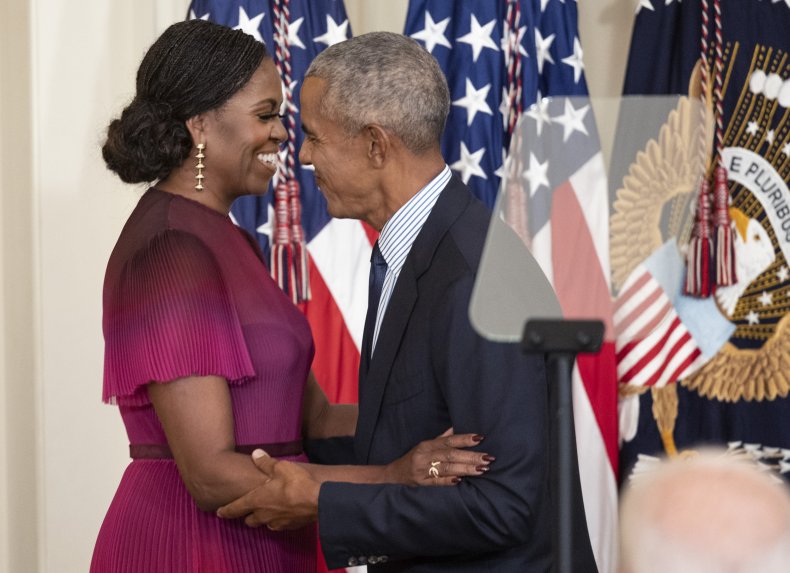 Michelle posted three photos to Instagram, including one of her and Barack smiling on the beach. Another picture shows their names scrawled in the sand with a heart drawn around the names, and a third photo shows the couple on the day of their wedding in 1992.
"Happy anniversary to the man I love!" Michelle wrote in her Instagram post. "These last 30 years have been an adventure, and I'm grateful to have you by my side. Here's to a lifetime together.
"I love you, @BarackObama!" she continued, adding red heart and kiss emojis.
Friends, colleagues and supporters have chimed in to share their warm wishes. Former Obama administration official Valerie Jarrett even brought up the subject of grandkids.
"Happy anniversary! May your next 30 years be even better...especially when grandchildren arrive," Jarrett wrote, adding three emojis.
The Obamas' tenure in the White House lasted from 2009 to 2017 when Barack, a Democrat, served as the 44th president of the United States. Throughout that time, many supporters noted that they appreciated the powerful couple's public displays of affection toward one another.
Barack also commemorated their wedding anniversary in his own Monday Instagram post. He referred to his wife as "Miche" in the caption and included two pictures from their trip to the beach and one from their wedding day.
"Miche, After 30 years, I'm not sure why you look exactly the same and I don't," Barack wrote. "I do know that I won the lottery that day—that I couldn't have asked for a better life partner. Happy anniversary, sweetheart!"
Purdy, author of Presidential Friendships: How They Changed History, noted that some presidential relationships have been marred by scandal. For instance, former President Franklin D. Roosevelt's marriage suffered after he had an affair with his wife's social secretary.
Several other former presidents have indulged in extramarital escapades to varying degrees, he added, including Bill Clinton, Donald Trump, John F. Kennedy and Lyndon Johnson. Even though the wives knew of such dalliances, they decided to remain in their marriages.
The relationship between the Obamas reminds Purdy of another presidential marriage in particular: the Carters.
"Perhaps one of the soundest, and certainly the longest, of presidential marriages is that of Jimmy and Rosalyn Carter, who have remained friends and partners throughout their more than three-quarters of a century of marriage," Purdy wrote to Newsweek. "The former president said that his marriage is 'the most important thing in my life.'"
The Obamas dated for around three years before getting married on October 3, 1992. In 2018, Michelle posted on Instagram that on the day of their wedding, her husband-to-be woke up "with a nasty head cold." But when the time came to tie the knot, the head cold "had miraculously disappeared" and the two danced nearly all night long.
Michelle further detailed their wedding day in her memoir, 2018's Becoming.
"It was a big wedding, and big was how it needed to be," she wrote in the book. "If we were having the wedding in Chicago, there was no trimming the guest list. My roots went too deep. I had not just cousins, but also cousins of cousins, and those cousins of cousins had kids, none of whom I'd leave out and all of whom made the day more meaningful and merry."
Newsweek has reached out to the Obamas for comment.
Update: 10/03/22 3:23 p.m. ET: This article was updated with comment from Mike Purdy.