Michelle Obama Praises Kamala Harris After 'Strong' Debate Performance
Michelle Obama lauded Kamala Harris' "strong" performance during her televised debate with Vice President Mike Pence in Utah on Wednesday night.
The former first lady said the Democratic vice presidential nominee had been "honest" and "hopeful" throughout the 90-minute debate in Salt Lake City, and added that Harris and Biden "have what it takes" to move the U.S. forward.
"Strong. Honest. Clear. Hopeful. Tonight, Kamala Harris proved that she and Joe Biden have what it takes to move this country forward," Obama tweeted last night. "And now it's up to us to go vote for them. Vote early—do it as soon as you can, in person or by mail."
At the time of writing, the former first lady's post has been liked and shared more than 120,000 times. Her husband, former President Barack Obama, was among those who shared her message of support.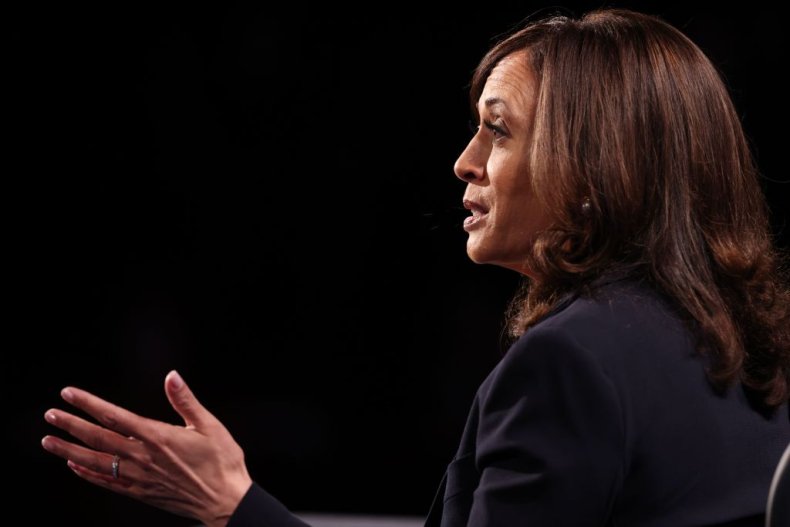 Appearing at the University of Utah for the first—and only—vice presidential debate of the 2020 election campaign, Harris and Pence found themselves behind plexiglass dividers in front of a masked crowd.
As the debate began, the vice presidential contenders sparred over President Donald Trump's handling of the COVID-19 pandemic, energy policy and the Supreme Court vacancy.
Opening the debate by hitting out at the Trump's pandemic response, Harris said: "The American people have witnessed what is the greatest failure of any presidential administration in the history of our country.
"And here are the facts: 210,000 dead people in our country in just the last several month. Over 7 million people who have contracted this disease. One in five businesses closed."
Reacting to the criticism leveled by Harris, Pence said that the Democrats' plan for tackling COVID-19 looked identical to the Trump administration's strategy.
"Quite frankly, when I look at their plan that talks about testing, creating new PPE, developing a vaccine, it looks a little bit like plagiarism," the vice president said. "Which is something Joe Biden knows a little bit about."
He later accused Harris of doing "a great disservice" to the American people by saying efforts to curb the spread of the novel coronavirus had not been successful.
Later in the evening, Harris dodged a question put to her about former Vice President Joe Biden's plans for the Supreme Court, should he win the presidency on November 3.
Asked whether a Biden administration would seek to pack the court—by adding additional seats to the court in order to change the court's overall political slant—Harris said: "Joe and I are very clear, the American people are voting right now, and it should be their decision about who will serve on this most important body for a lifetime."
The graphic below, provided by Statista, profiles the career of Senator Harris thus far.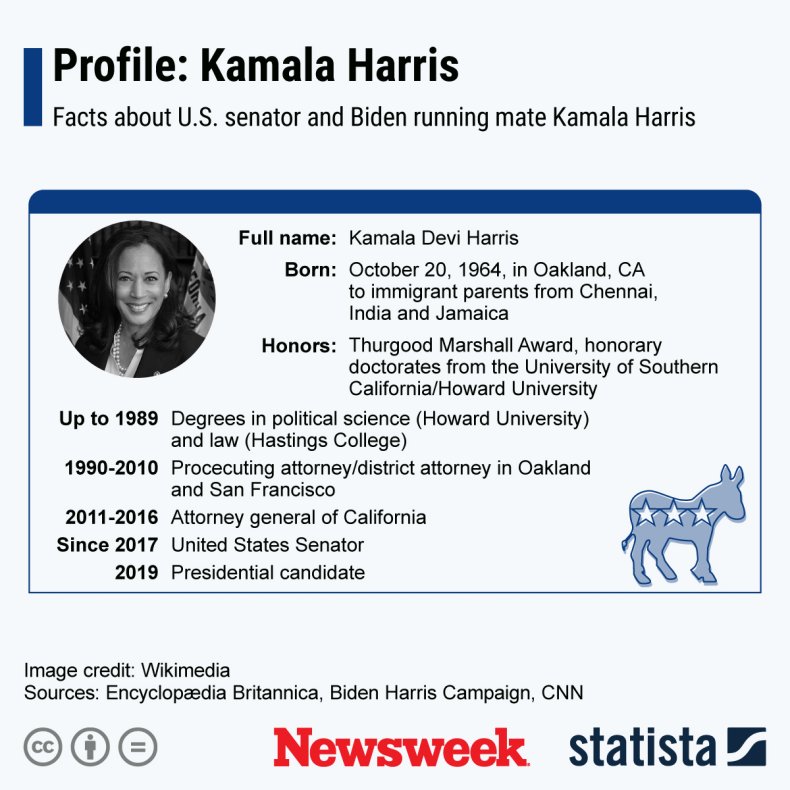 This article was updated to include an infographic.