Michelle Obama: 'I Won't Run for President Because I Don't Lead a Normal Life Anymore'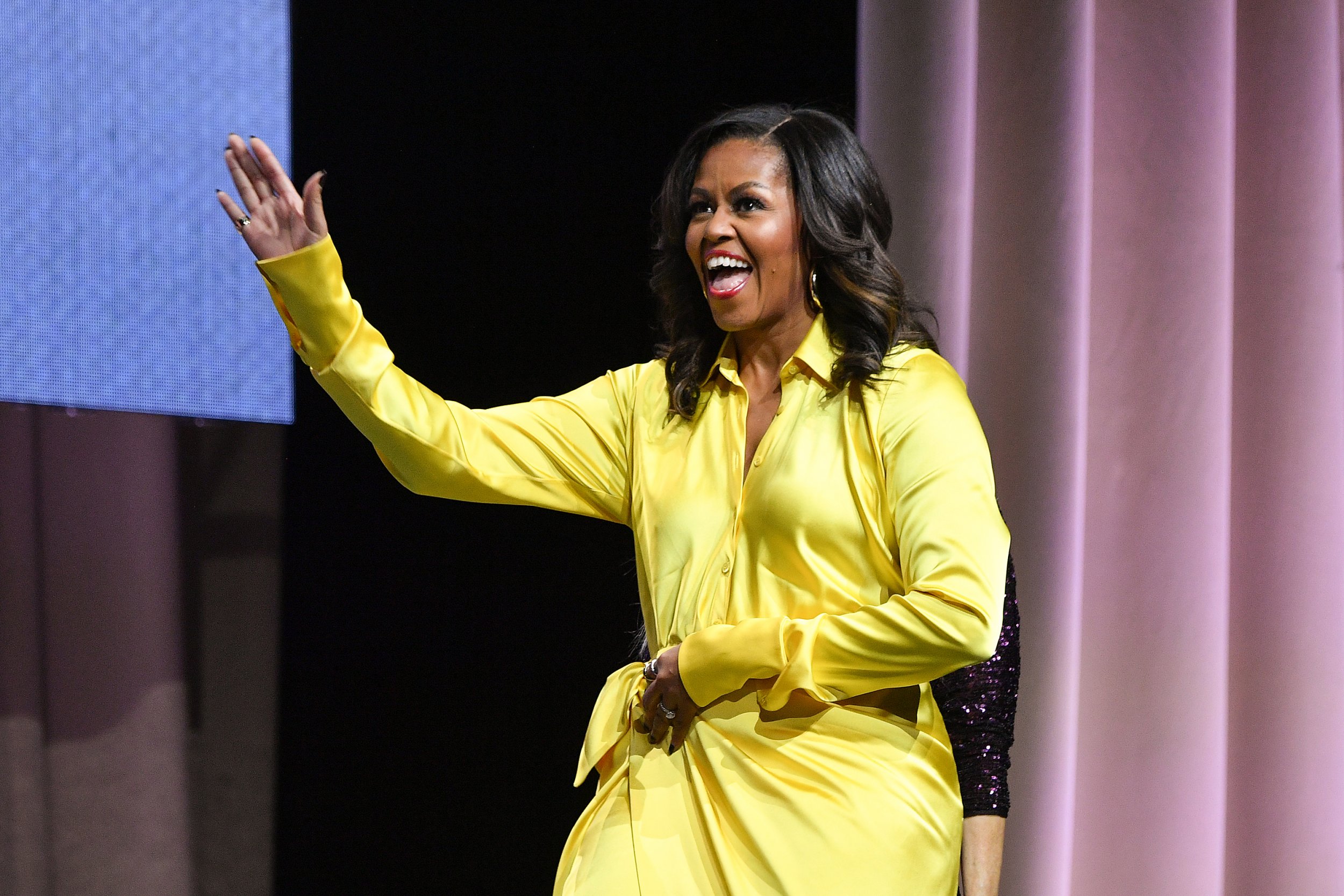 Former first lady Michelle Obama said she would not run for president because she was "not interested in politics" and no longer lived a normal life, which distanced her from the experiences of everyday Americans.
Obama, 55, was first lady from 2009 to 2017, when her husband, Barack Obama, was president. A popular figure among Democrats, she was often touted by fans and pundits as a potential presidential candidate. But she ruled herself out of seeking public office.
In an interview on Conan O'Brien's podcast, the comedian asked Obama about a moment in her latest book, Becoming, in which she described enjoying time alone in her car eating Chipotle before her husband became president, something she could no longer do.
"What Barack and I talk about that we do miss…is the loss of anonymity," Obama said. "And that's something that most people don't understand, how valuable anonymity is. Being able to blend into your environment, and not be the center of it, but just to observe it…and because I love people so much, I love casual conversations with people.
"While I loved my time in the car alone with Chipotle, I love what you learn standing in a grocery store line and overhearing someone's conversation. You know, watching their interactions with their loved one. Not being the watchee, but watching, and taking that in and understanding life and the observations that come.
"Most of your interaction with your partner is about what you saw, what you experienced over the course of the day. For Barack and I, that's still very limited because we're not able to be exposed in an anonymous way in the world."
Obama said she and her husband are now always watched and, though she values it, have a constant security presence. That she can no longer "learn about the world" by blending into it anonymously "is another reason why I wouldn't run."
"I don't live a normal life. I used to. Normal is very baked into me because of how I was raised, but I also know the life I've lived for the last 10 years is no longer normal," Obama said.
"And so I don't know as much as I would want to, to be in a position of leadership, to kind of know what are you feeling? Because you can't experience life behind a tinted window in a car.
"So we sacrificed that, and that's not a complaint, but if I'm going to be a leader I've got to be in there. I've got to be able to be in there overhearing people's truths, and really being able to see their pain without it being filtered through the veil of me.
"Eight years is enough. It is enough. It's time for new ideas and people who've been in the Chipotle line, and people who are struggling in ways that, because of the nature of what we've done, we don't do that anymore. We need fresh, real, clear eyes in this stuff. That's why we're investing our time in training the next leaders."
O'Brien also asked Obama, who now campaigns to raise the aspirations and achievement of children and for greater voter turnout in elections, if she would participate in the 2020 cycle.
"What I have said, because I'm not interested in politics, and I have said this before, is that sadly in our country when you put an R or D on you, you immediately alienate most of the country with whatever choice you make," Obama said.
"We're in those times right now. And my goal is that I want to be able to reach as many people as possible. I don't want people to stop listening or to take what I say differently if it's the truth just because I'm a D. Because there are a lot of Rs out there that I love and respect, and if I know something, I want Republicans' kids to know about college.
"I'm not one of these people who are like either you're on my side or you're not. I think you can do that better outside of politics. But I will do everything I can to emphasize the importance of voting."