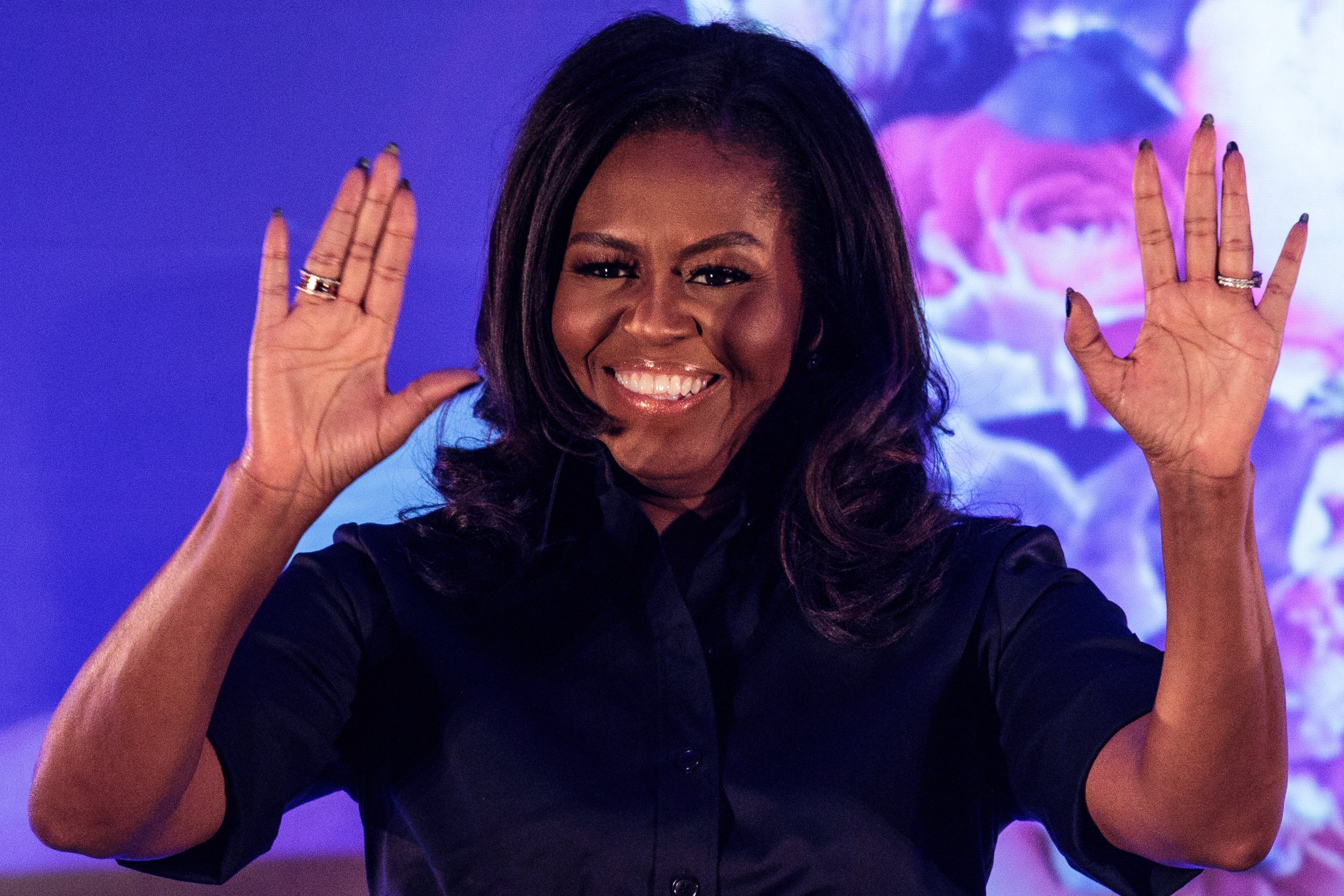 Former first lady Michelle Obama praised the character and strength of Queen Elizabeth II, revealing the monarch's surprising lack of regard for royal protocol.
Obama delivered her insights while on a European promotional tour for her new memoir, Becoming. The former first lady is currently in the U.K., where she has been attracting sell-out crowds, CNN reported.
Obama told a London audience she was nervously trying to remember the correct protocol for greeting the queen during a visit to the royal family's Windsor Castle in 2016. As she prepared to be picked up by the monarch in her car, Obama said she "had all this protocol buzzing in my head, and I was like 'don't trip down the stairs and don't touch anybody, whatever you do.'"
But to her great relief, the queen dispensed with the formalities. "And so the queen says 'just get in, sit wherever' and she's telling you one thing and you're remembering protocol," Obama recalled, "and she says, 'Oh it's all rubbish, just get in.'"
Obama recalled another potential faux pas in a separate visit in 2009, when she touched the queen's back within minutes of meeting her—considered by many to be a breach of protocol.
Fortunately, the monarch did not seem particularly perturbed by the contact, and even went as far as to return the gesture, The Guardian reported. "I touched her. After all those protocol lessons, I was human," Obama recalled Monday, according to the Evening Standard.
The Obamas enjoyed a friendly relationship with the Windsors, their multiple relaxed and happy encounters with the royals seemingly going beyond the regular formalities afforded most presidents.
Both Michelle and Barack Obama remain huge fans of the queen, the former first lady said Monday. "She's smart and funny and honest," Obama said, noting that her husband is an especially strong admirer partly because the queen reminds him of his grandmother Toot.
"He is a huge fan for sure," Obama added. "Barack is so incredibly fond of Her Majesty," she continued, but said she would not elaborate too much on what she termed his "fangirling."
Obama also discussed the current U.S. political climate during her Monday appearance. She told host Chimamanda Ngozi Adichie that progress was gradual and battles for civil rights and racial and gender equality still need to be fought.
"My grandparents' lives were affected by Jim Crow. We mistakenly thought that Barack Obama was going to erase hundreds of years of history in eight years.That is ridiculous," she said.
"We are putting down markers, we make progress and going backward doesn't mean the progress wasn't real. It just means that it's hard, what we are trying to do is shift culture."
Obama warned that young black women were forced to fight caricaturization. She explained: "We are angry, we are too loud, we are too everything and I experienced that, just campaigning, just speaking truth to power, how dare I have a voice and use it?"
Her memoir has already become the best-selling book of the year in the U.S. since it was published last month, leapfrogging Michael Wolff's Fire and Fury, among others.