Michelle Wolf Blasts 'Complicit' Media As 'Cowards' After WHCA Announces Ron Chernow As Dinner Host
Comedian Michelle Wolf, who hosted last year's White House Correspondent's Association (WHCA) dinner, ridiculed the media organization as "cowards" after they selected author Ron Chernow for this year's event.
Wolf lashed out at both the news media and the WHCA Monday after the group announced the author Chernow -- and not a fellow comic -- would be hosting this year's dinner entertainment during the April 27 Washington D.C. dinner event. Although the traditionally lighthearted event features a comedic roast of media and political figures alike, President Donald Trump has stubbornly rejected attending the dinner and last year's jokes Wolf made about White House Press Secretary Sarah Huckabee Sanders sparked a partisan war of words.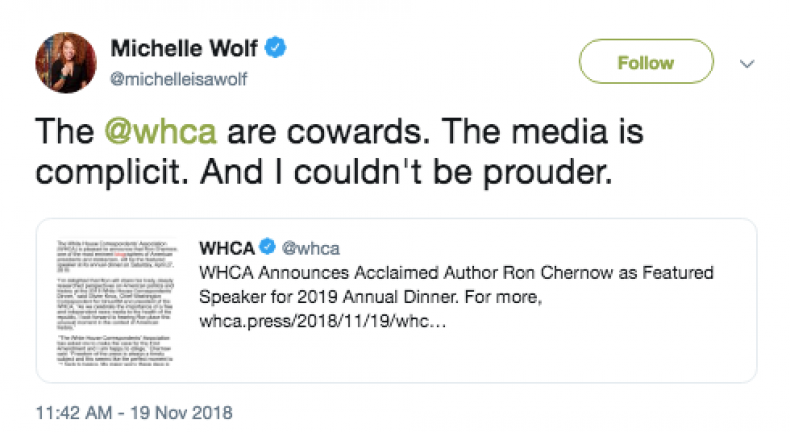 Although Trump has refused to attend the dinner with a news media he frequently insults, the past few years have gone on with comedian hosts including Wolf and Hasan Minhaj. Under former Presidents Barack Obama and George W. Bush, comedians Larry Wilmore, Jimmy Kimmel, Cecily Strong, Joel McHale, Seth Meyers, Wanda Sykes and Stephen Colbert have all hosted the event.
The 2019 WHCA will be the first time the host is not a comedian since musician Ray Charles performed in 2003 with Bush in attendance. Chernow is better known for his biography of Alexander Hamilton than he is for one-liner insults.
"The White House Correspondents' Association has asked me to make the case for the First Amendment and I am happy to oblige," Chernow said. "Freedom of the press is always a timely subject and this seems like the perfect moment to go back to basics. My major worry these days is that we Americans will forget who we are as a people and historians should serve as our chief custodians in preserving that rich storehouse of memory. While I have never been mistaken for a stand-up comedian, I promise that my history lesson won't be dry."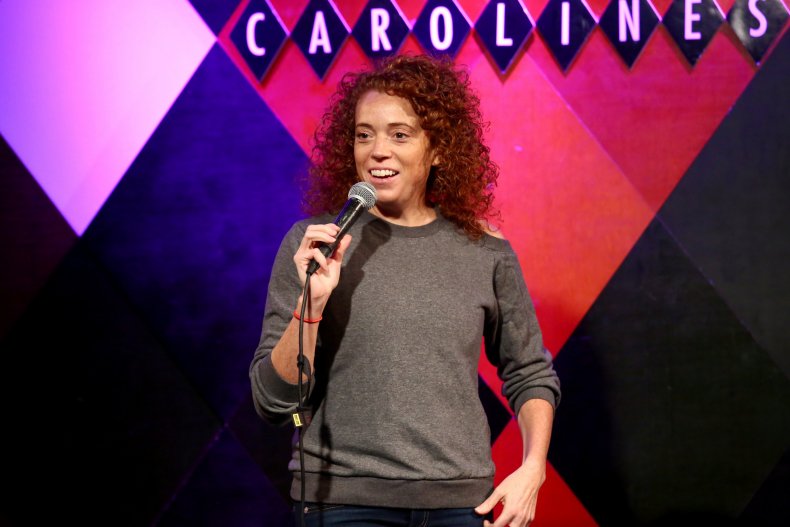 "The @whca are cowards. The media is complicit. And I couldn't be prouder," Wolf, 33, tweeted Monday in response.
Wolf's criticism of the journalist organization included the statement released by the WHCA Monday announcing Chernow's appearance:
"I'm delighted that Ron will share his lively, deeply researched perspectives on American politics and history at the 2019 White House Correspondents' Dinner," said Olivier Knox, Chief Washington Correspondent for SiriusXM and president of the WHCA. "As we celebrate the importance of a free and independent news media to the health of the republic, I look forward to hearing Ron place this unusual moment in the context of American history."
Last year, Wolf was both criticized and celebrated along partisan lines for her job as host. Several jokes about Huckabee Sanders' appearance ruffled Republican feathers, while left-leaning supporters flipped the "snowflake" criticism often lobbed at them toward her conservative critics.
Wolf's Monday tweet also received both support and criticism, with one top commenter agreeing with her anti-media sentiment: "The media really hasn't held Trump accountable. Most outlets won't even call him a liar, instead soft shoeing around his inability to tell the truth. Further, press from both left and right are STILL talking about Hillary/Emails/Monica which is ridiculous."
Wolf's Netflix show was canceled in August just three months after it premiered on the online streaming network.