Michigan County GOP Censures Senate Republicans Who Found No Election Fraud Evidence
The Republican Party of Macomb County, Michigan voted on Thursday to censure three GOP state senators whose investigatory panel found no evidence of fraud in the 2020 presidential elections. Macomb County is the state's third-most populous county.
The party's executive committee voted unanimously to censure Senators Ed McBroom, Lana Theis and John Bizon. The three senators served on a Senate Oversight Committee which issued a June 2021 report concluding that there was no fraud in the state's November 2020 election.
The county GOP's executive committee reportedly censured the senators over a section of the report that asked the state's Democratic Attorney General Dana Nessel to consider investigating people who pushed false claims of election fraud in order "to raise money or publicity for their own ends," The Detroit News reported. Nessel agreed to do so.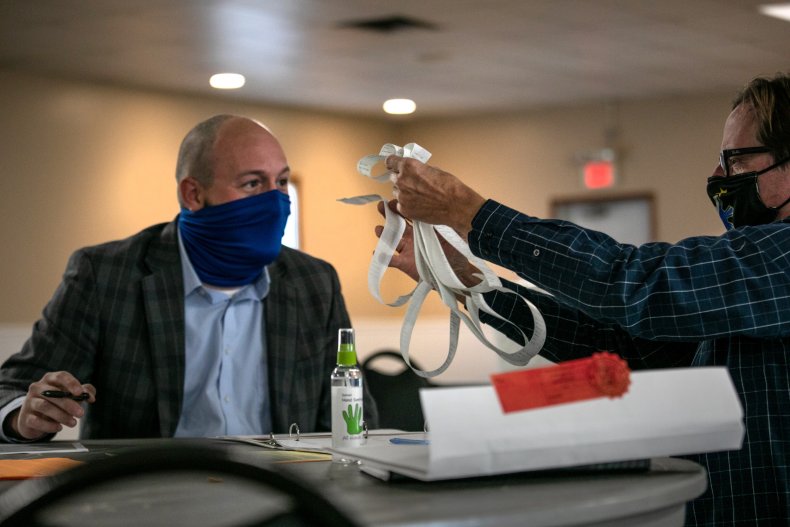 While the report didn't include identify people pushing false claims, it did mention lawyer Matthew DePerno. DePerno, who is currently running for state attorney general, unsuccessfully tried to sue for an independent audit of election results in Antrim County. A tabulation error in the county initially showed then-Democratic Presidential candidate Joe Biden winning. However, a re-tabulation placed Republican President Donald Trump as the clear winner.
Since the election, DePerno has made allegations that electronic vote tampering and "ballot stuffing" occurred in the county. He also claimed that Michigan's Secretary of State was instrumental in committing voter fraud. He has established an "Election Fraud Defense Fund" which has raised $398,260.
The report's section on profiting off of false claims angered the Macomb County GOP's executive committee. Mark Forton, the county party chairman, said that the section opposed free speech protections under the Constitution's First Amendment which allow people to question the election.
"It was written so that you could question your government at any level, without worrying about them coming after you," Forton said.
When asked about the county GOP's censure vote against him, McBroom told the aforementioned publication, "I'm not going to worry too much about it. I'm not running in Macomb County." He represents Vulcan, an unincorporated community in Dickinson County, nearly 500 miles away from Macomb County.
The Senate Oversight Committee that McBroom served on developed its report after hundreds of hours of Senate staff investigation, a review of thousands of subpoenaed documents as well 28 hours of committee testimony from nearly 90 people, The Detroit News reported.
While the committee found no evidence of election fraud, it did make several recommendations for future elections. It recommended allowing county clerks to remove deceased individuals from lists of qualified voters, opposed the mass mailing of absentee voter applications and urged the Michigan Bureau of Elections to investigate issues that limited the recruitment of Republican poll workers and poll challenges in Detroit and Wayne Counties, the publication said.
Trump lost the 2020 election by over seven million popular votes and 74 electoral votes. Trump's own attorney general and federal head of election security both said there is no evidence that fraud affected the election's outcome.
Nevertheless, Trump, the Republican party and others continue to baselessly claim that an unprecedented nationwide conspiracy of voter fraud "stole" the election from him.
Newsweek contacted DePerno for comment.