Michigan Dam Update: Flooding Will Break Record As State of Emergency Leaves Tens of Thousands Evacuating
Residents in Michigan have been told to brace themselves for record-breaking floods after two dams were breached by days of heavy rainfall.
A state of emergency has been issued for Midland County after the Edenville and Sanford dams both collapsed.
Thousands of residents have been forced to evacuate as a result of the flooding, with officials warning parts of Midland could be under nine feet of water.
The National Weather Service said that the Tittabawassee River, which runs through Midland and into Saginaw County, could reach record-level highs following the collapse of the two dams.
The agency has projected that by Wednesday afternoon the river could reach 38 feet, more than four feet higher than the record of 33.89 feet, which was set in September 1986.
Parts of Midland were already underwater following days of heavy rainfall in the area.
Meteorologist Eric Holthaus tweeted that the situation in Midland is "one of those nightmare scenarios" that scientists wish would never occur.
"We are in a climate emergency," he added.
Residents in Edenville, the village of Sanford, and parts of the city of Midland, among other areas, are also evacuating as a result of the surge.
In a press conference, Whitmer urged those who have not yet evacuated to do so immediately.
"If you have not evacuated the area, do so now and get somewhere safe," Whitmer said.
"If you have a relative, or a friend somewhere else in the state where you can go and stay with, please go to their homes. If you don't, go to one of the many shelters that have been set up in and around the county.
"In the next 12 to 15 hours, downtown Midland could be under approximately nine feet of water. We are anticipating a historic high water level," Whitmer said.
Whitmer also confirmed that the state of emergency has temporarily suspended all previous guidelines and laws issued in response to the coronavirus so that people can evacuate to shelters or into the homes of friends and family members.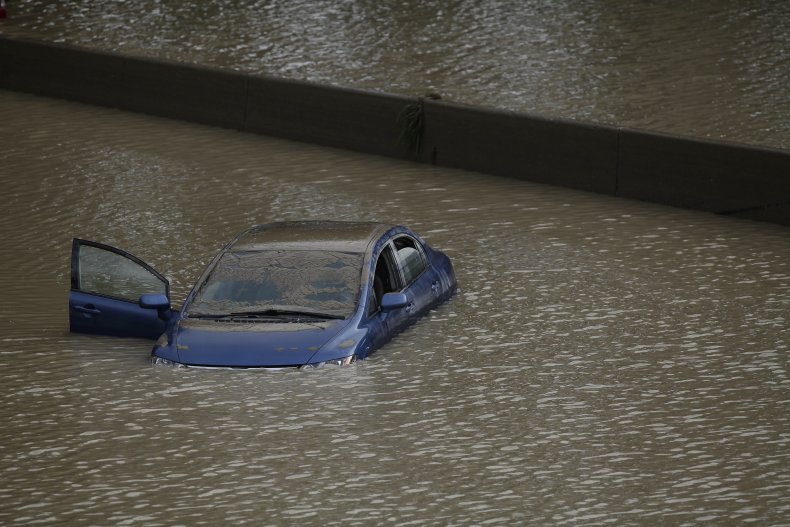 Whitmer did say people must still try and stick to some guidelines where possible, such as social distancing and covering their faces while inside shelters or inside someone else's home.
"To go through this in the midst of a global pandemic is almost unthinkable," Whitmer said.
"We have remained engaged with Midland County officials as the situation has progressed," said Captain Kevin Sweeney, deputy state director of Emergency Management and Homeland Security and commander of the Michigan State Police, added in a statement.
"We will continue to partner with the county to ensure they receive the needed resources to respond and recover from this incident."
Shelters remain open until further notice at:
Midland High School at 1301 Eastlawn,
Bullock Creek High School at 1420 S. Badour,
West Midland Family Center at 4011 W Isabella.