Photos Show Dog Abandoned in 'Agonizing Pain' Ahead of Leg Amputation
Heartbreaking images show a dog, who was abandoned at the side of the road in "agonizing pain," ahead of a leg amputation.
The images—shared by animal shelter Bark Nation—show the dog bandaged and recovering after he was found sheltering inside a chip box with "broken bones protruding from his legs" in Oakland County, near Detroit.
The dog was rescued on March 17 by officers from Bark Nation and Detroit Animal Care and Control, the shelter said on Facebook.
Jessica Brown, director of operations at Bark Nation, told Newsweek that the dog, who is affectionally named "Lil Funyun," is still at the emergency vet and will be undergoing surgery on March 18 for his leg amputation.
After his rescue, Lil Funyun was immediately transported to Oakland Veterinary Referral Services, who determined that his extensive injuries were caused by bite trauma, Bark Nation said in an update to Facebook.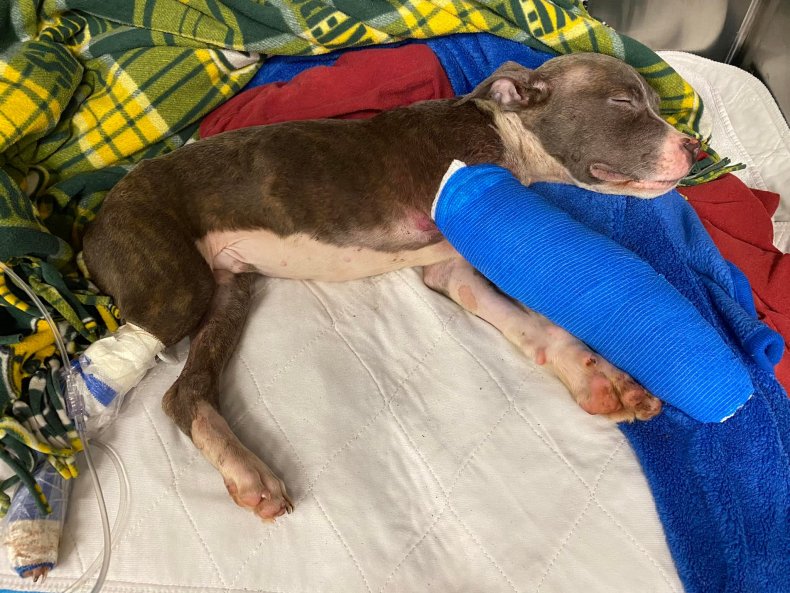 From the necrotic tissue and severe condition of the leg, they also concluded that the injuries were not just sustained yesterday, and he had been suffering for quite some time.
Limb amputation is sometimes required to relieve an animal of their suffering if they have sustained extensive damage to tissue. Sometimes, the injury might be too severe to heal, meaning amputation is the only way forward.
Bark Nation said on Facebook they cannot disclose all details of the rescue, but said they were "heartbroken" at the situation.
"[Our team] truly cannot understand how someone could allow a puppy to sustain injuries like this, and then discard them on the side of the road," Bark Nation said on Facebook. "We've promised Lil Funyun his days will only get better from here on out, and that he has SO many incredible people rooting for him."
Lil Funyun will be kept on pain medication until his leg is amputated.
In response to the pictures posted to Facebook, many social media users expressed outrage and disgust at the dog's injuries.
One commenter, Kayla Rayton, said: "Poor puppy...I hope the person who did this has been thrown in prison for life!!!"
Another, Kathy Turner, said: "Omg...omg..what a vile human."
In Michigan, it is illegal to abuse, abandon, neglect, or mistreat animals. If a person is found to be neglecting an animal, and failing to provide care, it is considered a misdemeanor. This can become a felony in the case of a second violation.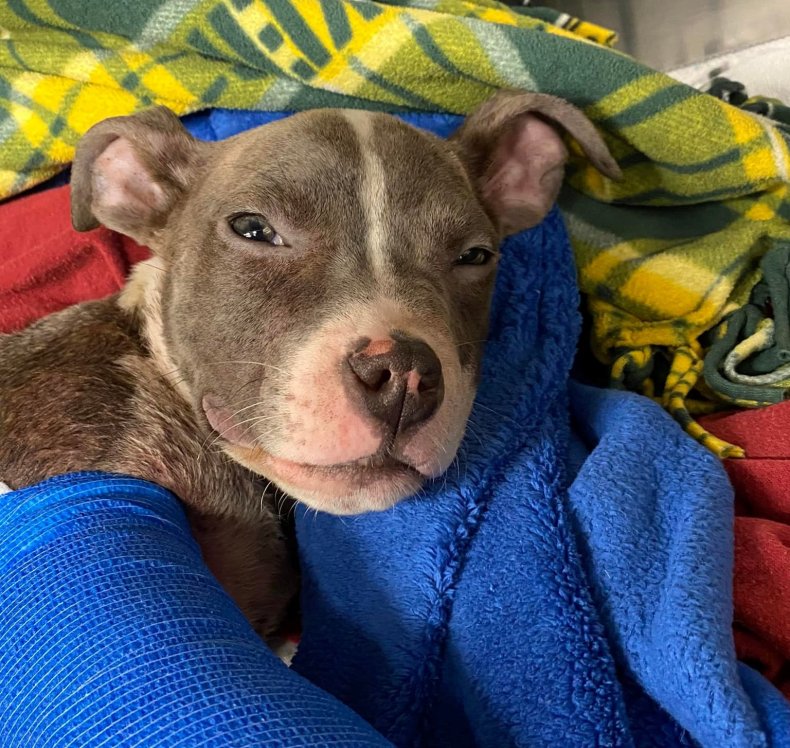 Bark Nation said they regularly rescue dogs "at the worst times of their lives," however this one had them "screaming for answers."
"How? How can you leave a puppy, screaming in pain, to suffer alone? How did your heart not shatter into a million pieces? How did this even happen?" the shelter said on Facebook.
The shelter said teams at Oakland Veterinary Referral Services are surrounding him with "love and the best of veterinary care."
"The only thing we do know at this point is that are so thrilled and honored to be a part of his best days. That we will cherish and celebrate every second we know him. And that nobody will ever, ever hurt or abandon [him] again," the shelter said. "Best days ahead, Lil Funyun. You're safe. You're loved. And your fight is over. We'll take it from here, brave boy."
The animal shelter is currently collecting donations for Lil Funyun's medical care and recovery.