Over 50 dogs and puppies have been rescued after being found in freezing conditions, with no access to food or water, at a home in New Mexico.
The neglected dogs were living outdoors in filthy, crowded pens at the property in San Miguel County, the Humane Society of the United States said in a press release.
All the dogs were able to breed freely. One puppy was found dead while an adult dog, possibly its mother, whimpered nearby. Veterinarians noted that several of the other dogs were pregnant.
Local authorities requested assistance from the Humane Society of the United States after concerns had been raised about the animals' welfare. Authorities obtained a search and seizure warrant for the home and officers arrived on March 14 to find the dogs.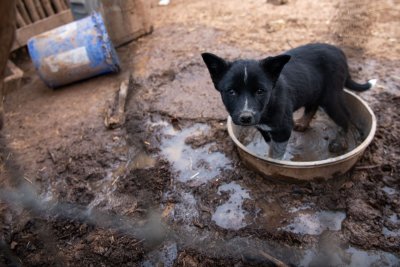 Rescuers worked in the icy conditions to retrieve the dogs, avoiding broken glass, wires and other debris found discarded in the pens.
The Humane Society said some of the dogs hid from the rescuers behind the makeshift plywood structures, while others appeared curious and approached them.
The dogs will be transported to a temporary shelter where they will be medically examined and receive "much-needed" care, the Humane Society said. Volunteer responders from the nonprofit organization RedRover are working with the society to care for the animals.
A local court in New Mexico will determine where the dogs will go next.
Pictures of the dogs before the rescue show them crammed into the wooden pens. The pens appear flimsy and one dog can be seen balancing on wire that is holding them together. Another animal was pictured standing in a bowl, surrounded in mud. Several puppies were discovered hiding under a porch.
In a video of the rescue, officers can be seen coaxing the timid puppies out from their hiding place. One large dog can be seen cramped in what appears to be a tiny, wooden box.
Jessica Johnson, senior director of animal crimes for the Humane Society of the United States, said in a press release that these dogs had been living in a "pretty dire situation."
"They're desperate for resources and adequate living conditions to meet even their most basic needs. It feels good to get them out of here," she said.
Johnson added that the Humane Society was grateful to the 4th Judicial District Attorney's Office, San Miguel County Sheriff's Office and RedRover for their assistance in the rescue.