Michigan Gov. Gretchen Whitmer Takes 10 Percent Pay Cut as State Tightens Budget Over Coronavirus
Michigan Governor Gretchen Whitmer announced Monday that she would be taking a 10 percent pay cut during the COVID-19 pandemic.
Whitmer said that she intended to "lead by example" in taking the pay cut during a press conference Monday. She also asked senior members of her staff to take a 5 percent pay reduction. It is unclear how long the pay cuts will be in effect.
"I'm going to lead by example," Whitmer said. "I know that times are tough and that we as a state are going to be confronting a tough budget as a result of the economic shutdown."
Whitmer said that pandemic had placed a "real strain" the state's budget, with high unemployment rates combining with a shortfall in tax revenue due to businesses being shut down. Over 1 million residents in the state had filed for unemployment as of April 11.
Public health has also been seriously impacted, with Michigan having the sixth most COVID-19 cases of any U.S. state as of Monday, around 32,000. The state has recorded more than 2,400 deaths due to the virus, the country's third highest tally.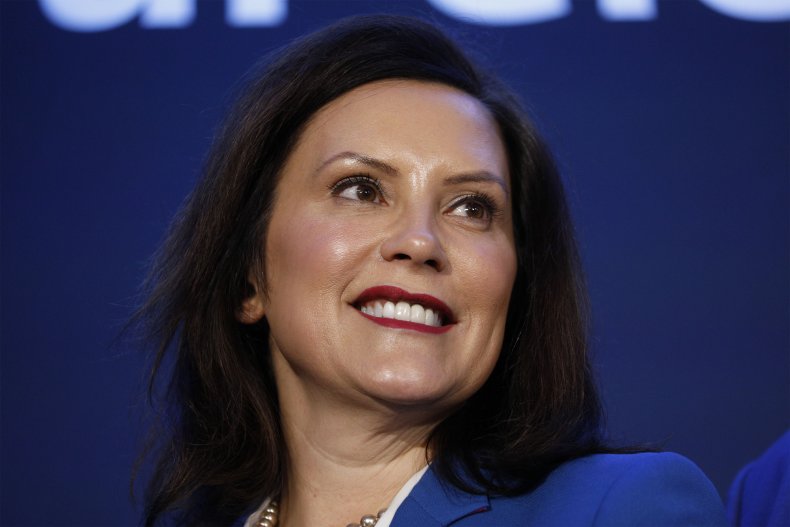 Thousands converged on Michigan's state capital in Lansing last Wednesday to protest the stay-at-home order that Whitmer originally issued on March 23. The protestors ignored public health warnings and openly broke social distancing guidelines, citing of the economic impact of the pandemic while arguing that their "freedom" to disobey the order is more important than public health concerns.
Whitmer has said that she hopes move forward on plans to reopen soon but that her decisions will be driven by public health concerns and the opinions of the "best medical minds." She also dismissed the protest as a political stunt, noting that the largely partisan affair featured many in the crowd displaying campaign signs for President Donald Trump.
"It wasn't really about the stay-at-home order at all," said Whitmer during an appearance on MSNBC after the event. "It was essentially a political rally, a political statement that flies in the face of all of the science, all of the best practices in the stay-at-home order that was issued."
Trump has denounced the Democratic governor and her efforts to contain the virus, referring to her derisively as "the woman in Michigan" and "Half Whitmer." Michigan was one of three states that the president implored followers to "liberate" last week on Twitter. He also suggested that the protestors should ignore Whitmer and listen to him instead.
"I think they're listening," Trump said during his daily briefing on Thursday. "I think they're listening to me. They seem to be protesters that like me and respect this opinion."
A poll released Monday suggested that a clear majority of Michigan residents prefer the governor's response to the pandemic to advice by the president, 57 percent to 44 percent.
Newsweek reached out to Whitmer for additional comment but did not receive a response in time for publication.