Michigan Governor Whitmer Says Barr Remarks on Slavery, Lockdown Measures Were 'Unhinged'
Michigan Governor Gretchen Whitmer has said it was "unhinged" for Attorney General William Barr's to call COVID-19 pandemic lockdown measures the "greatest intrusion" on civil liberties in U.S. history since slavery.
In a Showtime interview that aired on Sunday, the state leader also said it was "deeply disturbing" to see the top administration official making the comparison at a college talk last week.
The Quote
The Detroit News reported that Whitmer told Showtime's The Circus yesterday: "This is another unhinged distraction, and it's deeply disturbing that our chief law enforcement officer is propagating it."
Appearing on CNN last week, the Michigan governor also said the attorney general's remarks were "craziness" after a clip of his Hillsdale College talk was played.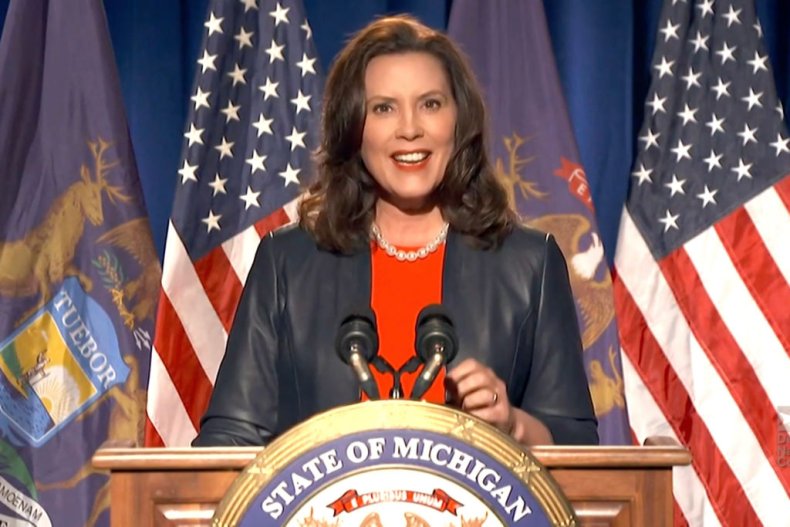 "The fact of the matter is, the worst thing that we can do for another American is give them a virus that could kill them," Whitmer said. "That's the biggest violation of our civil rights."
Why it Matters
Barr faced heavy criticism after CNN first reported his remarks on state-level stay at home orders at a Hillsdale College on Wednesday last week.
A number of public figures argued that his perceived comparison with slavery was insensitive, while others noted that he had glossed over the Japanese-American internment camps of World War II.
"I think that statement by Mr. Barr was one of the most ridiculous, tone-deaf, awful things I've ever heard," House Majority Whip Jim Clyburn (D-SC) told CNN at the time. "It is incredible the chief law enforcement officer in this country will equate human bondage to expert advice to save lives."
The Center for Global Development's Jeremy Konyndyk also tweeted: "Makes you wonder if the man responsible for enforcing federal laws has heard of the internment of Japanese Americans, the Jim Crow era, the Trail of Tears. Or perhaps those don't count because they didn't affect white people?"
Counterpoint
During the college talk, Barr said slavery was a "different kind of restraint" to lockdown measures imposed in the midst of a global pandemic.
The attorney general said: "You know, putting a national lockdown, stay at home orders, is like house arrest. Other than slavery, which was a different kind of restraint, this is the greatest intrusion on civil liberties in American history."
Newsweek contacted the Department of Justice last week to seek further comment and clarification on the attorney general's remarks, but did not receive a response.