Michigan Hair Stylists Plan Quarantine Protest 'To Show People We Are Not Unintelligent' And Can Cut Hair Safely
A conservative political group is planning to offer free haircuts outside the Michigan state Capitol as a part of a protest against the lockdown introduced to curb the spread of the novel coronavirus.
The demonstration, dubbed Operation Haircut, is being organized by the Michigan Conservative Coalition. The group is made up of Republicans "who want our party to stop moving left," according to their Facebook page.
"This is about our governor overreaching, it feels tyrannical what we are living under, here in Michigan right now," said Meshawn Maddock, of the coalition, according to FOX. And "to show people we are not unintelligent, the workers and the business owners of Michigan, we all know how to behave in this new world. There is no reason why barbers and stylists can't safely cut hair."
The protest is scheduled to take place from noon to 3 p.m. on May 20, on the front lawn of the Capitol building in Lansing.
The rally was inspired by 77-year-old barber Karl Manke's defiance of the governor's stay-at-home order. Earlier this month, Michigan State Police paid a visit to Manke's barbershop in Owosso that opened up against the governor's orders.
Officials served paperwork from the Attorney General's Office ordering Manke to shut down his shop again. On May 13, the Department of Licensing and Regulatory Affairs suspended Manke's license after he continued to defy the stay-home order.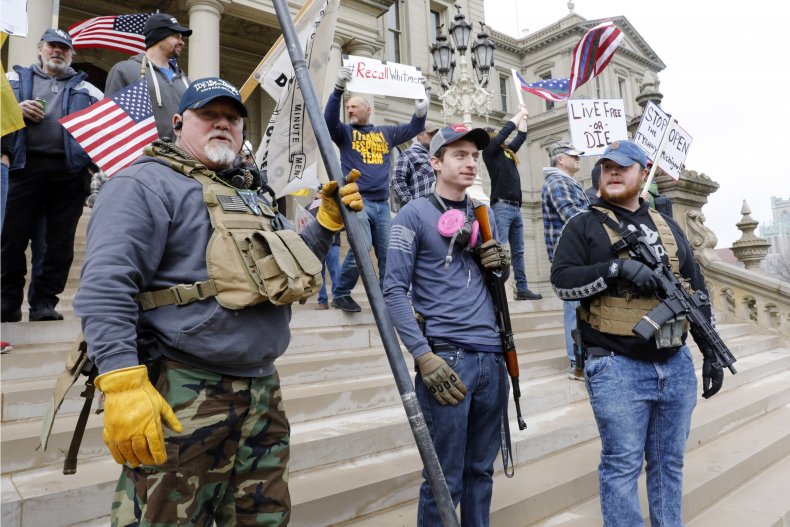 "We support all barbers, hairstylists, nail techs, massage therapists, salons all over Michigan that have been shut down and can't feed their families," the group says.
The group plans to offer haircuts by volunteers from shops that have been closed. "Citizens across Michigan need to get back to work," the group states on the website. "Get back to living their lives."
The Michigan Conservative Coalition also organized last month's Operation Gridlock rally, which blocked traffic around the state Capitol building on April 15.
Multiple anti-lockdown protests have taken place in the last few weeks across the U.S. This week, Michigan closed down its capitol building and canceled its legislative session after online death threats were made against Governor Gretchen Whitmer, who implemented statewide shutdown orders to slow the transmission of COVID-19.
The threats were made by protesters who planned to attend a "Judgement Day" protest at the capitol. Dozens of posts in private invitation-only Facebook groups called for Gov. Whitmer to be hanged, lynched, shot, beaten or beheaded. One suggested crowdfunding sources to hire a hitman to kill her.
"We haven't had any bloodshed yet, but the populous [sic] is counting to three, and yesterday was day two," wrote Dave Meisenheimer in a 385,000-member Facebook group called Michiganders Against Excessive Quarantine.
Gov. Whitmer and Attorney General Dana Nessel have considered banning firearms from the Capitol building. They are currently awaiting the six-member Michigan State Capitol Commission to figure out if they have the legal authority to do so.
"There are legislators who are wearing bulletproof vests to go to work," Gov. Whitmer told ABC News last week. "No one should be intimidated by someone who's bringing in an assault rifle into their workplace."
Medical experts have warned the anti-lockdown protests could lead to a surge in cases of coronavirus as demonstrators flout social distancing measures.
The number of confirmed COVID-19 cases in Michigan reached 50,000 on Friday, according to data from Johns Hopkins University.