Michigan Health Care Worker With Coronavirus Symptoms Dies After Being Turned Away From Hospital Four Times
A Michigan health care worker, who died with COVID-19 symptoms and developed bilateral pneumonia, was reportedly given cough medicine and told to rest at home before being turned away several times from the hospital where she worked.
Deborah Gatewood, a 63-year-old health care worker at Beaumont Hospital in Farmington Hills (in the suburbs of the Detroit metropolitan area), began coughing with a fever in the third week of March, FOX 2 Detroit reports.
"They [Beaumont] sent her home saying you are showing signs of COVID," said Kaila Corrothers, Gatewood's daughter. "So they were confirming that she most likely had COVID, but they did not test her."
Gatewood was reportedly sent home four times from the ER with cough medicine and told to rest, according to Corrothers, who marked the days her mother had gone to seek help at the hospital on a calendar. Gatewood's fever was said to have gotten higher, and her symptoms worse, each time she went to the ER.
By the end of March, Gatewood reportedly developed bi-lateral pneumonia before she collapsed and was taken by ambulance to Sinai-Grace Hospital in Detroit where she died.
"All of this time when you're telling her [Gatewood] to go home and rest it off how do you really rest off bi-lateral pneumonia other than cough medicine to cough it out, it's too severe at this point," Corrothers said.
"The fact that she got infected by doing the job she did for 31 years and she couldn't get taken care of by her own family, meaning Beaumont, it's sad. It is disheartening to say the least," she added.
When asked about Beaumont's protocol on hospital admissions, the hospital reportedly said: "As patients come to Beaumont for care during this pandemic, we are doing everything we can to evaluate, triage and care for patients based on the information we know at the time. We grieve the loss of any patient to COVID-19 or any other illness."
Newsweek has contacted Beaumont Hospital and Sinai-Grace Hospital for comment.
Last month, a 54-year-old nurse in Detroit who tested positive for the virus a few days after she was exposed while working at Henry Ford Health System, was found dead in her home days later.
"The moment she [the nurse] was exposed, she should have been given the test. Instead of having to wait until symptoms appeared...she wasn't given the test [immediately] despite having worked at the hospital in that capacity. And it cost her her life," Alexis Fernandez, a friend of the nurse who lives next door, said at the time.
A statement from the Henry Ford Health System said at the time: "Regarding employee testing, we adhere strictly to CDC [U.S. Centers for Disease Control and Prevention] guidelines. Currently, the CDC recommends testing employees only when they become symptomatic. Whether at work or at home under self-isolation, if an employee begins experiencing symptoms, they are urged to contact Employee Health and arrange for immediate testing."
At least 9,282 health care personnel (HCP) in the U.S. have been infected with the novel coronavirus and at least 27 have died, as of April 9, according to a report by the CDC released on April 17.
The CDC notes: "This is likely an underestimation because HCP status was available for only 16% of reported cases nationwide. HCP with mild or asymptomatic infections might also have been less likely to be tested, thus less likely to be reported.
"Overall, only 3% (9,282 of 315,531) of reported cases were among HCP; however, among states with more complete reporting of HCP status, HCP accounted for 11% (1,689 of 15,194) of reported cases. The total number of COVID-19 cases among HCP is expected to rise as more U.S. communities experience widespread transmission," it adds.
The report also confirms 6,760 of the infected HCP were not hospitalized, while 723 were hospitalized and 184 were admitted to an ICU (intensive care unit).
"It is critical to ensure the health and safety of HCP, both at work and in the community. Improving surveillance through routine reporting of occupation and industry not only benefits HCP, but all workers during the COVID-19 pandemic," the CDC said.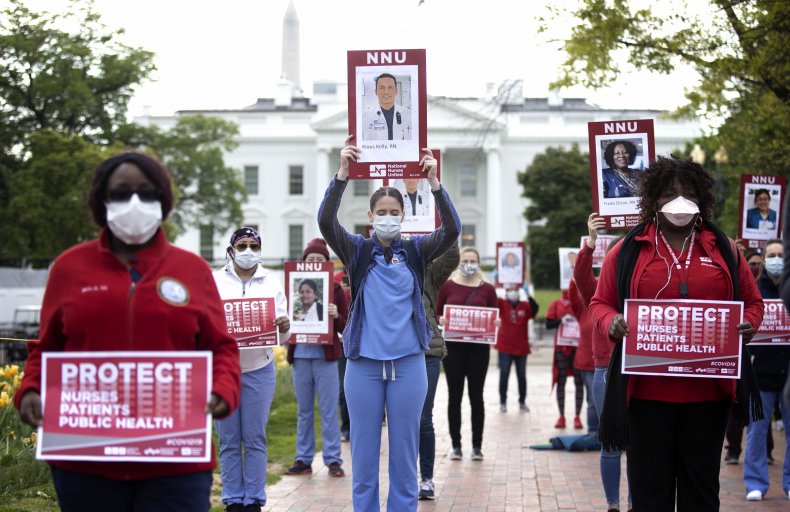 Earlier this week, members of the National Nurses United (NNU), the largest union of registered nurses in the country, held a protest outside the White House urging the government to fund the production of more PPE (personal protective equipment).
"With no federal health and safety standard, nurses and other health care workers in many hospitals across the country have not been provided with adequate PPE to protect them from exposure to the virus," NNU said in a statement.
"Nurses point out that they require N95 respirators or a higher level or protection as well as other protective gear when taking care of patients who may be infected with COVID-19," the statement said.
The novel coronavirus, which was first detected in Wuhan, China, has killed at least 200 nurses and doctors around the world, including more than 100 in Italy.
The COVID-19 pandemic has spread to over 2.6 million people in at least 185 countries and regions. Over 183,400 have died while nearly 713,300 have reportedly recovered from infection, according to the latest figures from Johns Hopkins University.
This infographic, provided by Statista, shows the number of confirmed COVID-19 cases in the U.S.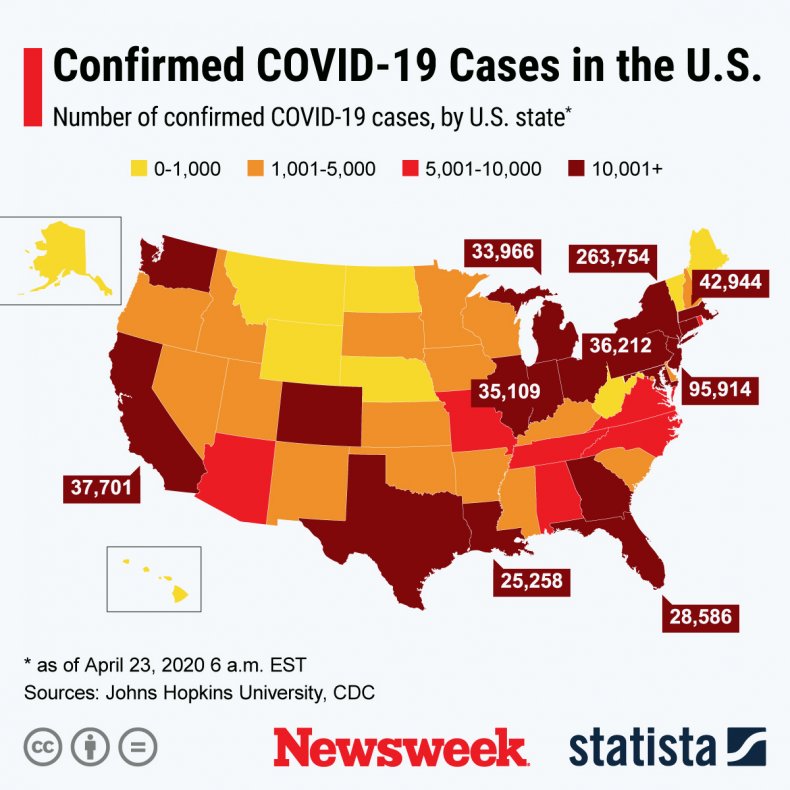 Centers for Disease Control and Prevention Advice on Using Face Coverings to Slow Spread of COVID-19
CDC recommends wearing a cloth face covering in public where social distancing measures are difficult to maintain.
A simple cloth face covering can help slow the spread of the virus by those infected and by those who do not exhibit symptoms.
Cloth face coverings can be fashioned from household items. Guides are offered by the CDC. (https://www.cdc.gov/coronavirus/2019-ncov/prevent-getting-sick/diy-cloth-face-coverings.html)
Cloth face coverings should be washed regularly. A washing machine will suffice.
Practice safe removal of face coverings by not touching eyes, nose, and mouth, and wash hands immediately after removing the covering.
World Health Organization advice for avoiding spread of coronavirus disease (COVID-19)
Hygiene advice
Clean hands frequently with soap and water, or alcohol-based hand rub.
Wash hands after coughing or sneezing; when caring for the sick; before, during and after food preparation; before eating; after using the toilet; when hands are visibly dirty; and after handling animals or waste.
Maintain at least 1 meter (3 feet) distance from anyone who is coughing or sneezing.
Avoid touching your hands, nose and mouth. Do not spit in public.
Cover your mouth and nose with a tissue or bent elbow when coughing or sneezing. Discard the tissue immediately and clean your hands.
Medical advice
Avoid close contact with others if you have any symptoms.
Stay at home if you feel unwell, even with mild symptoms such as headache and runny nose, to avoid potential spread of the disease to medical facilities and other people.
If you develop serious symptoms (fever, cough, difficulty breathing) seek medical care early and contact local health authorities in advance.
Note any recent contact with others and travel details to provide to authorities who can trace and prevent spread of the disease.
Stay up to date on COVID-19 developments issued by health authorities and follow their guidance.
Mask and glove usage
Healthy individuals only need to wear a mask if taking care of a sick person.
Wear a mask if you are coughing or sneezing.
Masks are effective when used in combination with frequent hand cleaning.
Do not touch the mask while wearing it. Clean hands if you touch the mask.
Learn how to properly put on, remove and dispose of masks. Clean hands after disposing of the mask.
Do not reuse single-use masks.
Regularly washing bare hands is more effective against catching COVID-19 than wearing rubber gloves.
The COVID-19 virus can still be picked up on rubber gloves and transmitted by touching your face.