Michigan Man Warns Officials 'There's Hell Coming' Over School Mask Mandate
A Michigan man has gone viral after launching an angry tirade against mask mandates during a meeting of the Ottawa County Board of Commissioners.
Footage of the man's verbal attack was picked up by Vox journalist Aaron Rupar, who shared a clip of the remarks to Twitter, with the resulting video racking up over 700,000 views.
In the clip, the man makes a series of thinly veiled threats against the board while also referencing several previously debunked theories around masks.
"You wear that diaper on your face. If he farted right now could you smell it?" He asks. "That's how stupid this is. We're all playing games here with people's lives and I'm sick of it."
"There's hell coming," he later warns. "There's hell coming and I'm not doing it to threaten anybody but there's a lot of good guys out there ready to do bad things soon. Watch what's coming."
The man goes on to claim that "these mandates are against the Nuremberg Codes" while reading from a section of handwritten text scrawled on his arm.
"The first one states: voluntary and informed consent," he says: "Are you a Nazi? What is it?"
The man's diatribe ends with him urging the board: "Do what's right or there's a lot of bad things coming."
Commenting on the outburst, Doug Zylstra, who sits on the Ottawa County Board of Commissioners and was directly addressed by the man in the video, told Newsweek: "Obviously this is a difficult issue, with strong passion and feelings on all sides, but I do hope we can continue conversations around this issue as we do on almost all other issues here in Ottawa County, in the reasoned and respectful way that has long been a hallmark of the Ottawa community."
The theories put forward by the man during his speech have already been widely and repeatedly dismissed.
Trevor A. Makal, an associate professor of chemistry at the University of Virginia at Wise, previously debunked the notion that if you are able to smell farts while wearing a mask, they must be ineffective against the coronavirus.
In a lengthy Twitter thread posted in 2020, the scientist explained that the COVID-19 virus is around one hundred to one thousand times bigger than a fart molecule.
The theory that COVID-19 health measures are in breach of the Nuremberg Code, which was established in the wake of the Second World War as a means of offering clear guidance on the rights of human subjects taking part in scientific research, has also been debunked.
"The Nuremberg Code is about the active experimentation on humans, for the most part during some sort of clinical trial of some description," Dr. Alexis Paton, a lecturer in social epidemiology and the sociology of health at Aston University, told Full Fact.
"So when we talk about Pfizer or AstraZeneca [vaccines], we're out of the auspices of the Nuremberg Code because this is a product that has been trialed, with appropriate ethics in place, and has been approved and is now in production and being used globally."
The Ottawa County Board of Commissioners meeting took place on Tuesday, just four days after the director of the Ottawa County Health Department issued a public health order making it a requirement for staff and students from preschool through to the sixth grade to wear a mask.
As many as 1,000 members of the public turned up to the meeting at the Fillmore Complex on 12220 Fillmore Street, with many voicing their opposition to the recent public health order.
More than 130 people shared public comment during the board meeting, which lasted more than six hours.
Despite the anger, the county commissioners board has no say in public health orders of this kind, which are issued under the authority of the local health department.
They also have no power to rescind the public health order, which will stay in place for 60 days.
The Michigan Department of Health and Human Services has no plans to issue a statewide mask mandate for K-12 schools, preferring to leave the decision to local school leaders or health officials.
The comparison between mask mandates and Nazism has become common among those opposed to face coverings in schools. A man at a San Diego Board of Supervisors meeting made a similar reference during his own outburst about mask mandates, launching into a tirade during which he shouted "Heil Fauci!"
Another man in Michigan ended up losing his job after he was caught on camera giving a Nazi salute and saying "Heil Hitler" during a mask mandate school board meeting.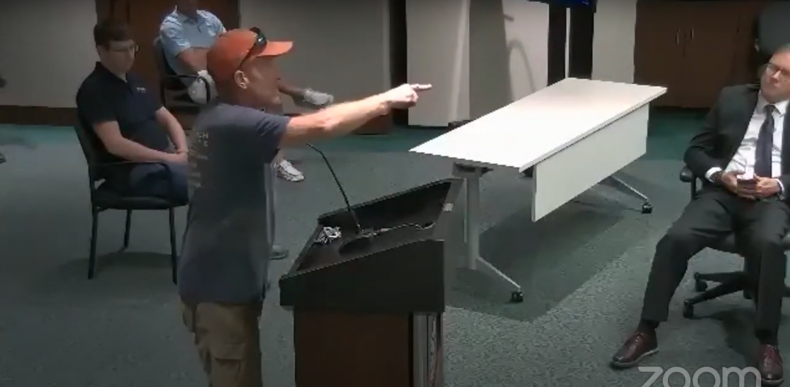 Update 8/26/21, 11:54 a.m. ET: This article was updated with comment from Doug Zylstra.