Michigan Medical Students Walk Out of Speech by Anti-Abortion Speaker
Incoming medical students at the University of Michigan walked out of the school's White Coat Ceremony on Sunday when the keynote speaker, a known anti-abortion rights doctor, took to the stage.
A video showing the white coat-wearing students quietly getting off their seats, turning their backs on Dr Kristin Collier and leaving the room has gone viral on social media after it was shared by a Twitter user.
The clip was watched over 4.8 million times in less than 24 hours.
The White Coat Ceremony is a traditional event at the medical school, during which incoming students receive their first white coat, marking their entry into medicine.
This year's event's selected keynote speaker was Dr Kristin Collier, an assistant professor of medicine at the University of Michigan (UM) known to hold strong anti-abortion beliefs.
Collier —who's also director of the UM Medical School Program on Health Spirituality & Religion— has shared several posts expressing an anti-abortion stance on social media, including messages on Twitter in which she claimed her way of being a feminist involved fighting for her "prenatal sisters" who have been subjected to what she claims is "the violence in the act of abortion."
"Holding on to a view of feminism where one fights for the rights of all women and girls, especially those who are most vulnerable. I can't not lament the violence directed at my prenatal sisters in the act of abortion, done in the name of autonomy," she wrote on May 2022, later comparing abortion to "oppression."
According to an interview with Catholic news site The Pillar published on June 24, Collier started off her career as a pro-abortion rights atheist only to later become the "committed Christian and avowedly pro-life" activist she is now.
Many medical students at UM interpreted the decision to have Collier as this year's White Coat Ceremony's keynote speaker as betraying UM's commitment to stand by abortion rights and continue providing abortion care in the aftermath of the Supreme Court overturning Roe v. Wade in June.
"U-M Health remains committed to providing high-quality, safe reproductive care for patients, across all their reproductive health needs," the university pledged in a statement following the end of Roe. "This includes abortion care, which remains legal in Michigan while challenges to various state-law criminal statutes continue to proceed."
Over 340 medical students had signed a petition opposing the choice of Collier as the event's keynote speaker, according to a report by The Michigan Daily, together with 72 community members including University of Michigan Medicine's residents, physicians, graduate students and alumni.
"While we support the rights of freedom of speech and religion, an anti-choice speaker as a representative of the University of Michigan undermines the University's position on abortion and supports the non-universal, theology-rooted platform to restrict abortion access, an essential part of medical care," the petition reads.
"We demand that [the university] stands in solidarity with us and selects a speaker whose values align with institutional policies, students, and the broader medical community. This speaker should inspire the next generation of healthcare providers to be courageous advocates for patient autonomy and our communities."
But the university refused to retract its decision to have Collier as keynote speaker, telling Newsweek that it could not "revoke an invitation to a speaker based on their personal beliefs."
"Kristin Collier, M.D., was chosen as the keynote speaker for the 2022 White Coat Ceremony based on nominations and voting by members of the U-M Medical School Gold Humanism Honor Society, which is comprised of medical students, house officers and faculty," a Michigan Medicine spokesperson told Newsweek.
"The White Coat Ceremony is not a platform for discussion of controversial issues. Its focus will always be on welcoming students into the profession of medicine. Dr. Collier never planned to address a divisive topic as part of her remarks. However, the University of Michigan does not revoke an invitation to a speaker based on their personal beliefs."
Collier reportedly didn't speak about abortion during her speech. While the video showing the students' walkout amassed almost 280k likes, Collier also apparently received support, likely from the anti-abortion rights community, as she suggested in a post on Twitter on Sunday that she was "truly grateful for the support, emails, texts, prayers and letters I've received from all over the world regarding the event that will happen today."
Newsweek has reached out to Collier for comment.
Abortion is still legal in Michigan, but the fate of the practice is hanging by a thread, as the state has a 1931 law banning it that could now be brought back.
Under this law, almost all abortions —with no exceptions even in the case of rape or incest— would be considered a felony, with both pregnant people and doctors assisting in abortions facing a penalty of up to four years in prison.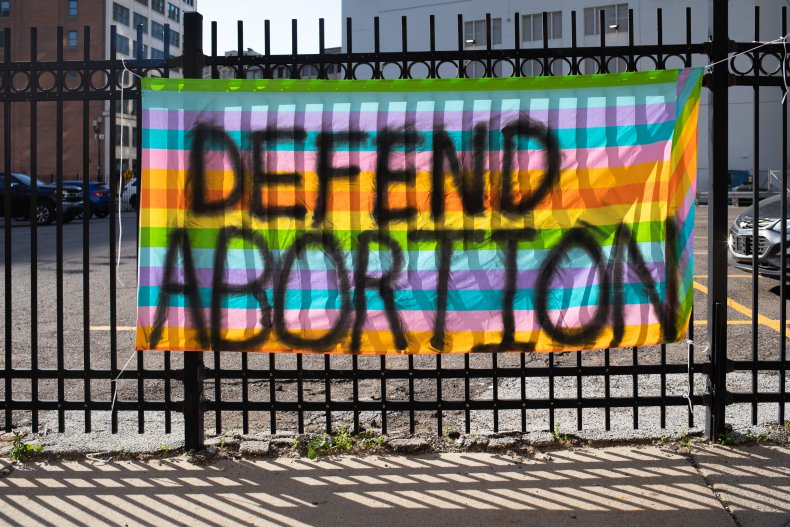 Update 7/25/22 at 9:25 a.m. ET: This article was updated to include comments from the University of Michigan Medical School.