Michigan Republicans File Second Lawsuit in Three Days Against Governor Whitmer Over Her Handling of Pandemic
Republican leaders in Michigan filed a lawsuit Wednesday against Governor Gretchen Whitmer for extending a declaration of emergency in her state, which could potentially allow her to push out the expiration date of Michigan's stay-at-home orders.
Wednesday's lawsuit is the second one filed against Whitmer by Republicans in her state within the space of three days.
Whitmer signed extensions of both emergency and declarations for Michigan in April after the Legislature, which holds a Republican majority, denied any further extension of the governor's stay-at-home orders.
"By refusing to extend the emergency and disaster declaration, Republican lawmakers are putting their heads in the sand and putting more lives and livelihoods at risk," Whitmer said. "I'm not going to let that happen."
At a Wednesday news conference, Michigan House Speaker Lee Chatfield said the lawsuit was filed because Whitmer did not have the legal authority to extend the emergency declaration.
"Only the Legislature has the power to extend the state of emergency," Chatfield said.
"We've attempted to partner with our governor, but she's rejected," Speaker Chatfield tweeted Wednesday. "We offered cooperation, but instead she chose court. This was avoidable, but today we filed a lawsuit in our state to challenge her unconstitutional actions. The law in Michigan is clear, and nobody is above it."
Michigan Senate Majority Leader Mike Shirkey concurred with Chatfield, saying on Wednesday that the legislature had "no choice but to seek the court's intervention to restore constitutional order."
Michigan Republican Party Chairman Laura Cox defended the lawsuit in a Wednesday statement, saying that no one individual "should be given unilateral power over our state indefinitely. The time has come for the Governor to work with the Legislature to get our state through this crisis."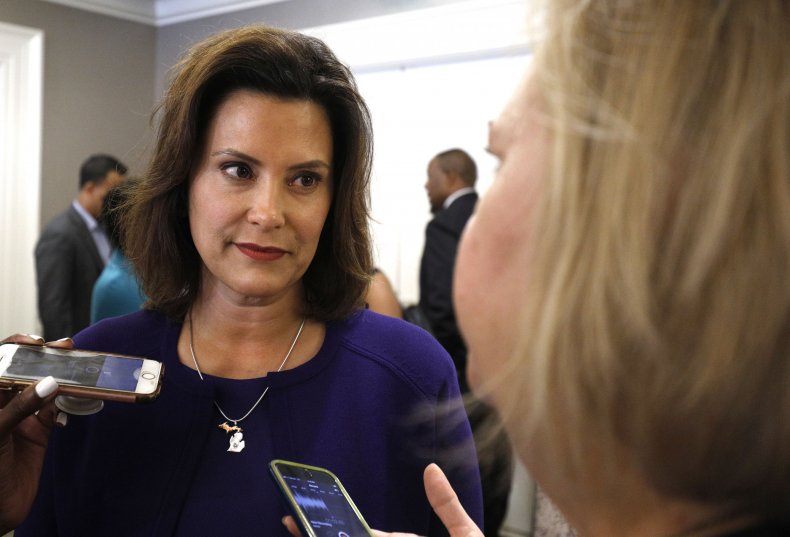 In a statement sent to Newsweek Wednesday, Michigan Democratic Party chair Lavora Barnes said the lawsuit amounted to no more than a distraction.
"The dog and pony show that Senator Shirkey and Representative Chatfield dragged out this morning is just that—a show meant to distract from the real business at hand," Barnes said. "Their inability to grasp that we are in the middle of a global health crisis and lives are at risk is an embarrassment. Michigan has lost over 4,000 lives to COVID-19. If that isn't a wake-up call, I don't know what is."
"The Michigan GOP is wasting the court's time and the taxpayer's dime," Barnes continued. "Money and time that would be much better spent providing our nurses with the necessary PPEs, helping our teachers and students with needed tools to ensure they can continue to learn, and protecting the health of correctional workers."
Whitmer was also the subject of a Monday lawsuit filed by Republican Congressman Paul Mitchell.
Mitchell claimed in his lawsuit that the governor's stay-at-home orders infringed upon his constitutional rights by prohibiting him from traveling freely. Because of that, he was unable to speak to his constituents or receive medical attention.
"Michiganders can and do take reasonable, private action to protect themselves from infection without the need to shut down civil society," the lawsuit read in part. "Given that the projected surge has not occurred, there is no basis, either legally or factually, to continue any further mandatory lockdown orders."
Newsweek reached out to Governor Whitmer's office for comment. This story will be updated with any response.