Michigan GOP Congressman Sues Governor Whitmer Over Coronavirus Lockdown As State Reports Highest Domestic Death Rate
Republican Congressman Paul Mitchell of Michigan on Monday filed a federal lawsuit against Governor Gretchen Whitmer claiming that her handling of the coronavirus pandemic violated both the state and national constitutions.
The suit challenging Whitmer's stay-at-home order came just three days after Michigan became the U.S. state with the highest domestic coronavirus death rate.
Mitchell's case argues that the governor's stay-at-home order violates his constitutional rights to travel, receive medical care, engage in commerce and exercise his freedoms of association and political speech by preventing him from speaking in-person to his constituents, according to The Detroit Free Press.
"Michiganders can and do take reasonable, private action to protect themselves from infection without the need to shut down civil society," the lawsuit read. "Given that the projected surge has not occurred, there is no basis, either legally or factually, to continue any further mandatory lockdown orders."
Mitchell claims that the state constitution's separation of powers clause doesn't allow the governor to shut down the legislature. He also says Whitmer's April 30 issuance of a second state of emergency declaration, which took place after her first expired, was also in violation of state law.
Mitchell isn't the first Republican to sue a Democratic governor for their handling of the coronavirus epidemic. In late April, Republican State Representative Darren Bailey sued Illinois Democratic Governor J.B. Pritzker for allegedly violating the constitution through an extension of his 30-day statewide stay-at-home order.
"Our practice is not to comment on pending litigation," said Whitmer spokesperson Tiffany Brown.
Newsweek reached out to Mitchell's office for comment. This story will be updated with any response.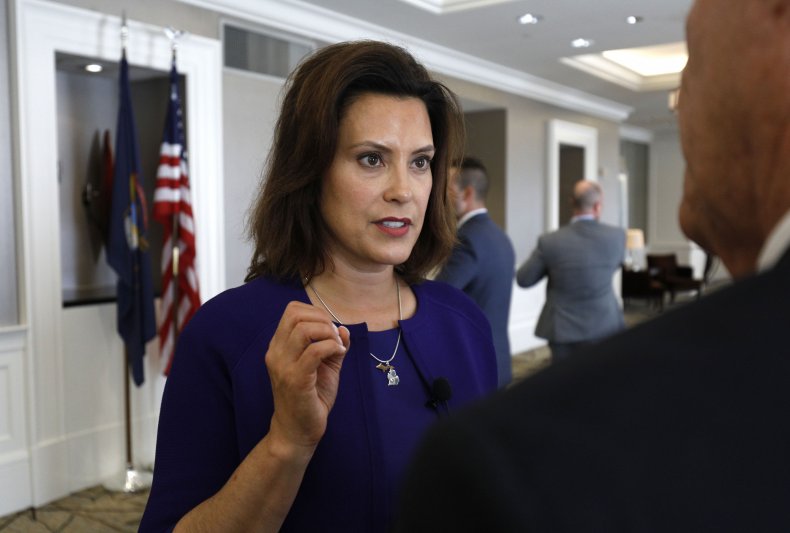 Last Friday, Michigan became the U.S. state with the highest coronavirus death rate, as 9 percent of people with confirmed cases have died from it, according to the local CBS News affiliate, WWMT. The state also has the fourth-largest number of Covid-19 deaths in the country—approximately 4,020 as of May 4.
To fight pandemic, Whitmer instated some of the nation's strictest social distancing measures. She has since become a target for critics who contend that her measures are harming the economy.
On April 15, some protesters participated in an "Operation Gridlock" protest, blocking traffic around the Michigan Capitol Building while brandishing signs, American flags and guns outside. On April 23, protestors drove around her residence and used a bullhorn in a protest named "Operation Queen's Castle."
Protestors last week in Lansing carried Nazi symbols and Confederate flags while gathered outside the state capitol. Whitmer said the protest "depicted some of the worst racism and awful parts of our history," adding, "The behavior that you've seen in all of the clips is not representative of who we are in Michigan."
President Donald Trump tweeted in support of protestors last Friday, writing, "The Governor of Michigan should give a little, and put out the fire. These are very good people, but they are angry. They want their lives back again, safely! See them, talk to them, make a deal."
A survey released on April 20 by the Detroit Regional Chamber found 57 percent of respondents approved of Whitmer's coronavirus response and just 37 percent disapproved.