Michigan Is Running Out of Blood and Cannot Meet Hospital Demand As State Begins to Reopen
Residents of Michigan are being urged to donate blood, with the coronavirus outbreak and recent flooding in the state causing vital supplies to dwindle.
The Versiti Blood Center of Michigan is asking people to keep their appointments and arrange new donations. It is struggling to keep up with the demand from hospitals, which is expected to rise as the state's stay-at-home orders are partially relaxed.
According to America's Blood Centers and the Red Cross, more than 4,000 blood drives have been canceled in the U.S. since March 16, resulting in some 130,000 fewer blood donations.
Recent flooding in the state of Michigan following a period of heavy rainfall has meant hundreds more donation appointments have been canceled.
Due to the flooding, Gov. Gretchen Whitmer expanded the state of emergency to Arenac, Gladwin, and Saginaw counties. The declaration was previously issued for Midland County after heavy rain and flooding resulted in the breaching of the Edenville and Sanford dams.
The severe flooding in the city of Midland meant that the Dow Diamond Donor Center was forced to reschedule its appointments for May 20 and May 21.
"Our blood supply is not meeting hospital demand. That is the situation we face today," Versiti Blood Center of Michigan Area Vice President Dawn Kaiser said in a statement.
"We must be able to provide blood. Lives depend on it."
As reported by WWMT, those with blood type O-negative are particularly urged to donate amid the shortage.
Officials have assured that donating is safe as there are no increased risks of getting infected by COVID-19. Social distancing will be put in place, all employees and donors will be required to wear cloth face coverings and temperatures will be checked prior to the appointment.
"Patients in our communities and our hospital partners continue to rely on the generosity of blood donors. We rely on each other for this precious resource," Versiti Chief Medical Officer Dr. Tom Abshire added.
"The donation process itself poses no risk of infecting a donor with coronavirus. Donors and our blood drive sponsors should be reassured that attending organized blood drives is safe. Coronavirus is currently not known to infect patients through blood transfusions."
While it is safe, Versiti is asking those who recently traveled to China, Iran, South Korea or Italy to hold off from donating blood until at least 28 days from their return to the U.S.
The request for donations arrived as Whitmer announced the state is to partially reopen. Whiter signed an executive order last week declaring that retail businesses and auto dealerships (by appointment) will be allowed to resume on Tuesday, May 26.
Nonessential medical, dental, and veterinary procedures will be allowed to resume from Friday, May 29. Small gatherings of no more than 10 people are now also allowed as long as social distancing is adhered to.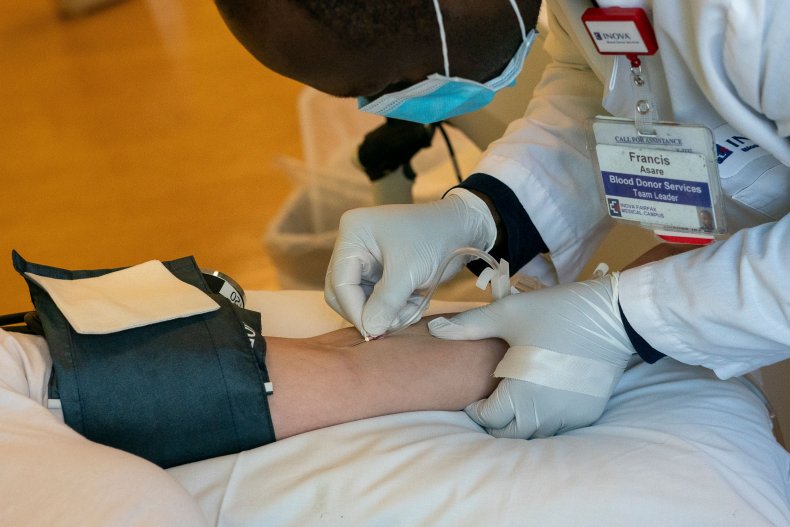 Whitmer, whose executive orders have attracted protests, warned against fully reopening the state too soon while announcing that her emergency declaration is to be extended until June 19.
"While the data shows that we are making progress, we are not out of the woods yet," Whitmer said.
"If we're going to lower the chance of a second wave and continue to protect our neighbors and loved ones from the spread of this virus, we must continue to do our part by staying safer at home.
"If we open too soon, thousands more could die and our hospitals will get overwhelmed. While we finally have more protective equipment like masks, we can't run the risk of running low again.
"We owe it to the real heroes on the front lines of this crisis—our first responders, health care workers, and critical workers putting their lives on the line every day - to do what we can ourselves to stop the spread of the virus."
There are more than 51,200 confirmed cases of COVID-29 in Michigan with at least 5,200 deaths, according to Johns Hopkins University. In total, 379,157 people have managed to recover from the virus in the U.S.
This graph, provided by Statista, shows countries with the highest number of confirmed COVID-19 cases as of May 25.