Michigan State Shooting Video Shows Suspect Walking Around Campus
A video of the suspect in the Michigan State University shooting on Monday night has begun to circulate on social media.
At least three people were killed in the shooting at MSU at the East Lansing Campus community. The lone gunman was later found by police with what officers believe to be self-inflicted gunshot wounds and was pronounced dead.
MSU Police and Public Safety released images of the suspect on Twitter. News Nation's Brian Entin shared the same images of the suspect and what he was wearing during the shooting.
He captioned the post: "Pictures: Michigan State Police suspect is a Black male, shorter in stature, red shoes, jean jacket, wearing a baseball cap that is navy with a lighter brim. Call police if you have information."
The RAWSALERT Twitter page shared a video of an individual fitting this description on their page on Monday night.
The video was captioned: "Watch as a man matching the suspect description of the MSU active shooter walks past a fraternity on campus.
"Suspect possibly using the scanner according to traffic. With police reporting that three people have been killed with 5 injured."
In the video, the shooting suspect is seen walking on the street wearing a backpack.
In addition to the three confirmed deaths, five additional people were injured according to the interim deputy chief of community services of the MSU police, Chris Rozman. The injured individuals have been transported to a hospital with life-threatening injuries.
During a press briefing after the incident, Rozman said shots were fired at several locations.
Police first responded to multiple 911 calls about gunfire at Berkey Hall at 8:18 p.m. A shooting at the University Union building was then reported immediately afterward.
The interim East Lansing City Manager Randy Talifarro has released a statement regarding the shooting.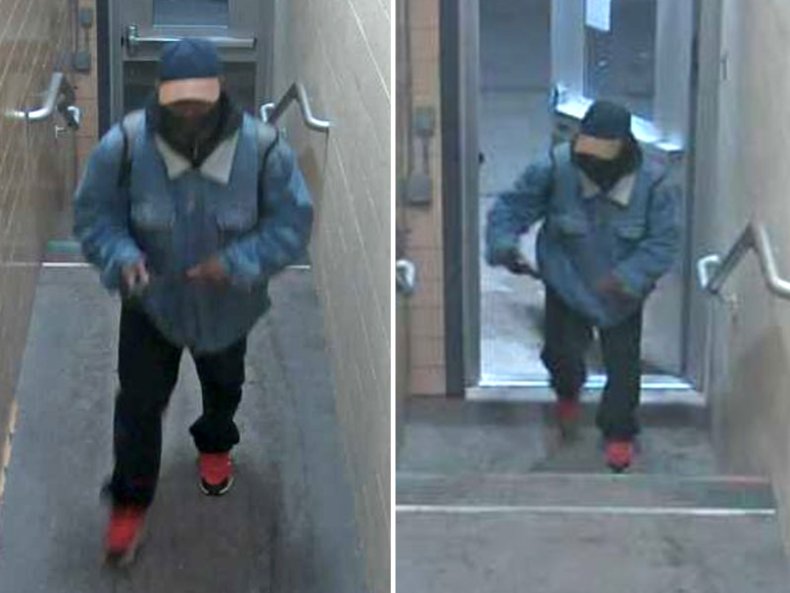 He said: "The City of East Lansing is mourning the devastating shooting that occurred on the campus of Michigan State University tonight. Our hearts go out to all of the victims of this horrific act of violence as well as their family and friends.
"East Lansing and MSU have always shared in each other's victories and each other's losses. Tonight, we hold space while we grapple with this devastating loss of life together.
"We extend our gratitude to our brave first responders who quickly responded to MSU's campus. Against every natural instinct they ran towards the sound of danger, seeking not their own wellbeing, but instead to protect and serve those in need.
"And we stand shoulder to shoulder with everyone impacted by tonight's events. Please know that you're not alone in your grief. We stand with you and will be here as we seek to heal as a community."
Newsweek has contacted the East Lansing Police Department and MSU for comment.