Michigan Stay-at-Home Order That Prompted Armed Protest Successfully Curbed Coronavirus Spread, U.K. Report Says
Trailing months of civilian resistance against Michigan's stay-at-home order, a study examining lockdown restrictions' impact on transmission of the new coronavirus indicated it successfully curbed the disease's statewide spread. One researcher involved in the study, conducted by professors and epidemiology experts at Imperial College London and Oxford University, told The Detroit News on Saturday that Michigan's order may have reduced its fatality toll by as much as 90 percent.
"In an unmitigated epidemic, you might expect that 70% to 80% of the population might be infected, that's 7.4 million people infected with COVID-19," said Seth Flaxman, a senior lecturer in Imperial College London's mathematics department, using Michigan's population of 9 million to determine the estimate.
"We assume around a 1% infection mortality rate — that's over all the infections in the population, some are very mild. So if you multiple 7.4 million by 1%, you get 74,000 deaths," Flaxman continued, though he also told the publication "it's really hard to know" exactly how many people could have been affected, since variables like transmission rate and medical response capacity would be different in an unmitigated scenario.
As of Sunday morning, Michigan's Department of Health and Human Services (DHHS) said 6,031 confirmed and probable deaths from the virus were reported statewide throughout the pandemic, in addition to 65,836 confirmed and probable cases.
Governor Gretchen Whitmer first effected Michigan's stay-at-home order in March, after health authorities identified initial cases of the novel virus among residents. At that time, the U.K. universities' research study estimated the disease's reproduction rate—how many virus cases result from one person's infection—in Michigan was roughly 3.5, one of the highest in the United States. By the end of May, it estimated Michigan's reproductive rate was reduced to about 1.
Newsweek reached out to the research study's contributors, Whitmer's office and the Michigan DHHS for comments but did not receive replies in time for publication.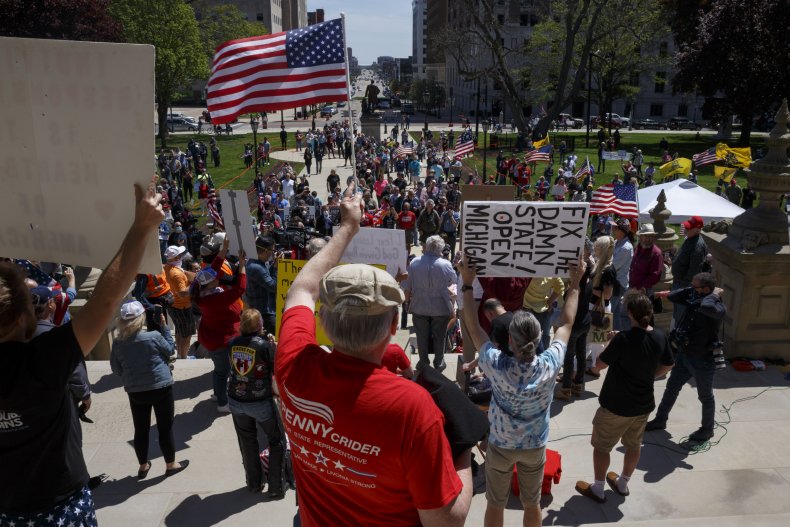 The terms of Michigan's stay-at-home order were some of the nation's strictest, and prompted backlash from residents who demanded Whitmer permit businesses to reopen earlier than planned. Numerous demonstrations took place, including one instance where a group of protesters stormed the state's capitol building. Some carried firearms during the incident, which took place at the end of April. Two weeks later, Michigan lawmakers closed the building and cancelled a legislative session after Whitmer received death threats online.
Whitmer issued an executive order on May 21 with preliminary guidelines for Michigan's reopening, weeks after many other U.S. states began to reopen businesses. The governor terminated Michigan's safer-at-home order at the beginning of June, allowing retailers to start accepting customers on June 4, followed by restaurants and bars on June 8. Whitmer's guidelines said personal care services, gyms and theaters would reopen between June 10 and June 15, depending on regional virus data.