Michigan's Top Health Official Vacations in Alabama After Whitmer Tells Residents Not to Travel
Michigan's health director traveled to Alabama last week after Democratic Governor Gretchen Whitmer warned residents not to leave the state as coronavirus cases soar, prompting sharp criticism from the Republican party.
Michigan Department of Health and Human Services (MDHHS) Director Elizabeth Hertel traveled last week to Gulf Shores, Alabama, which is a popular resort destination along the Gulf of Mexico, Fox News reported.
The report brought criticism from the state's GOP, as Michigan continues to grapple with the highest coronavirus rates in the nation.
"The sheer brazenness of Gov. Whitmer and her staff is truly something else," Michigan GOP spokesman Ted Goodman said to Fox News on Wednesday.
"The fact that our Governor and her top staff think it's appropriate to travel out of state on vacation as Michigan faces the worst COVID numbers of any state in the country just reveals the arrogance and condescending nature of this administration. Whitmer's position on the draconian lockdown orders is simple—rules for thee, but not for me."
The Michigan GOP also tweeted Wednesday that the lack of transparency within the MDHHS is "unacceptable" after the health department declined to respond to media comments regarding Hertel's trip.
"The lack of transparency is unacceptable. Michiganders deserve to know the where-abouts of the state's top health official during a global pandemic, especially as Michigan experiences the worst COVID-19 numbers in the country. Did Director Hertel vacation in Alabama? If so, when?" the Michigan GOP tweeted.
Whitmer addressed the criticism during a Wednesday press conference.
"I'm not going to get distracted by partisan hit jobs on my team. There's never been travel restrictions in Michigan," she said, adding that the state has instead encouraged people to take precautionary measures.
"What directors do on their personal time is their business—so long as they are safe, which is what we're asking everyone in the state to do. So, get vaccinated and mask up," she added.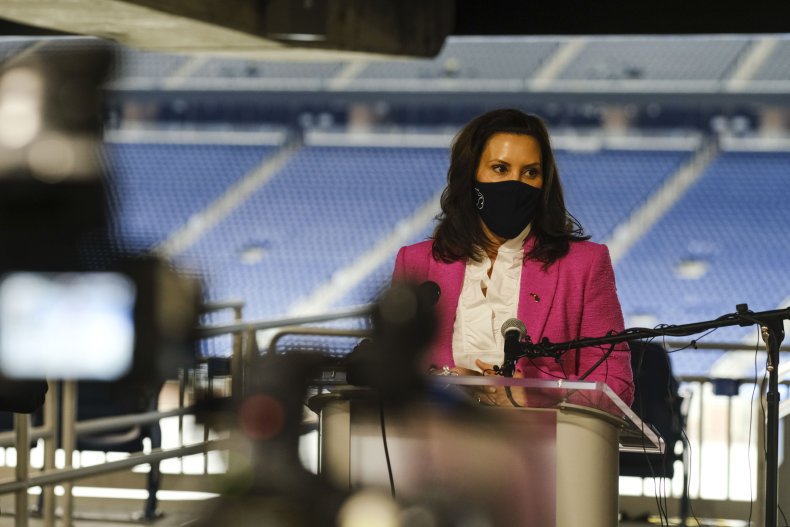 Michigan is currently recording new COVID-19 cases at the highest rate in the country, the New York Times reported. According to data, there were more than 10,000 new cases reported on Tuesday, while hospitalizations are reaching nearly record highs.
Hospitals and health care workers across the state are now preparing for the worst spike since the pandemic first hit last year.
"Our surge this time has, to me, been the most challenging. We're at levels that are approaching the surge that we had last April of 2020," Beaumont Hospital Troy's Emergency Center Chief Dr. David Donaldson told Newsweek this week.
"I think we're all really worried here in Michigan as numbers continue to go up. I suspect we'll have a number that will exceed what we even saw a year ago this time, which will really be challenging for the healthcare system," added Dr. Vikas Parekh, a professor of internal medicine at the University of Michigan.
The state is also grappling with one of the largest number of variant cases in the U.S, including more than 2,200 cases of the U.K. variant known as B.1.1.7, which is a more infectious strain of the virus.
Rather than shutting down business or calling for a new lockdown orders to combat the rising cases, Whitmer has focused on trying to get more people vaccinated.
"Policy change alone won't change the tide," Whitmer said last week. "We need everyone to step up and to take personal responsibility here," she added, while encouraging Michiganders to be vaccinated, wear a mask, and avoid travel or indoor socialization.
However, the director for the Centers for Disease Control and Prevention, Dr. Rochelle Walensky, said Monday that Michigan needed to shut down activities in order to control the virus.
"The answer is not necessarily to give vaccine," Walensky said, according to the Times. "The answer to that is to really close things down, to go back to our basics, to go back to where we were last spring, last summer, and to shut things down."
At least 3.4 million people, or 42.5 percent of people in Michigan, have received at least one dose of the COVID-19 vaccine, according to data compiled by the state.
Newsweek contacted Whitmer's office for additional comment but did not hear back in time for publication.
Newsweek, in partnership with NewsGuard, is dedicated to providing accurate and verifiable vaccine and health information. With NewsGuard's HealthGuard browser extension, users can verify if a website is a trustworthy source of health information. Visit the Newsweek VaxFacts website to learn more and to download the HealthGuard browser extension.