Mick Mulvaney: Donald Trump's 'Executive Time' Schedule Leaker Could Be Identified By End of Week
White House Chief of Staff Mick Mulvaney revealed on Sunday that he could find out who leaked President Donald Trump's private schedule as early as the end of this coming week.
Last weekend, Axios published 95 pages of Trump's private schedules, from between November 6 through to February 1, which showed that the president dedicated around 60 percent — approximately 297 hours out of 502 hours — of his working days to unstructured "executive time," a period used to make phone calls, catch up on the news and other work.
By comparison, the president spent 77 hours on scheduled meetings, around 51 hours on traveling and 40 hours on eating lunch. Six White House insiders also revealed that Trump rarely arrives at the Oval Office before mid-morning each day, despite usually waking up before 6 a.m.
With the assistance of the White House IT office, Trump administration officials have made progress in their manhunt for the suspect who committed the leak, according to Politico on Friday. This morning, Mulvaney declared that the investigation is zeroing in on the culprit and could determine their identity as early as the end of the coming week.
During an appearance on Fox News Sunday, Mulvaney told host Chris Wallace that the Trump administration is more concerned that someone spent three months leaking the president's private schedules than they are with the content. "It also sheds light on the fact that many people who work for us weren't hired for us," he said. It would be like Maxine Waters taking over the financial services committee in the house and having to keep Jeb Hensarling's staff."
When asked how close officials are to identifying the leaker, Mulvaney responded: We "are hoping to have resolution on that this week."
"So you're really close," the Fox News host pressed.
"Yes sir," Mulvaney confirmed. "When we find that person or persons, and it's likely to be a career staffer, you're going to learn a lot about how hard it is to fire federal workers."
The chief of staff went on to explain that it's "nearly impossible" to dismiss a federal employee.
After the documents were leaked, White House Press Secretary Sarah Huckabee Sanders claimed that Trump's unstructured "executive time" enables the president to foster a "more creative environment."
"President Trump has a different leadership style than his predecessors and the results speak for themselves," she said. "While he spends much of his average day in scheduled meetings, events, and calls, there is time to allow for a more creative environment that has helped make him the most productive president in modern history."
Trump's executive assistant Madeleine Westerhout also defended him as someone that works harder "for the American people than anyone in recent history" after he faced backlash over the seemingly vacant schedule.
"What a disgraceful breach of trust to leak schedules. What these don't show are the hundreds of calls and meetings @realDonaldTrump takes everyday," she tweeted on Sunday. "This POTUS is working harder for the American people than anyone in recent history."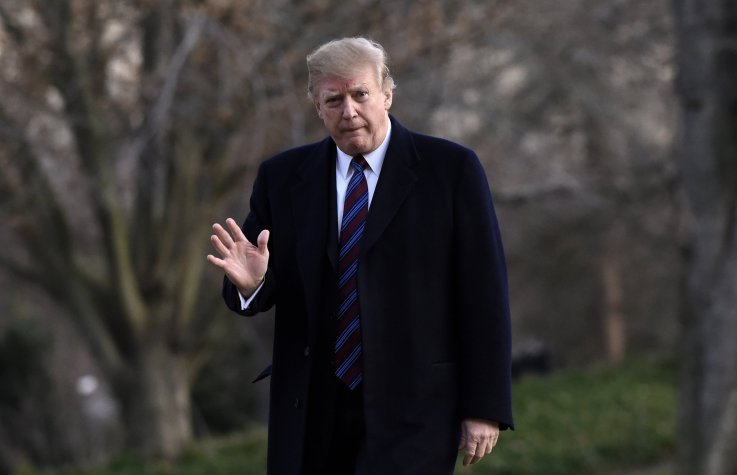 Mick Mulvaney: Donald Trump's 'Executive Time' Schedule Leaker Could Be Identified By End of Week | U.S.