HoloLens Is Microsoft's Radical Vision of Virtual Reality, but Does It Work?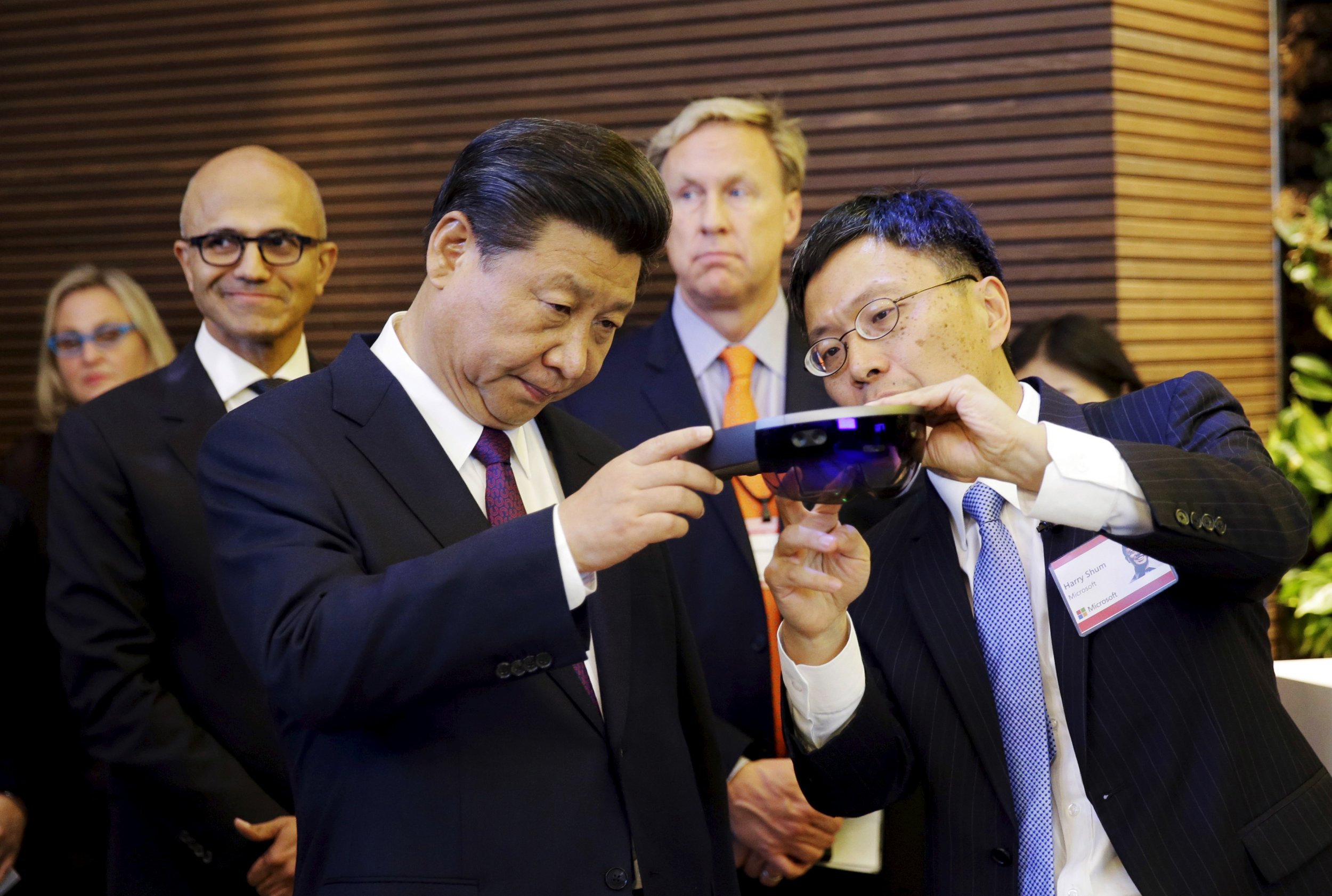 On Tuesday, Microsoft offered a smorgasbord of new products during its Windows 10 device event in New York City, including its first-ever laptop. But none created a sense of wonder as Microsoft HoloLens, the augmented reality (AR) headset first announced in January.
Microsoft demonstrated HoloLens with a video game called Project XRay, in which the player could shoot down flying robots with a ray gun built around his hand. The surrounding real-life environment, a prop living room with the bare wooden walls and a lone blue couch, became part of the game. Robots blitzed through the wall, creating the augmented reality where video game and real-life working somewhat surreally together.
Even as watchers ogled at HoloLens, there was quite a deep Uncanny Valley—the phenomenon in which realistic, artificial beings give a feeling of discomfort—for watchers to overcome. The graphics of the robots were more Halo 2 on original Xbox in 2004 than the latest Halo 5 on Xbox One, and the gameplay felt more quite rudimentary compared with console video games.
"I could forgive the graphics because it's still in its early days," said Michael Annetta, the creative director of VR game developers Flying Mollusk. "You're essentially wearing your laptop on your head. The graphics-rendering process for HoloLens is so much more intense than console because you are rendering for two screens—one for each eye—than for one flat television screen."
But not all took kindly to the video demonstration. An article from Mashable called the whole thing "smoke and mirrors" by presenting something far beyond the current capability of HoloLens. The bulky HoloLens headset takes up half of the field of view, and the robots are more transparent than concrete as shown in the demonstration, enough to completely change the feel of the game as a player.
The narrow field of view was a repeated concern by virtual reality (VR), developers tell Newsweek. Whereas VR headsets, like the Oculus Rift with a 110-degree angle field of view, to immerse the player in its world, HoloLens provides a small square in the middle visible for holograms, according to Blair Renaud, co-founder of Iris VR.
So where does HoloLens stand in the spectrum of AR/VR headsets? Comparison to the Google Glass, which like the HoloLens provides nongaming capabilities while staying in the real world, falls short. The now-infamous and discontinued Google Glass was a highly mobile, portable device whereas HoloLens seem bulky and Microsoft hasn't made it clear if it is mobile or can be used outdoors.
"Are you using the HoloLens with your computer? Do you need to be near a power source? Are you using a crazy setup?" asked Renaud. "There are so many factors."
And yet, despite similarities in esthetics, HoloLens is not like Oculus Rift or other VR headsets. Creating a successful AR platform is more difficult than VR because it has to overlay with the ever-changing real world, according to VR developer E McNeill.
But McNeill's frustrations with HoloLens lay with something outside of technical capabilities. He felt that the $3,000 mark for the development kit—nearly 10 times more than Oculus Rift's development kit—was prohibitively expensive for many indie developers and limited the pool of developers who can explore HoloLens.
"When Oculus Rift came out with the development kit, I felt they were welcoming us with open arms," McNeill said. "Microsoft didn't give me that level of comfort."
But even with the high entry price for development, McNeill expressed excitement for the HoloLens and the possible start of mass market AR platforms.
Annetta took it one step further, comparing what could be another momentous breakthrough in the short but eventful history of consumer technology.
"I think we'll see a similar case for AR/VR on people as it did when the first smartphones and iPhone came out," Annetta said. "People were saying we don't need a camera or Internet on our phones; now, we can't imagine not having either."