The 2018 midterm elections are, for the most part, over with. But in some states, ballots are still being counted. And in others, there will be likely recounts as lawsuits have been filed by both Democrats and Republicans.
The Democrats have regained control of the House and Republicans have gained seats in the Senate.
As of Saturday midday, three races in the Senate, two gubernatorial races and more than a dozen House races were still undecided as votes have continued to trickle in days after the election. In many cases, the vote margins between Democrats and Republicans in the undecided races has narrowed since Tuesday night as Democratic candidates gain ground on their GOP opponents. Republicans, including President Donald Trump, have suggested that any attempt to accurately count votes is de facto fraudulent if it imperils a Republican victory.
There is no evidence to support those claims. Votes are often counted after election night because vote-by-mail, provisional and overseas military ballots continue to be counted, as is allowed by most state laws.
Below is an updated list of the House, Senate and gubernatorial races that have yet to be decided.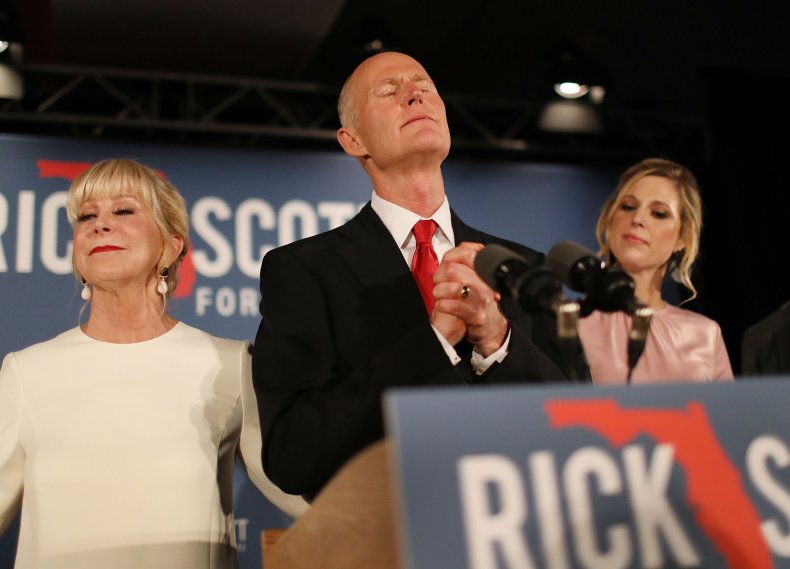 Senate
Florida, Arizona and Mississippi
The Florida senate race between incumbent Democrat Bill Nelson and GOP Governor Rick Scott will likely not be decided anytime soon. As of Saturday, the vote margin between the two candidates was just 0.15 percent, or roughly 12,500 votes out of nearly 8.2 million ballots cast. A vote margin less than 0.50 percent in Florida automatically triggers a machine recount, and margins less than 0.25 percent could trigger a second recount conducted by hand. The state has to certify the official results from the election and any recounts by November 20.
Nelson has retained a prominent elections lawyer, Marc Elias, and both Nelson and Scott have filed lawsuits regarding the razor-thin margin. Scott's lawsuits against local election officials in Broward and Palm Beach counties was successful, forcing those counties still tabulating votes to provide access to information regarding how many ballots are yet to be counted. Nelson's lawsuit was against the state, demanding provisional and vote-by-mail ballots be counted, regardless of any signature discrepancies. A timeline with updates as of Friday of the debacle in Florida can be found here.
In Arizona, Democratic Congresswoman Kyrsten Sinema has pulled ahead of Republican Congresswoman Martha McSally since election night. As of Saturday, Sinema lead McSally by 1.1 percent, or a little more than 20,000 votes out of more than 2 million votes. Votes in that race have also continued to trickle in days after the election, with hundreds of thousands yet to be counted as of Friday night. It's not clear when the race will be decided.
As in Florida, Republicans in Arizona have sued state and local officials to stop the counting of votes.
In Mississippi, incumbent Republican Senator Cindy Hyde-Smith will have a run-off election on November 27 against Democrat Mike Espy. A majority of the vote was not won by any candidate, thus the run-off election.
Governor
Florida and Georgia
Florida's midterm elections problems don't stop with the Senate race. The state's race for governor between Tallahassee Mayor Andrew Gillum, a Democrat, and former GOP Congressman Ron DeSantis will likely head for a recount.
As of Saturday, the vote margin between the two men was 0.41 percent, or roughly 33,600 votes of more than 8.2 million cast. DeSantis was believed to have won on election night, giving a victory speech while Gillum conceded. The Gillum campaign has retained prominent elections lawyer Barry Richard, legal counsel to George W. Bush when Florida faced a recount in the 2000 presidential election. While very contentious on the campaign trail, the race for governor has not been as contentious as the Senate race has since election night.
In Georgia, Republican Brian Kemp has resigned from his position as secretary of state in anticipation of winning the race for governor. The election has not yet been called has thousands of provisional ballots still need to be counted. As of Friday, Kemp's lead over Democratic state lawmaker Stacey Abrams was roughly 63,000 votes, but his vote share was only 0.30 percent shy of triggering an automatic run-off.
Like Florida and Arizona, Georgia has also had lawsuits filed. Democrats wanted a judge to remove Kemp's power of overseeing his own election and a judge has ordered that absentee ballots continue to be counted, so long as they were postmarked by Election Day and received by Friday.
House of Representatives
California: 10th, 39th, 45th, 48th, 49th Districts
Georgia: 7th District
Maine: 2nd District
New Jersey: 3rd District
New Mexico: 2nd District
New York: 22nd, 27th Districts
North Carolina: 9th District
Texas: 23rd District
Utah 4th District
In recent days, Democrat Lucy McBath won Georgia's 6th Congressional District over Republican incumbent Congresswoman Karen Handel. Handel conceded on Thursday.