Florida Election Results Latest: Updates and Timeline for Governor, Senate Races as Lawsuits, Voter Fraud Allegations Fly
It always seems to come down to Florida.
The Sunshine State has a history of drawing out elections, most notably the 2000 presidential election that ended more than a month after voters went to the polls. The United States Supreme Court eventually ruled to halt a recount and settle the dispute, resulting in George W. Bush beating Al Gore by 537 votes in the state, which gave him the presidency.
This time the impacts are reverberating on the 2018 midterms and the two highest offices in the state—the governor race between Democrat Andrew Gillum and Republican Ron DeSantis, and the Senate battle between Democratic incumbent Bill Nelson and Republican Governor Rick Scott.
Two of the same southeast counties that were involved in the infamous 2000 election debacle—Broward and Palm Beach—have found themselves at the center of 2018.
Lawsuits have been filed, allegations of voter fraud have been made, recounts are likely to occur, and candidates have retained prominent elections lawyers to help battle it all.
Republicans accused their Democratic opponents and lawyers of trying to "steal the election," while Democrats insisted "every vote must be counted," accusing their GOP opponents of trying to short change the election process. At the center of it all are counties that are Democratic strongholds with votes still trickling in days after the election, slowly closing the razor-thin margins in these statewide races.
Below is a timeline of what's unfolded in Florida since election night, when media outlets and candidates all but thought the intense, contentious and expensive 2018 midterms were finally over in their state.
Tuesday, Election Night
Gillum, Tallahassee mayor and Democratic candidate running against former GOP congressman DeSantis for governor, conceded. The race was called for DeSantis, results showed him beating Gillum by exactly 1 percentage point—49.9 to 48.9.
Scott gave a victory speech after national media outlets projected him as the winner. Nelson did not concede as votes continued to trickle in, narrowing the thin margin.
Wednesday
The Senate race between Nelson and Scott appeared to be heading for an automatic recount, a move that would delay official election results for weeks. The vote margin between the two candidates dropped below 0.50 percent, or 34,537 votes of the more than 8.1 million cast. Florida law requires an automatic machine recount if a statewide race is within 0.50 percent.
Although 100 percent of precincts had reported their unofficial results, votes continued to be tabulated from vote-by-mail, provisional, military overseas and even early voting ballots. Local officials will begin to review ballots and vote counts before sending their unofficial results to the state by noon on Saturday, November 10. A Scott-appointed official, Secretary of State Ken Detzner, will be responsible for ordering the official recounts of any statewide races.
The Scott campaign rejected the notion that a recount was required.
"This race is over," Scott campaign spokesman Chris Hartline said in a statement. "It's a sad way for Bill Nelson to end his career. He is desperately trying to hold on to something that no longer exists."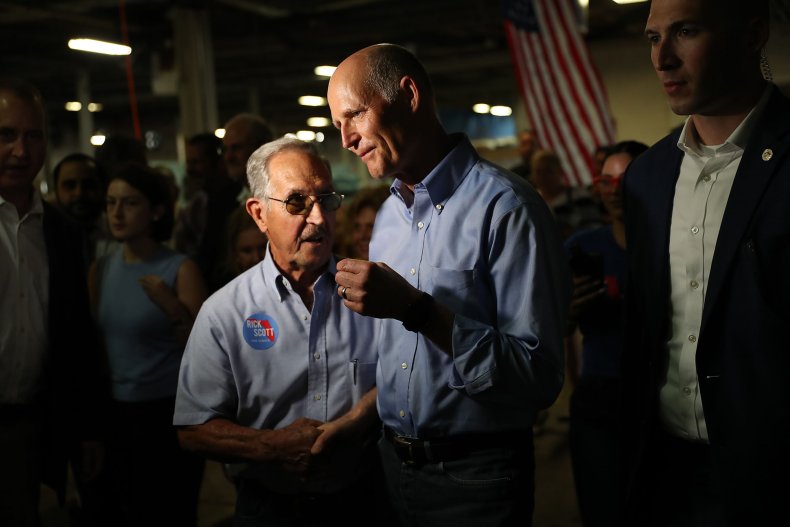 Thursday
The leads of the Republican candidates for governor and senator continued to dwindle.
As of Thursday afternoon, the margin between Scott and Nelson dropped to 0.22 percent, or 17,344 votes. If the first machine recount, due by November 15, comes back showing the results are within 0.25 percent, a second manual recount will be ordered. The second recount would be due November 18.
Nelson's campaign retained Marc Elias, a prominent Washington, D.C., elections lawyer who was general counsel for the presidential campaigns of John Kerry in 2004 and Hillary Clinton in 2016, as its legal counsel.
On a call with reporters that morning, Elias said they were confident a recount would prove victorious for Nelson and are prepared to take legal action if a recount is not issued, if Broward, Palm Beach and Miami-Dade counties do not comply with an open records request, or if they believe ballots are not being properly counted in those counties.
"I am not a stranger to suing the state of Florida," Elias said. "Where necessary, we will sue to make sure that the rights of voters are protected… We believe that at the end of this process, Senator Nelson is going to be declared the winner."
The Scott campaign accused Nelson's team of bringing in "Washington Democrats" and attempting to "steal" the election from Scott.
The vote margin in the governor's race between Gillum and DeSantis narrowed to 0.47 percent, below the required 0.50 percent threshold to trigger an automatic recount. The Gillum team walked back its previous concession in a statement.
"On Tuesday night, the Gillum for Governor campaign operated with the best information available about the number of outstanding ballots left to count," the Gillum campaign said. "Since that time, it has become clear there are many more uncounted ballots than was originally reported."
The Gillum campaign said it had hired prominent elections lawyer Barry Richard, legal counsel to George W. Bush when Florida faced a recount in the 2000 presidential election.
Questions began to surface about how and why so many votes, especially from early voting, were still being counted in South Florida, specifically Broward and Palm Beach counties. There are reports of provisional ballot boxes being discovered at polling locations that were left behind by election officials.
Thursday evening
Scott and the National Republican Senatorial Committee filed lawsuits against the supervisor of elections of Broward and Palm Beach counties. The suit alleged that Brenda Snipes, Broward County elections chief, was "unwilling to disclose records revealing how many electors voted, how many ballots had been canvassed, and how many ballots remained to be canvassed."
On the steps of the governor's mansion in Tallahassee, Scott said he had directed the Florida Department of Law Enforcement to investigate potential "rampant fraud" in Palm Beach and Broward counties by "unethical liberals." He did not provide any evidence of fraud.
"No ragtag group of liberal activists or lawyers from D.C. will be allowed to steal this election from the voters of this great state," Scott said. "We've all seen the incompetence and irregularities of vote tabulations in Palm Beach and Broward County for years. Well, here we go again. I will not sit idly by while unethical liberals try to steal this election from the great people of Florida."
Dan McLaughlin, a Nelson spokesman, called Scott's actions "politically motivated and borne out of desperation."
Scott appeared on Sean Hannity's Fox News show and said that "no other county is having these problems."
"It's clear we've got some left-wing activists. Some Democratic D.C. lawyers," Scott said. "They're down here for one purpose: to steal this election… It sure appears they're going to keep finding as many votes as it takes to try and win this election."
The margin between Gillum and DeSantis shrunk from 0.47 percent to 0.44 percent.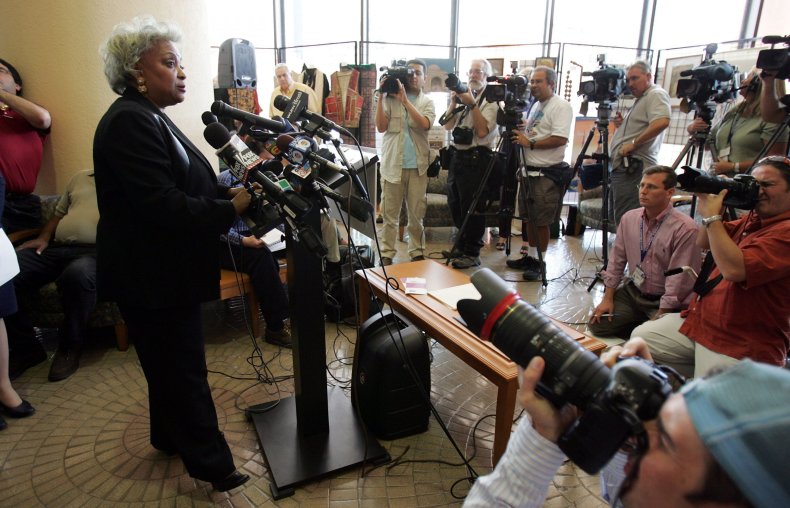 Friday
The vote margin between Scott and Nelson narrowed to 0.18 percent, or 15,024 votes.
The Nelson campaign and the Florida Democrats' executive committee filed suit against Secretary of State Ken Detzner, the person appointed by Scott to oversee the state's elections. The suit sought to allow all mail-in and provisional ballots, regardless of any signature matching discrepancies, to be counted. While voter fraud is extremely rare in Florida and nationwide, it is not uncommon for ballots requiring a signature to be denied because the voter's signature on file with the Department of Motor Vehicles did not exactly match.
The lawsuit also asked that the deadline for counties to turn in unofficial vote results be extended past the Saturday deadline.
On a call with reporters, Nelson campaign attorney Marc Elias said they were confident the remaining 15,000 votes separating Nelson and Scott would come from provisional ballots discovered during the canvassing process in the South Florida counties where Scott alleged there was voter fraud.
Scott's campaign manager, Jackie Schutz Zeckman, claimed the lawsuit by Nelson and state Democrats "asks the federal courts to allow voter fraud."
"Until today, the Nelson campaign has been working on voter fraud behind the scenes in secret," Zeckman said. "They are asking courts to overrule election officials and accept ballots that were not legally cast."
Updates
Friday afternoon
Depsite Scott's remarks the previous evening directing the Florida Department of Law Enforcement to investigate potential "rampant fraud" by "unethical liberals" in Broward and Palm Beach counties, an FDLE spokeswoman tells Newsweek there is no active investigation. After consulting with the Florida Department of State earlier this morning, the spokeswoman says neither agency has any "criminal allegations of fraud at this time."
"Florida law gives our governor the ability to direct an investigation in writing, but we don't have a letter at this point," the spokeswoman said. "What we can do, and what we did do, is look into it to the point where we know what the current status is: There are no criminal allegations identified yet."
Friday 4 p.m.
A Florida judge has ruled that Broward County Supervisor of Elections Brenda Snipes violated the state constitution and state laws by not complying with open records laws, according to multiple local media outlets. Snipes is ordered to reveal how many ballots have yet to be counted by 7 p.m. The allegations of fraud levied by Scott were reportedly not addressed.
A Florida judge issued a similar ruling and order against Palm Beach County Supervisor of Elections Susan Bucher. Both rulings were a result of lawsuits filed by Scott.
That same afternoon, Senator Bill Nelson released a video statement saying he wants to make sure all legal votes are counted and to stop Scott from "abusing the full force of his public office."
"This process is about one thing: making sure that every legal ballot is counted and protecting the right of every Floridian to participate in our democracy," Nelson said. "Scott is abusing the full force of his public office as governor to stop a complete and accurate counting of all the votes in Florida - which would determine whether he wins or loses...He isn't telling the truth, which is: votes are not being found; they're being counted."
Update: As of Friday evening, this story is no longer being updated.