Midwest Tornadoes Could Be Costliest in U.S. History as Loss Estimates Reach $5 Billion
Last week, six states in the Midwestern and Southern U.S. were devastated by several tornadoes that caused widespread death and destruction.
As of Monday the death toll from the storms was approaching 90. And while it's still unclear how much property and financial damage the storms have wrought, insurance industry experts it could reach into the billions, and may prove the most expensive tornado event in recorded U.S. history.
Credit rating agency Fitch has estimated that insured losses from damage cost by the tornado outbreaks could hit $5 billion, and catastrophe modeling firm Karen Clark & Company predicts insured losses of $3 billion, Reuters reported on Tuesday.
"Based on preliminary assessments of the extensive property damage we are seeing across multiple states, this weekend's tornado outbreak has the potential to be the costliest on record in the U.S," Mark Friedlander, director of corporate communications at the Insurance Information Institute, told Insurance Journal.
According to the National Oceanic and Atmospheric Administration, the costliest U.S. tornado in the last 50 years occurred in Joplin, Missouri, in May 2011, and caused $2.8 billion in damage. That same year, just a month before in Tuscaloosa, Alabama, the U.S. saw its second-most expensive tornado on record—the storm caused $2.45 billion in damage.
Between December 10 and December 11, several tornadoes ripped across parts of six states, Arkansas, Illinois, Kentucky, Mississippi, Missouri and Tennessee.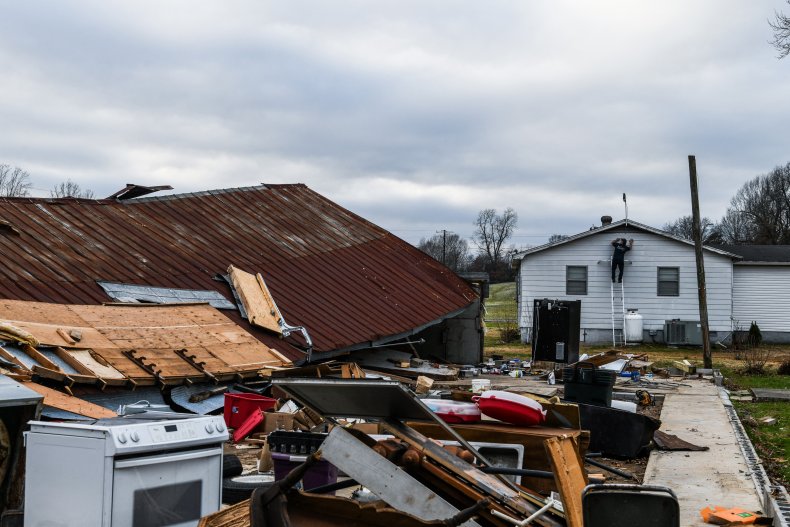 Kentucky saw the highest death toll from the storms. One of the tornadoes that hit Kentucky stayed on the ground for more than 200 miles.
Kentucky saw the most damage in last week's storms, including the highest death toll: 75, as of Wednesday, according to the Lexington Herald Leader. Among those who died in the storms are eight people who were inside a Mayfield Consumer Products factory in Mayfield, Kentucky, that was leveled by a tornado on Friday evening. Kentucky officials did not immediately respond to Newsweek's request estimates on how much damage the storm has caused.
During a press conference on Monday, Kentucky Governor Andy Beshear said that it may take weeks before the state has "final counts on both deaths and levels of destruction." He previously estimated that the storms destroyed more than 1,000 homes in the state.
According to Insurance Journal, a report from the catastrophe modeling firm Karen Clark & Company notes that the "most significant damage has been observed in Kentucky, particularly in Warren and Graves counties, where hundreds of homes and businesses have been destroyed."
"The tornado outbreak caused significant damage across the impacted states. There have been thousands of reports of damage and hundreds of reports of destroyed homes and businesses including factories and warehouses. Widespread effects across the impacted states range from torn off roofs and downed trees to demolished buildings," the report adds.