Migos 'Culture II': New Album 'Represents All Races,' Says Quavo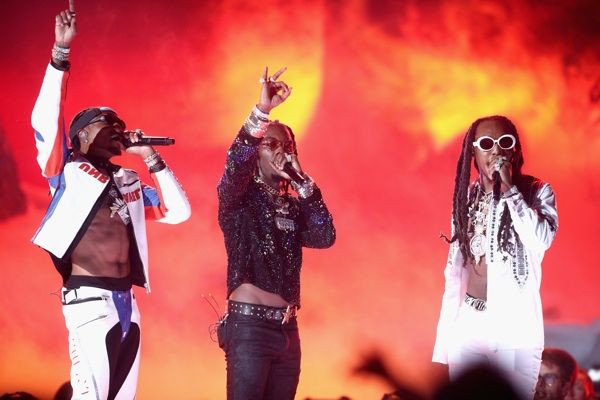 If you were watching the Golden Globes last year, chances are you heard one of the winners, Atlanta creator Donald Glover, give an impromptu shout-out to the Migos. The rap trio had appeard on his TV series: "I really wanna thank the Migos, not for being in the show, but for making 'Bad and Boujee,'" Glover said. "Like that's the best song ever!"
Even if you hadn't heard the name Migos before, chances are you'd heard "Bad and Boujee," maybe even dropped an ad-lib or two. Released in October 2016, the song, which spent 36 weeks on top of Billboard's Hot 100, is still a radio staple, the rat-a-tat rhymes and booming beats so irresistible they've been emulated by Drake and Kanye West.
"Bad and Boujee" is the biggest Migos hit, though not their first. The trio's debut single, "Versace," off their 2013 mixtape Y.R.N. (Young Rich Niggas), made the Hot 100. Their second studio album, Culture, which went platinum just a few months after its release in January 2017, is up for best rap album at the 2018 Grammys—that's in addition to a best rap performance nomination for "Bad and Boujee." And their latest singles, "MotorSport" (featuring Cardi B and Nicki Minaj) and "Stir Fry," are already climbing the charts.
The three amigos of Migos are Lawrenceville, Georgia-raised Quavo (born Quavious Marshall), 26, his cousin Offset (Kiari Cephus), also 26, and Quavo's nephew, Takeoff (Kirsnick Ball), who is 23. Together they are the leaders of a new generation of street-style rappers. And based on the critical acclaim for their star-studded third album, Culture II, released on Friday, their position at the top will endure.
The three have had their share of legal hiccups, particularly Offset, who is engaged to Bronx rapper Cardi B. Arrested multiple times and incarcerated for eight months in 2015, he most recently found himself at the center of a social media storm after rapping that he "cannot vibe with queers" on "Boss Life," a collaboration with YFN Lucci. Offset has since apologized, explaining that "queer" was not a reference to sexual preference, but, rather, a synonym for the word strange.
Mostly, though, they've been dropping music, together and apart: Offset and Atlanta producer Metro Boomin released the album Without Warning in October 2017; Quavo and rapper and producer Travis Scott dropped Huncho Jack last December 2017; and the trio contributed to Quality Control Music's Control the Streets Volume 1. (Quality Control, founded by Coach K and home to Migos and Lil Yachy, among others, is the super hot label that emerged from the trap music scene in America's hip-hop capital, Atlanta.)
Newsweek spoke to Quavo about coming up, his hopes for Control II, and his admiration for his fans.
When did you three start making music?
We always used to rap coming up [as kids]. When we made the song "Bando" [in 2012], the reaction let us know it was time to get serious. So we started pulling up to clubs, handing out our music and giving the DJs drinks—being cool with them, building relationships, so they would spin our songs. When we started getting played in the club, the crowd always responded. Next thing you know, everyone was going crazy over our songs.
Did you ever think Migos would become global phenomenons?
Of course! This is what we're doing it for. You grind so it can pay off. You work hard so you can be the best and the greatest at what you do. We wouldn't have gotten in the game if we weren't trying to be the biggest thing in the world.
Culture II came out exactly one year after Culture. Was that intentional?
The timing was right last year, and I feel like every time we put out albums they ride really really long. People don't get tired of it. We had so much fun with the first album and [Culture II has] already gotten even bigger and greater [reactions from fans].
Migos spent most of 2017 touring, so were you making music as you traveled?
We were on the road most of the time. We did a lot of [the album] in South Africa. We did six or seven joints in Australia. That was a great experience for me, being in that new studio, being in Australia for the first time and still catching the vibe.
How is Culture II be different from Culture?
I'll leave that to the fans. Instead of just telling them what we got on the new album, I'm ready to get the feedback. We're ready to share it with fans because their opinions mean a lot more—way more—than what I can tell you of what the album brings.
Did you feel any kind of pressure making this followup to Culture, which was such a big hit?
No pressure, baby! We the greatest in the world! Who's pressured? Should I be sweating right now? You know something, I don't know.
The reactions from fans of all races has been really strong.
I'm just blessed to be a part of this new wave. I'm blessed to say that [Migos] is the leaders of the new generation, and the new groups and the new shows. And as long as that's spread all around, I'm good. That's what we represent Culture for. That's what we created Culture for. We represent all of that.
Are you ever discouraged by the divisions within the country right now?
No, because music has always been the key tool that brings people together. [Music brings] all races together. It's always been music. You don't know what color an artist is when you first hear a song. People listening don't know who's behind the scenes working when a song is made. All you know is great music—great music that relates to the soul.
Fans love your authenticity, particularly when so many rappers simply copy other artists. What's the secret to your originality?
We stick to the culture. We stick to the code. We love our roots, we love our mommas, grandmommas, aunties, uncles. We'll never change. We're always loyal. We stay 100. And we stay prayerful. Put God first, you'll go to the top.