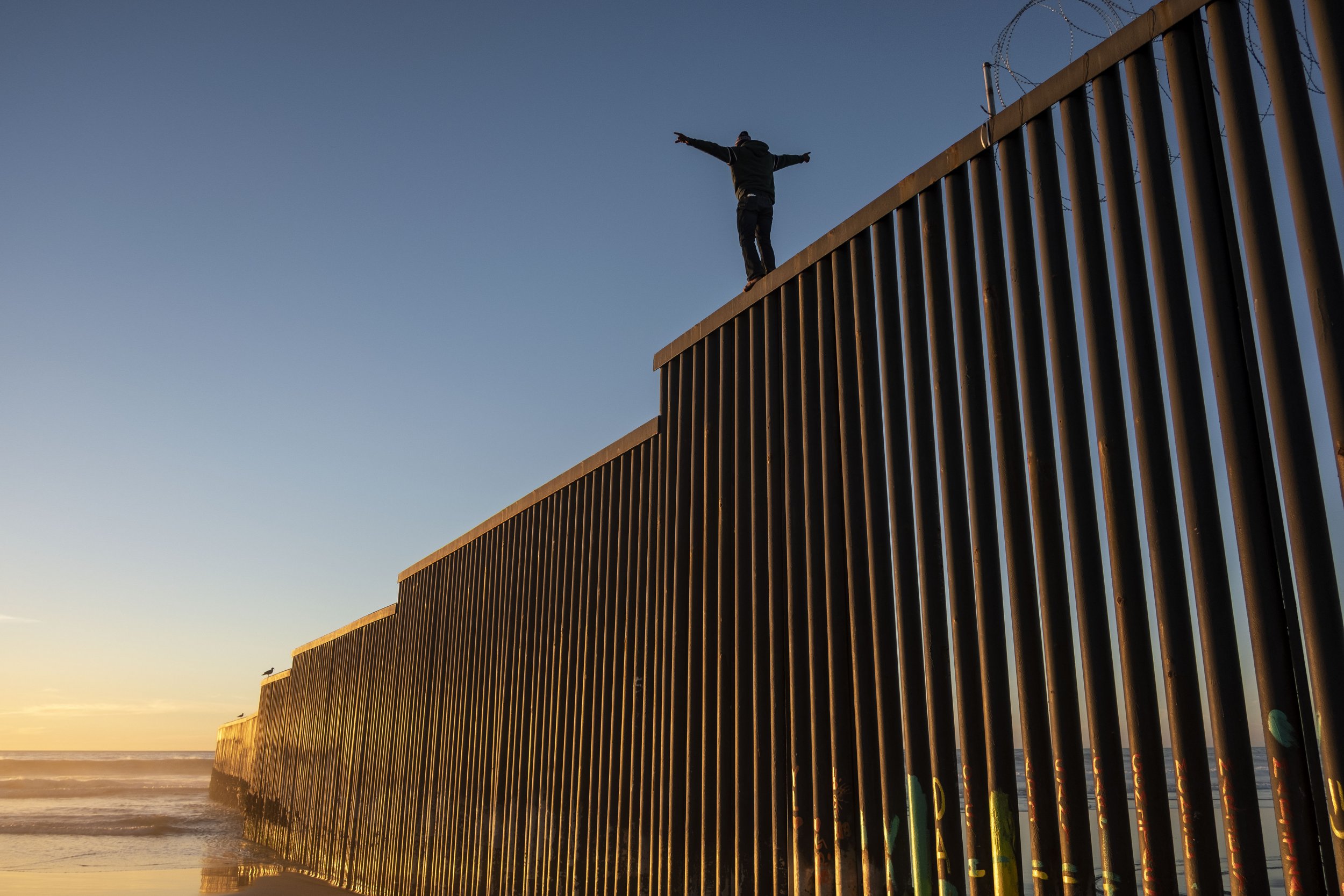 As desperation mounts among thousands of Central American migrants who are stranded at the U.S.-Mexico border, some of them have opted to climb over, dig under or crawl through a wall that separates both North American nations.
Undeterred by President Donald Trump's hard line on illegal immigration, some migrants were finding ways to set foot on U.S. soil. On Monday, a report by The Associated Press from Tijuana, Mexico, found several incidents in recent weeks, including a group of young people who "hoisted themselves over the wall to San Ysidro, California," near the point of entry between San Diego and Tijuana. Likewise, a Honduran migrant named Joel Mendez handed his 8-month-old son over to his partner, Yesenia Martinez, "who had crawled through a hole in the rain-softened soil under the wall." Last week, journalists from the same news service saw more than a dozen migrants attempting to cross the border over two nights, while border agents were waiting to apprehend them.
In late November, 19-year-old Maryury Elizabeth Serrano Hernandez, who is believed to be part of the migrant caravan, gave birth in the U.S. after crossing the border illegally at Imperial Beach, California, according to Customs and Border Protection last week. In a separate incident, a 2-year-old Guatemalan migrant was injured and detained with other family members after they scaled an 18-foot border wall to enter near the San Luis port in Arizona on December 5.
Last month, then-incoming Mexican President Andrés Manuel López Obrador and the Trump administration agreed to keep asylum seekers out of the United States while their applications were with U.S. courts. Meanwhile, a large group of migrants has applied for job permits in Mexico while they wait for their asylum requests to be completed—AP reported that nearly 100 applications were being processed at the San Ysidro crossing each day—but some migrants no longer want to wait on the Mexican side of the border and instead take the risk of trekking across the international boundary.
The migrants' recent crossings occur as Trump threatens to shut down a large portion of the federal government before Christmas if he doesn't get billions of dollars to fund his border wall. But according to Politico, House Minority Leader Nancy Pelosi and Senate Minority Leader Chuck Schumer said they would not give the president the $5 billion he's requesting for his "30-foot tall concrete wall" and asked to maintain Department of Homeland Security spending at current levels in order to keep the government open.
Both Democratic leaders are expected to meet with the president on Tuesday in the midst of a stalemate over the U.S.-Mexico border funding, The Hill reported.